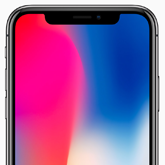 Apple's shiny new iPhone X is now on sale in the UK. Buying a new iPhone is never MoneySaving – and this is the most expensive iPhone to date. But if you're hell-bent on getting one, buying it the right way could save you almost £500 over two years compared with the cost of a standard contract.
Warning: Mobile phone prices can change hourly, particularly after a new handset's launch. These prices were correct as of 4pm Tuesday 7 Nov – though if you're going to buy, make sure you do your own price comparison. Stock will come in and out so you may find that handsets aren't always available.
For full info on cutting the cost of an iPhone X, see our Cheap iPhones guide. And for more on what the handset offers, see our Apple launches iPhone 8, 8 Plus and X news story.
Buying upfront's usually cheapest if you can find one in stock – then pair with a cheap Sim
Usually the cheapest way to buy a new iPhone is to pay for it outright, if you can afford to, and then pair it with a separate cheap Sim-only contract. Occasionally promo contracts can beat this – but while a couple we've seen come close, right now buying upfront seems to be the cheapest way.
There are a number of retailers selling the iPhone X unlocked. But regardless of where you go, you're unlikely to see any discount on the standard price. Instead availability may be key, with stock levels already running low in some places.
All of the following sell an unlocked iPhone X for the standard £999 for the 64GB model, or £1,149 for 256GB. Here's the availability as of 7 Nov:
Apple – unavailable in store, online reservations reopen at 6am on Wed 8 Nov. If you order online, delivery is expected in 3-4 weeks.
Carphone Warehouse – If you order online, delivery is by Fri 17 Nov.
Currys PC World – If you order online, delivery is from Fri 17 Nov.
John Lewis – It's not currently accepting online orders as it's out of stock, but it's expecting more stock by the end of the week. Buying from John Lewis gets you its two-year guarantee as well as the usual Apple warranty.

Can't afford it upfront? Spread the cost interest-free with Apple
iPhone Payments is Apple's interest-free financing scheme – and it's available for the iPhone X. This allows you to buy the phone for Apple's standard price but pay only a small amount upfront and then the rest in 20 monthly instalments.
You'll be credit-checked and will need to be accepted for what's technically an interest-free loan, though. Here's what it costs:
iPhone X 64GB – £69 upfront, then £46.50/mth for 20 months.
iPhone X 256GB – £69 upfront, then £54/mth for 20 months.
Here's how to pay this way:
Reserve the model you want – you can ONLY get iPhone Payments in store and must book an appointment. You'll need to reserve it online – reservations reopen at 6am on Sat 4 Nov.
When you collect the phone, say you want to pay via iPhone Payments. You'll need to bring bank details, a valid photo ID and your current mobile plus other personal info – see Apple's website for a full list. You'll need to be a UK resident aged 18+, have a UK bank account and have lived in the UK for three or more years.
If accepted (it could take up to an hour), you'll pay £69 upfront and the rest in 20 monthly instalments. Your loan will be with Barclays, the finance provider behind the scheme, at 0% APR. Monthly repayments are made by direct debit. If you don't keep up with them, Barclays would take the same action as any other loan provider – it could result in a mark on your credit file, for example.
Bought the handset outright? Find a cheap Sim to go with it
If you've bought an unlocked iPhone separately – upfront or buy spreading the cost interest-free – you'll need to find your own cheap standalone Sim.
Our top pick is currently Three's equiv £8/mth Sim*. It's for new customers (and existing customers who want a second line) and costs £13/mth for unlimited mins and texts and 4GB of 4G data on a 12-month contract. You're automatically sent a £60 Amazon voucher and if you'd spend that at Amazon anyway, factor it in and it's an equivalent of £8/mth.
See our Cheap Sim-only Deals guide for a full round-up of options, including some for low and heavy users.
Traditional contracts can cost £100s more
Buying a new handset on a traditional mobile contract from a big mobile network can be much more expensive.
To compare, we've looked at the cost of contracts vs buying upfront and pairing with an equivalent Sim. (As our top-pick Sim involves claiming a £60 Amazon voucher, to keep things simple we've used Three's 4GB, unlimited mins and texts 'Essential' plan, which costs £9/mth, in our calculations.)
The comparison is stark. For example, Three's standard 24-month deal for a 64GB iPhone X with unlimited minutes and texts and 4GB data costs £249 upfront then £61/mth – an eye-watering £1,713 over two years. That's almost £500 more than buying upfront and pairing with a cheap Sim.
If you're going to get a contract, reseller sites such as Mobiles.co.uk* (owned by Carphone Warehouse) or MobilePhonesDirect* are almost always cheaper than going direct to the network.
In fact, occasionally resellers offer tariffs that even beat buying the phone and pairing it with a cheap Sim. Although it's rare to find one of these when a new iPhone's launched, there's one deal currently from Mobiles.co.uk* which runs it close.
You have to pay a hefty £520 upfront and then it costs £27/mth for 24 months for 3GB of data as well as unlimited minutes and texts. Over the 24 months it'll cost £1,168 – take away the cost of the handset (£999) and it works out at about £7/mth for the airtime. That's slightly cheaper than our benchmark Sim, but as you get less data, it's not quite comparable – plus you're locked into a 24-month contract.
Here's how prices compare – we've looked at networks' closest deals where there's no direct equivalent:
iPhone X (64GB) deals compared – all with unltd mins & texts
DEAL
UPFRONT COST
MONTHLY COST (1)
DATA ALLOWANCE
TOTAL OVER 24mths
BUY OUTRIGHT (+ THREE SIM)
Apple* (outright)
£999
£9/mth
4GB
£1,215
Apple (iPhone Payments)
£69
£46.50/mth for 20mths for phone, £9/mth for Sim
4GB
£1,215
24MTH CONTRACT VIA RESELLER
EE (via Carphone Warehouse*)
£964
£24/mth
5GB
£1,252 over 12mths
O2 (via Mobiles.co.uk*)
£520
£27/mth
3GB
£1,168 (2)
Vodafone (via Mobiles.co.uk*)
£399
£38/mth
4GB
£1,311
Three (via MobilePhonesDirect*)
£49
£69/mth
12GB
£1,705
24MTH STANDARD CONTRACT
EE (direct)
£300
£58/mth
3GB
£1,692
O2 (direct)
£180
£61/mth
3GB
£1,644
Vodafone (direct)
£200
£62/mth
4GB
£1,688
Three (direct)
£79
£68/mth
4GB
£1,711
Prices correct as of 4pm, Tue 7 Nov, rounded to nearest £1. We haven't linked to standard network contracts as these are more expensive. (1) Monthly costs are over 24mths unless otherwise stated. Monthly contract prices may increase in line with inflation each year. (2) While this is slightly cheaper than buying upfront, it comes with less data than our benchmark Sim.
As always it's worth checking if cashback is available on these types of deals. See our Top Cashback Sites guide for more information.
Remember you can also trade in your old handset for cash. For the iPhone X launch Apple has released its own trade-in offer of up to £420 for the iPhone 7 Plus (or less for older models) but always check our Sell Old Mobiles guide to see what the best deal is for you.