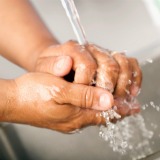 Thousands of homes in England and Wales are still without water for a fourth day - if you're affected here's what you need to know.
The thaw following the snow last week has caused widespread leaks and bursts in water mains and pipes in areas including London, Sussex, Kent and parts of Wales, leaving some homes without any water and others with low pressure.
If you're affected your water company has a duty to look after you, including providing water and possibly paying compensation.
See our Cut Your Water Bills guide for ways to save.
I have no water – what should I do?
If there's a problem affecting your home your water company has to tell you your supply has been interrupted or cut off, where to get an alternative supply, what time you should expect normal service to be restored and provide information on where to get more help.
If your taps are completely dry, water firms must provide at least 10 litres of water per person per day within the first 24 hours of your supply being off, and continue to do so until running water is restored.
Often you will need to pick up water from local collection points, arranged by your supplier at supermarkets or car parks. See the table below for more information on where you can get help. Vulnerable people should contact their water company for help if they can't collect in person.
If you've had no water you could be entitled to compensation
Ofwat, the water regulator for England and Wales, sets out the minimum compensation levels customers should automatically be paid if their water supply is affected under the Guaranteed Standards Scheme. Some firms will pay more, but here's the minimum you could be owed:
No water supply for 48 hours – If your supply is interrupted or cut off for 48 hours after the firm becomes aware of the problem, due to a strategic main problem, you'll be entitled to £20, and then £10 for each 24 hour period thereafter. If your supplier doesn't pay this within 20 days it may also have to pay you at 'late payment penalty' of £20.
Low pressure – If water pressure falls below the required level twice within a 28 day period, for more than an hour each time, you'll be entitled to £25.
While there are exceptions if extreme weather prevents repair, Ofwat says it 'would nevertheless expect companies to pay this compensation to customers'.
According to Ofwat the company should automatically pay the compensation, but if you have not received it you must claim it within three months of the problem - so if you're unsure check with your water firm.
In some cases a water company is required to pay compensation if you're without water or your supply is interrupted for 12 hours and this is caused by any reason other than a problem with a strategic main. The majority of water companies we checked with say current problems are due to problems with strategic mains and so you're only likely to be paid compensation after 48 hours.
Here is what each company is offering to do to help:
Find out what your water supplier is offering
| Supplier | Compensation arrangements | Alternative water supplies? |
| --- | --- | --- |
| Anglian Water | Offers standard compensation to customers who have been without water for over 12 or 24 hours, depending on the cause and type of pipe. | Check if there are any problems in your area using the Anglian Water postcode checker or call its helpline |
| Severn Trent | Will be automatically offering £30 payment to all affected customers who were without water for more than 12 continuous hours, or for more than 15 hours of intermittent supply. | Gives details of outages and collection points on its website |
| South East Water | Will review what level of compensation is due | You can check its map for problems in your area and its website for where you can collect water |
| South West Water | Automatically credits £20 to household customers without water for 12-48 hours (depending on nature of the leak or burst pipe), plus an additional £10 for each further 24-hour period without supply. | You can check its map for problems in your area and its website for where you can collect water |
| Southern Water | If it fails to restore supply within 12 hours (or 48 hours if a large mains burst), it will credit your water account with £25. Another payment for £10 will be made for each additional period of 24 hours during the interruption. | It has drop down information on its homepage detailing the affected areas and where to pick up water |
| Thames Water | Its guarantee scheme automatically credits household customers eligible for compensation if they've been without water for 12-48 hours, depending on the nature of the leak or burst pipe. It has offered £30 compensation plus £10 for each additional day. | You can check its website for problems in your area and where to get water by the clicking the 'network latest' red bar on the homepage |
| Welsh Water (Dŵr Cymru) | Has yet to say | Welsh Water has been texting customers with details of water collection points |
| Yorkshire Water | Will consider compensation claims based on the length of time your supply is interrupted. It says it will provide alternative water supplies for any interruption over five hours. | You can the map on its website for incidents in your area |
I disagree with the compensation I've been given, what can I do?
The first step is to formally complain to your water firm to give it a chance to solve the issue.
If after this you're still unhappy with its response you can escalate your complaint to the Consumer Council for Water. If you still don't feel your complaint has been dealt with you can contact the Water Redress Scheme, once you have been told you're eligible to by the Consumer Council for Water.
The leak is on my property what should I do?
Be aware, if the burst pipes are within the boundaries of your home, they may be considered out of the control of your water supply company and this could affect your compensation. In this case, you should call a plumber instead of your water supplier.
According to the Association of British Insurers if your pipes burst the first thing to do is to turn your water off at your main stopcock straight away, turn off your heating, and run all your taps to drain the system.
If the burst pipe damages your property, contact your home insurer as soon as possible, they should have an emergency 24 hour contact number. See our Home Insurance guide for more information.
'A number of water companies appear to have fallen well short on their forward planning'
Following the water shortages, some suppliers have been criticised their lack of preparation for the extreme weather.
Ofwat chief executive Rachel Fletcher said: "The ongoing water supply problems affecting the country, most particularly parts of London and the South East of England, have been deeply distressing for all those affected. While the recent severe freeze and thaw have undoubtedly had an impact on pipes and infrastructure, this weather was forecast in advance. A number of water companies appear to have fallen well short on their forward planning and the quality of support and communication they've been providing, leaving some customers high and dry."
Tony Smith, chief executive of the Consumer Council for Water, said: "Given the huge inconvenience this has caused to many customers we think the standard automatic payments are the minimum they should expect. We expect water companies to be sympathetic to customers - whether they are individuals or businesses – that have suffered extra hardship or losses and be open to considering additional compensation where appropriate."