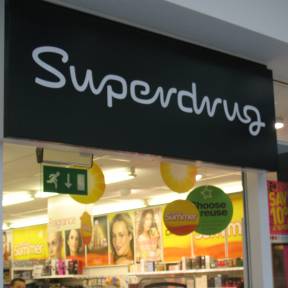 A new mobile network launches today, rather bizarrely from high street beauty and healthcare retailer Superdrug, and it's not a bad deal.
Superdrug mobile is 'exclusively available' to members of its Health & Beautycard loyalty scheme, but you can get the Sim if you're happy to sign up for their loyalty card.
On offer is a single £10/mth plan on a pay-as-you-go basis, meaning there is no need to commit to a contract or undergo a credit check - plus you can't run up a huge data bill as your allowance will stop until you add more.
Though you're forced to take its loyalty card, Superdrug does promise to add £10 worth of points once the Sim is activated, which you can then spend in store, in addition to offering double points when you shop for the duration you have an active mobile plan.
There are no handsets available so you'd need to have your own unlocked phone, but you can keep your number by requesting a code from your current provider.
See our Best Sim only and Pay-as-you-go guides for the top pick deals.
What's the offer?
You can pick up a Sim, along with your beauty essentials, in one of its 800 stores or via its website and it will come loaded with the following:
4GB of data - If you don't use all your allowance it is rolled over for another month, providing you stay with the network
Extra data can be added on - An additional monthly 1GB is £2, 2GB is £3 and 4GB costs £5
Unlimited minutes - Calls to UK landlines and mobiles are included. You won't be charged for numbers starting 0800 and 0808.
Unlimited texts - Text messages are included
Roaming is allowed - You can use your phone abroad - though you'll incur heavy charges if you use it outside the EU
Tethering is permitted - You can use your phone as a personal hotspot to connect other devices such as your iPad
It uses the Three network - Superdrug and Three are actually owned by the same company
How does it compare?
Superdrug's closest rival is Smarty* - another newish network owned by Three, which is our current top pick pay-as-you-go Sim. Which offer wins largely depends on your usage, and if you'd spend £10 in Superdrug anyway. If you need to use your phone abroad then Superdrug Mobile is the only one of the two to offer it - but it's only a good deal if you're away in the EU. Need to use your phone further afield and another Three Sim beats the lot.
Conversely, for UK-only use, Smarty offers a wider range of a plans and data is cheaper to add on - 5GB with Smarty works out at £11.25/mth while Superdrug would cost £12/mth. Equally, Smarty discounts your next month's bill for each MB of data you don't use, as opposed to rolling it over, so works out better if you have low data needs.
Though both offer decent deals, if you're happy to be credit scored you can get the same allowance for less, or more data for your money while still only commiting to a 1-month contract. iD Mobile - another network which uses Three's signal - currently offers 4GB with 500 minutes for £8/mth* or 10GB and 300 minutes for £10/mth*. Both come with unlimited and a one-month data rollover, though tethering isn't allowed.
Pay-as-you-go deals compared
Superdrug Mobile

Smarty

Monthly Cost

£10

£7.50

£10

£15

Data

4GB

2GB

4GB

8GB

Extra Data

1GB/£2, 2GB/£3, 4GB/£5

£1.25/GB

Minutes

Unlimited

Unlimited

Texts

Unlimited

Unlimited

Roaming

Yes

Not possible - UK only plan

Tethering

Yes

Yes

Further Info
1 month data rollover, £10 worth of Health & Beautycard points and double points on Superdrug shopping

Discount for any unused data - £1.25/GB
What does Superdrug say?
Bhavik Davda, Superdrug Head of Health & Beautycard said: "Offering the service without a contract, allowing people to leave at any point, will give customers the freedom and transparency they're looking for, while the added extra of getting your first month's payment back in points allows members to give the service a try at no risk.
"Superdrug prides itself on offering its customers the best possible customer service and is proud to have been placed in UK Customer Satisfaction Index top ten. This same level of customer service will be offered to Superdrug Mobile customers."