Plusnet customers wrongly charged twice for £200 offer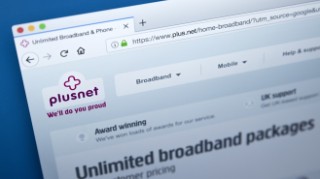 More than 1,000 Plusnet customers have been billed twice for a £200 line rental saver offer after the firm introduced a new billing system, MoneySavingExpert can reveal - while some former customers were also wrongly charged for contracts they'd already cancelled.
Plusnet, which has been migrating its customers to a new billing system over the last few weeks, says the customers who were charged twice were on Plusnet's Line Rental Saver plan, where you pay £197.88 for 12 months' line rental upfront. Some ex-customers who cancelled their contracts in August were also wrongly charged.
We've also seen separate complaints from some customers who say they haven't been paid referral credit or haven't had certain discounts applied to their account. However Plusnet says these are "isolated issues" and aren't to do with the change to the billing system.
For help comparing the best broadband deals, see our Broadband Unbundled tool.
Why have some customers been double-billed?
Plusnet says the double-billing issue has affected some, but not all, Line Rental Saver customers.
One of those hit was Allan, who emailed us to say he'd switched to Plusnet after being with BT for 43 years.
He said: "When I ordered the service from Plusnet in August I paid for one month's telephone and broadband, plus a year's line rental. On 12 September they billed me again for £197.88.
"I called Plusnet, they apologised and said it would take five to 10 days to get the money refunded, and suggested I rang the bank to get the direct debit reversed.
"I did the latter - my money was returned in a few minutes."
Other customers have taken to Twitter to report similar issues:
What should I do if I'm affected?
Plusnet says all affected Line Rental Saver customers were contacted by last Friday and should now have received their money back. Plusnet says its email to customers will include a number to call to discuss refunds for charges such as overdraft fees and compensation for any 'undue stress' caused by the error.
It may also be worth checking your credit file over the coming months to ensure the billing issue has not caused any problems, such as a mark for a missed payment. We've asked Plusnet to confirm if it will write to the credit agencies to resolve any issues and will update this story when we hear back.
If you cancelled a Plusnet service last month and have been told a payment has been taken, you can call 0800 432 0200 to report this. Plusnet says it will also be contacting all affected ex-customers too.
What does Plusnet say?
When we first broke this story Plusnet wasn't very clear about exactly how many Line Rental Saver customers had been affected - it initially said it was in the thousands but has since clarified the actual number is "less than 2,000". It says a "small handful" of former customers were wrongly billed.
A Plusnet spokesperson said: "We'd like to say sorry to those customers affected, and promise we've worked hard to fix this for you as quickly as possible.
"We'd also like to reassure everyone this impacted a very small number of people and anyone affected either has, or will be, contacted."
Some say credit and discounts are missing
While Plusnet has confirmed that the problems above are linked to its new billing system, we've also seen a number of complaints in the last couple of weeks relating to referral credit and discounts which the broadband provider insists aren't connected.
Plusnet customers usually get credit applied to their bills if they refer friends or family members to the provider, but some have noticed that this credit is missing from their latest bill.
Posting in a forum on the Plusnet website, one customer wrote: "I have just been able to view my latest bill - received some referrals but only about 50% of what I should have got." Another added: "You are not alone - my September referral payment was incomplete but I have decided to wait to see if Plusnet correct the problem in my October bill."
Others have said discounts they usually receive have not appeared on their September bills. One customer in the MSE forum told us: "I renewed for another 12 months at a discounted price, but the first bill of the new contract hadn't had the discount applied." A customer on Twitter added: "This is the first month of a new contract and my discount hasn't been applied."
We've contacted Plusnet about these issues and it's looked into it and told us these are "isolated issues" which aren't linked to its new billing system. If you've had a problem with a referral credit or discount on your latest Plusnet bill, get in touch with it immediately - and let us know at news@moneysavingexpert.com.
For all the latest deals, guides and loopholes simply sign up today – it's spam-free!
Join the MSE Forum discussion