Martin Lewis: 'Mortgage rates drop below 1% – check urgently if you can switch & save £1,000s'
This is warning to EVERYONE with a mortgage. Rates have dropped below 1% – check urgently if you can switch & save £1,000s. Acceptance isn't always easy but don't just accept the status quo.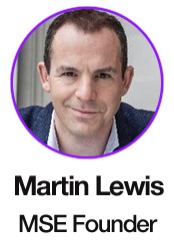 New mortgage deals are at their LOWEST EVER rates, with two-year fixes down to 0.95% and five-year fixes at 1.17% (though in some cases they load the cost in the form of hefty fees).
The cause? A perfect storm of...

Ultra-low UK interest rates

A house-buying boom boosted by a stamp duty cut
Banks with a glut of cash to lend as so many people built up savings during the pandemic
The result is ferocious lending competition for the best customers. That means, for some, remortgaging - switching deal without moving property - can result in phenomenal savings. As Martin Evans tweeted me: "@MartinSLewis I'm fortunate I've been able to work at home through the pandemic. I've been able to remortgage and my payments are over £150/mth cheaper." A £1,850/yr saving.
Yet while on the surface it looks like a boom time for mortgage holders, you needn't be Bob Geldof to smell a rat. Getting accepted for super-cheap mortgages ain't easy, especially if you've received Covid support. Therefore my aim isn't just to show you 'the cheapest mortgage' – it's really about 'the cheapest mortgage you can get'.

Delays are rife right now – act in time to avoid moving to the SVR
The stamp duty deadline and house-buying boom means brokers, lenders and conveyancing solicitors are in massive demand. This means things are taking longer, sometimes months right now.
Those on fixed or discount deals ending this year, beware. When they end you're usually bumped on to lenders' far more expensive standard variable rates (SVRs). To avoid that, you'll need to start earlier than normal, three to six months before it ends, particularly if you're self-employed or have complicated circumstances.
This article was originally written by MoneySavingExpert founder Martin Lewis for our weekly email on Wednesday 16 June.
12 cheap mortgage finding need-to-knows
The aim is to see if you can find a far cheaper mortgage, including help through the substantial acceptance pitfalls that many are facing right now.
1. Start by gathering the details on your current deal
This makes it easier to switch, and to see if switching is worth it. Find out:
a) What's the rate? Plus monthly payments & outstanding debt.
b) What type is it? Is it a fix, tracker, SVR etc? See fixes vs variables.
c) When's the intro deal over? Eg, when does a 2yr fix end?
d) When must it all be repaid? Eg, does the term end in 10, 20, 25yrs?
e) Will I be penalised to switch? Are there early repayment / exit penalties during your fix or tracker deal? If so, it isn't usually worth switching, though it can be on rare occasions - see Ditch your fix?

And crucially:

f) What's the loan to value (LTV) - the proportion of the home's value you borrow? This is about how much equity (how much of the property) you really own. For example, if you owe £180k on a £200k home your LTV is 90%. See LTV help for more.
Download our much raved-about free PDF booklets:
2. Check the best deal (product transfer) your existing lender will give you
Moving with the same lender is called a 'product transfer'. It didn't used to be a good option, but now as your existing lender needn't do affordability checks if you're not borrowing more, it can work out well for some.

This is helped by the fact there are typically no or lower fees, and less paperwork involved. So it's a good starting point, but always carry on to check whether you can take advantage of competition to beat it.
3. Speedily find the market's cheapest deal
Now spend five minutes on our mortgage comparison tool to see if it's likely you're going to be able to save by going elsewhere. Be aware ultra-low-rate deals often mean higher fees, and you must factor these in - our tool does that for you to make comparing easier.
The biggest factor affecting rate is your loan to value (LTV). Mortgages start at 95% LTV - and availability and interest at this level has improved recently - but it's still usually far cheaper at 90%, again at 80%, 75% and then bottoms out at 60% of a home's value. There can also be minor gains at each 5% in between.
| | | |
| --- | --- | --- |
| Type | Intro rate + arrangement fees | Cost (1) |
| Typical SVR for comparison | 4.5% | £10,000/yr |
| Fix, 2yrs 60% LTV | 0.95% + £1,499 | £7,340/yr |
| Fix, 5yrs 60% LTV | 1.17% + £1,525 | £7,220/yr |
| Tracker, 2yrs 60% LTV | 1.39% + £999 | £7,390/yr |
| Fix, 2yrs 90% LTV | 2.83% + £999 | £9,040/yr |
| Fix, 5yrs 90% LTV | 3.29% + £999 | £9,030/yr |
| Fix, 2yrs 80% LTV | 1.79% + £1,023 | £8,010/yr |
As for whether to fix or not, the more you value certainty and being able to stick to a budget, the more you should hedge for a fix, and fix longer. The more you're willing to try to gain every penny, the more freedom to go for a tracker. See fixes vs trackers for more.
4. Acceptance depends on credit and affordability checks
As well as the lender needing to be happy with the property (one MSE team member's flat was once refused a mortgage as it was too close to a Nando's), there are two core checks you must pass for a remortgage. It's impossible to second-guess it all, as each lender is different - some may decline you for having more than half your credit cards on minimum repayments.
- Are you creditworthy? A poor credit history can torpedo a home loan application, or at least mean you don't qualify for the cheapest deals. So check your credit file (for free) to ensure there are no errors, and minimise other applications, excess debt and credit (ie, access to borrowing even if unused) in the run-up to getting a mortgage. See my 37 tips to boost your creditworthiness.
- Can you afford it? Lenders must also do strict checks to see if you can afford mortgage repayments, not just at current rates, but stress-testing how you'd cope if they rocketed. They want evidence of income, bills, expenses and sometimes even eating out.

If you're likely to be close to the wire, being frugal in the months leading up to application is worthwhile. Though lockdown will have helped that for many (making it a good time to apply).

For more help, see 18 tips on boosting your mortgage chances.
5. Brokers can make a big difference – they know acceptance criteria unavailable to the public, and some deals are 'broker only'
All this complexity means it can be difficult to find a lender that will accept you. If that's your issue, I'd strongly suggest you use a mortgage broker.

As well as guiding you through remortgaging, they have details of most lenders' acceptance criteria, which aren't easily obtainable by the public, so can match you with the right deal - plus many deals can only be accessed via brokers (even some product transfers are broker only).
The team have come up with top nationwide 'fee-free' broker picks (brokers are paid via commission from lenders) including L&C Mortgages*, Habito* and Trinity Financial* (it normally charges a fee, but not via this link). For full details of how the system works, pros and cons, how to find brokers near you, and when paying fees may be worth it, see top mortgage brokers.
The perils of remortgaging after coronavirus financial support
It feels unjust. Yet if you have been a recipient of personal Covid-based financial support, both furlough and the self-employment grant, remortgaging can at best require more paperwork, at worst be kiboshed entirely.

Furlough - expect scrutiny or even rejection. For those who were on furlough, but are now fully back at work, the lender will want to see proof of your return to work, usually via at least one month's payslips. That should be enough, and things will then work as normal.

It's trickier if you're still on furlough or part furlough. It doesn't automatically exclude you, but of those we checked only three of 13 lenders accept furlough income as part of a mortgage application - the rest ignore it for their calculations, meaning rejection or a smaller mortgage offer.

See our How much can I borrow? guide for more on how furlough can affect your ability to remortgage.


The self-employment grant is a hurdle for remortgagers. While receiving a SEISS grant in the past isn't an automatic reason for mortgage rejection, sadly some have been told it is evidence of business viability problems (as by applying you declared you needed help) and have been rejected.

Though receiving an earlier grant but not a later one can sometimes be viewed as evidence of a turnaround.

For those still receiving SEISS grants, of the 13 lenders we asked, six explicitly said they don't take money received from a SEISS grant into account, while only two said they would - the rest were vague. There are no hard and fast rules.

As for whether those who are eligible, and struggling, should still apply for SEISS 5 when it comes out, my view is if you need the cash, do it - mortgage savings are usually no substitute for direct cash being paid into your account.
For those struggling to get a mortgage due to these schemes, product transfers from your existing lender, and using mortgage brokers, are the best routes to navigate through this.
6. Remortgaging is more difficult if you're self-employed
Aside from the Covid self-employment grant issues, many lenders have tightened self-employment criteria since the pandemic, so give yourself extra time to prepare.
- Some lenders cap how much you can borrow. Eg, Santander's max self-employed LTV is 75%, Nationwide's is 85%.
- You'll need rock-solid proof of your business's viability. Up to 6mths' worth of business and personal statements may be required. One major lender told us that mortgage underwriting for the self-employed is 'much more complex' than pre-Covid.
7. Will rates get even cheaper?
The economy is bouncing back, and some have mooted there's an inflation risk. All of which would indicate long-term interest rates are more likely to rise than fall. We've even seen fixed-rate savings start to increase, and when that happens, usually mortgage rates move roughly in tandem.

Yet right now, my guess is banks' glut of savers' cash and the ferocious competition is likely dampening the risk of a rise to mortgages.

For a second opinion, we asked mortgage guru Ray Boulger of John Charcol. His view is for those with a large amount of equity (ie, lower LTVs) there's not much room for rates to go lower in any case. But he believes there may be some scope for rates to drop for those at the higher LTV end.
8. Worried you may miss the boat, but your fix hasn't ended?
Many lenders let you lock in a rate three months ahead, a few even go to six months in advance, so it's wise to check within that window. However, locking in can incur a non-refundable booking fee of £100 - £250.

If you're worried about rates rising, you could see this as an 'insurance' cost, so you've the rate if you need it, but if things get cheaper, forgo it, lose the fee and go cheaper instead. See long lock-in mortgage help for full info.
9. Live in a block of flats? You may be hit by the cladding scandal
Extra vigilance around building safety has led to a cladding nightmare. Some properties - such as blocks of flats - are now viewed as un-lendably risky by lenders.

Therefore even to remortgage, never mind sell, they might ask you to provide an EWS1 safety certificate (introduced after the Grenfell disaster). There is disquiet from some that these forms are asked for even when not necessary. As Elmono tweeted me: "@MartinSLewis Can't remortgage without the EWS1 cladding report. Stuck on a crappy rate even though the building is safe. UK Govt has been an aberration on this issue."
Many, including me, think the Government simply hasn't done enough to help those caught by this through no fault of their own. It is tough to navigate this - best routes are speak to your existing lender about product transfer options, and again, try a mortgage broker.
10. Got any savings? Use them to bag a better mortgage deal
The pandemic has been financially catastrophic for some, but generous for those who have earned the same but spent less. The Bank of England says over £180bn extra of savings has built up.

If you've savings, you can utilise them to get a cheaper mortgage. As I mentioned above, rates tend to improve as you move down to 90%, 80%, 75% and 60% LTV, so when you remortgage, use savings so you need to borrow less for your mortgage. It can really pay off.

For example, if you had a £150,000 mortgage, and used an extra £1,000 of savings to get you to 75% LTV, the top 2yr fix drops to 1.18%. This means you'd pay £580/mth, as opposed to 1.79%, which was £625/mth.
11. Try to go £100 beyond any LTV threshold
If you've worked hard to get enough together to reach the next LTV band, eg, 90% or 75%, try to push to £100 beyond that. It means it no longer looks to mortgage underwriters like you're scraping to get to the limit and can ease acceptance.
A final word about mortgage prisoners
Sadly, 200,000+ people are trapped in extremely costly mortgages as long-term victims of the financial crisis. I do worry the cladding crisis and pandemic will see their numbers swell too.

Campaigning to help mortgage prisoners is a priority for me personally and MSE. While we've been quiet in the last few months (see the most recent mortgage prisoner update), we are still working on it and committed to pushing and lobbying Government for a solution. In the meantime, have a read of our Mortgage prisoners guide.
For all the latest deals, guides and loopholes simply sign up today – it's spam-free!
Join the MSE Forum discussion