Sky to hike broadband and TV prices for millions – and it's introducing £2/day EU roaming charges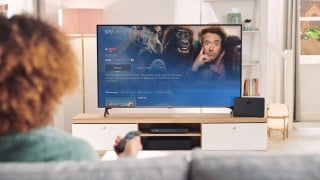 Millions of Sky broadband, TV and home phone customers will see prices hiked by £43 a year on average from Friday 1 April. Meanwhile, Sky Mobile customers who use their data, or make calls and send texts in the EU will pay £2 a day in roaming charges from Tuesday 3 May. But affected customers may be able to cancel contracts penalty-free as a result.
It comes after O2, Three and Virgin Mobile announced they will hike prices by up to 11.7%, while BT, EE, Plusnet, Shell, TalkTalk, Vodafone and Virgin Media announced April price hikes for mobile and broadband customers of up to 9.3%.
Below we explain exactly what's happening.
If you're unhappy about the hikes and are thinking of leaving Sky, you may want to read our guide on How to find cheap broadband deals, as well as use our Broadband Unbundled and Cheap Mobile Finder tools to check if you can save by switching. To save on TV costs, see our TV MoneySaving tricks guide.
Prices hiked for broadband, TV and home phone customers
Here's a round-up of which services will see an increase and by how much:
Sky Signature TV will increase by  £1 a month from £26 a month to £27 a month.
Sky Cinema will increase by £1 a month from £11 a month to £12 a month.
BT Sport will increase by £1 a month from £27 a month to £28 a month.
Sky Broadband  Essential will increase by £2.50 a month from £25 a month to £27.50 a month.
Sky Broadband Superfast will increase by £2.50 a month from £28 a month to £30.50 a month.
Sky HD will increase by £1 a month from £7 a month to £8 a month.
Out-of-bundle Sky Talk call rates from Sky landlines and mobiles to UK landlines and mobiles will increase by 2p a minute from 20p a minute to 22p a minute.
Any existing fixed-price offers you have are unaffected by the price change until your deal expires – when the hikes will kick in. If you have an offer that gives you a discount (rather than where you pay a set price), you'll receive the same percentage discount on the new price, which includes the price rise, until your offer expires.
Prices will rise from 1 April
Affected customers will be notified of the price changes between Wednesday 16 February and Thursday 24 March, by email or post. TV and broadband price hikes will take effect from Friday 1 April, while increases to Talk call rates will take effect from Sunday 1 May. These dates are for new and existing customers.
EU roaming charges to be brought back from 3 May
In addition to the increases outlined above, Sky has also announced that it will charge mobile users £2 a day for data roaming – using their inclusive minutes, texts and calls – in the European Union from Tuesday 3 May.
Customers can use any unused data from previous months that's automatically stored in their 'Piggybank' to avoid extra costs if you exceed your monthly allowance, but you'll still need to pay the £2 roaming charge.
If roaming is important to you, see our Cheap mobile and data roaming guide for info on how to use your phone abroad for less, including info on the providers that will continue to offer inclusive 'free' roaming.
You MAY be able to leave penalty-free

If you're not happy with the price hikes or the reintroduction of roaming fees, you may be able to exit your contract with Sky penalty-free. But remember, there's no point leaving in a huff if your current deal is still the cheapest out there – so check rival providers' prices and remember other firms also increase prices from time to time.
Here are your rights if you want to leave Sky:
Outside your minimum contract term for TV, phone, mobile and/or broadband? You can leave penalty-free at any time. To do this, contact Sky by phone (on 03337 593922), online or by post. You'll need to give 31 days' notice for TV and mobile packages, though Sky says the notice period for some TV add-ons may vary. It's 14 days' notice for broadband and phone packages.

If you're out of contract there's a good chance you're paying over the odds, so check if you can find a better deal – you don't need to wait for notification of the price hikes to do this.



Still in your minimum term for a Sky broadband, mobile or phone contract? You can also leave penalty-free. If you're affected by these price increases or the reintroduction of roaming fees, you CAN cancel without paying an early termination charge. Technically, you can only do so within 30 days of receiving official notification of the price increase, though there's no harm in calling sooner to see if you can haggle your bills down. Again, you can contact Sky by phone (on 03337 593922), online or by post.


Still in your minimum term for a Sky TV contract? Unfortunately you CAN'T leave penalty-free. You don't have the right to exit your contract penalty-free as a result of these price changes. Sky says this is because the terms and conditions for TV packages are different from those for broadband, mobile and phone packages – in other words, you may have already been warned that prices could rise.

However, if you're unhappy about the change it may still be worth trying to haggle with Sky (see more on this below). And some TV add-ons may have a rolling monthly contract, in which case you can remove them from your Sky package to avoid the hikes and cut costs.
If you've a bundle that includes TV and broadband, Sky says you can generally cancel the broadband penalty-free, but not the TV. This may vary depending on when you signed up to the products though, so if unsure, check with Sky before cancelling.
Willing to stick with Sky? Haggle, haggle, haggle
If you're happy to stay with Sky despite the price increases, it's worth trying to haggle a better deal – especially if you've the right to leave penalty-free, in which case your bargaining position is strong. Price rises are always powerful haggling ammunition. Our most recent poll in November 2021 found 81% of Sky customers who tried to haggle got a discount, and some save hundreds each year.

See our Sky haggling guide for full tips on how to do this, but for starters here are a few:
Benchmark the best deal elsewhere so you ask for a realistic discount.
Get through to the retentions (sometimes called disconnections) department. They have the most power to slash costs, as their job is to keep you.
Use charm and be friendly. Aggression or anger will just put their back up.
Don't panic if they call your bluff and say they'll disconnect you.
If they won't slash the price, see if they can include any extras, such as a boosted TV package.
If you do haggle a better deal, always check the length of the new contract you sign up to and make sure you're happy being locked in for that long.
For all the latest deals, guides and loopholes simply sign up today – it's spam-free!
Have your say
This is an open discussion and the comments do not represent the views of MSE. We want everyone to enjoy using our site but spam, bullying and offensive comments will not be tolerated. Posts may be deleted and repeat offenders blocked at our discretion. Please contact fbteam@moneysavingexpert.com if you wish to report any comments.
Update: We are aware that some users may currently be having issues seeing the comments and we're working on it.