Free tool to help detect 'fake' Amazon and TripAdvisor reviews
Online reviews have changed the face of shopping and travel. Whether you're after an inflatable flamingo, Halloween costume or honeymoon hotel, it's possible to instantly mine the online opinions of swathes of people. But can you trust everything you read?
Sadly, the anonymous nature of the web means businesses and individuals can pervert the review system to their advantage, faking popularity for profit.
Update 20 Nov 2020: We first published this blog two years ago, but we've checked out the free tool again and it still works the same. With the Black Friday and Christmas buying season coming up, being aware of how to spot dodgy reviews can help you avoid buying something that isn't quite right.
It's hard to put a figure on what percentage of online reviews are fake, but there's no doubt it's a real problem. As far back as 2015, an investigation by the Competition and Markets Authority identified concerns about businesses writing or commissioning fake positive reviews. In 2016, it took action against an online marketing company it found had posted fake reviews on behalf of clients, while just last month the owner of a business that sold fake TripAdvisor reviews to hotels and restaurants in Italy was jailed for nine months.

Usually the only way to spot these falsely flattering reviews is to trust your gut. Yet a nifty free tool Fakespot now lets you quickly check whether some reviews are likely to be bogus or real. And while not definitive, it can be very useful...
The tool uses an algorithm to rate reviews on Amazon, TripAdvisor, Yelp and Apple's App Store. (It doesn't cover TripAdvisor's holiday rentals section.) The algorithm looks for suspicious patterns in reviews - examining dates, words, phrases and grammar. It also scours reviewers' profiles for clues, looking for example at the number, frequency and dates of reviews posted.
Just enter a URL from one of the sites Fakespot covers and it crunches the data, awarding the hotel or product a grade from A to F, with F meaning they are most likely to be phoney. It also maps the words most likely to be used about the product or hotel – and highlights reviewers it believes are questionable.
It won't just flag suspiciously flattering reviews, either – its software also looks for fake negative reviews, though Fakespot says these are less common.
Putting it to the test
To show how this works, we searched for Halloween costumes on Amazon. Reviewers gave the baby bat costume below 4.5 stars. Fakespot awarded the page a grade A, because its analysis "detected over 90% high quality reviews". It found reviewers were most likely to use the words 'wings', 'time' and 'outfit'.





However, we also found a Christmas jumper rated a glowing 4.5 stars on Amazon which Fakespot gave a grade D, claiming that 54% of reviews were 'low-quality'. It said: "Our engine has profiled the reviewer patterns and has determined that there is high deception involved."
To test this on hotels, we searched accommodation in Las Vegas on TripAdvisor. Marriott's Grand Chateau had 4.5 stars on TripAdvisor, and Fakespot gave it a grade A, as its "engine has discovered that over 90% high quality reviews were present".

But another Vegas hotel, ranked four stars on TripAdvisor, got a grade F, with the warning: "Tread lightly, this may contain a major number of inauthentic reviews." Fakespot claims that only 20% of the reviews for this hotel were reliable.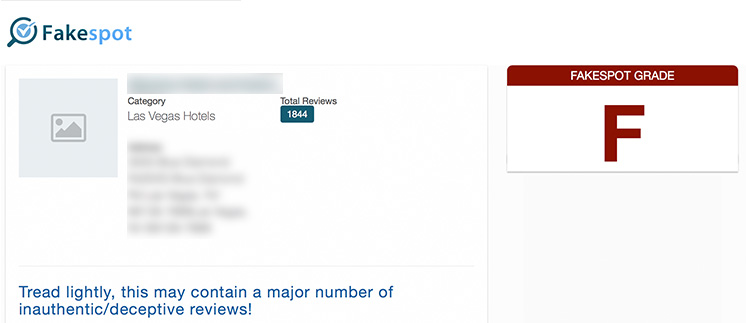 This tool ISN'T definitive – so use it as a guide
Of course, it's important to understand that Fakespot can't say for certain that a review is 'fake'. The rating it gives products and hotels is based on the algorithm's analysis and the patterns it's seen, but it's not a definitive answer – and as you can see from TripAdvisor's full statement below, it is highly sceptical, claiming Fakespot's results are "extremely unreliable".
What it can do though is give you a good steer. If you want a bit of help sifting through 100s of online reviews, or have your doubts about a product or hotel and want a second opinion, it can help. It might also be the deciding factor in some cases – if, say, two hotels are much of a muchness, you've little to lose by choosing the one which is better-rated on Fakespot.
If you're looking at Amazon items, it may also be worth using a second review-analysis tool for belt and braces. ReviewMeta does a similar thing to Fakespot, though just for Amazon (it doesn't cover TripAdvisor, etc). You can therefore use it to double-check if Fakespot is on the right track.
Be aware – TripAdvisor doesn't like this
While Fakespot has good feedback – genuine good feedback, as far as we can tell – from forumites and seemed like a handy tool when we tried it, it's worth bearing in mind that TripAdvisor is highly critical of its analysis.
TripAdvisor spokesperson James Kay told us: "We definitely do not recommend using Fakespot to test the reliability of reviews. Our own fraud investigators have tested Fakespot analysis, with reviews we know to be either genuine or fake, and the results show it to be extremely unreliable as an accurate way to determine the authenticity of a review.
"If Fakespot's methods were reliable, we would be using them. We don't, because they aren't. The reason Fakespot's analysis is unreliable is because they have no access to the key technical data you would need to determine whether or not a review is fake. We do, and we have been using this data for over a decade to track millions of reviews."
We also asked Amazon what it thinks about Fakespot, but it declined to comment.
At the end of the day, you'll need to decide if it's a useful tool - if only to help you avoid being caught out by the kind of spoof reviews which saw a plastic tunnel attached to a supermarket rated as a leading Cornish tourist attraction. If you try it, please let us know how you get on in the comments below.
Join the MSE Forum Discussion
Have your say
This is an open discussion and the comments do not represent the views of MSE. We want everyone to enjoy using our site but spam, bullying and offensive comments will not be tolerated. Posts may be deleted and repeat offenders blocked at our discretion. Please contact fbteam@moneysavingexpert.com if you wish to report any comments.