25 tricks to boost storage and improve the look of your home
Want to save on space and spruce up your house or flat? There are lots of nifty MoneySaving tricks to make the most of where you live, from low-cost ways to make your bathroom sparkle to raising your bed to create storage space underneath.
Folk at MSE Towers know a thing or two about making the most of a smaller pad - after all, many of us live in central London, where accommodation can be decidedly cosy. So we asked the team what they've learned over the years.
The tips below show you how to give your home a makeover on the cheap, without spending a fortune on gadgets or new furniture. If you're renting, they should help ensure you don't lose your deposit when it's time to leave. And if you're able to use them effectively to make your home feel bigger and more, well, homely, they might just save you the expense of trying to find a bigger place.
Here, then, are our tips on how to boost your storage space and improve the look of your home. Add yours below in the comments and we'll republish the best in a full expanded list.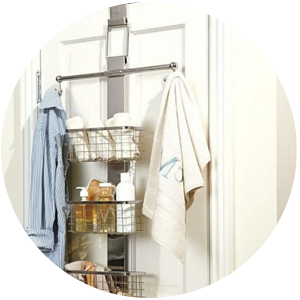 Store on your door. You might've already come across coat racks which hang on the back of your door. These are especially handy for renters, because you don't need to drill holes and risk your deposit. We've found 'em for around £5-£10 at Amazon and Argos, but it's always worth checking local shops too - MSE Holly found an independent store near her selling them for £1.99.

There are other types of over-door storage too, which can help you make the most of space in cupboards, bedrooms and bathrooms. These range from shoe holders (which can be used for any small items, not just shoes) to bathroom organisers with hooks for towels, and shelves for toiletries.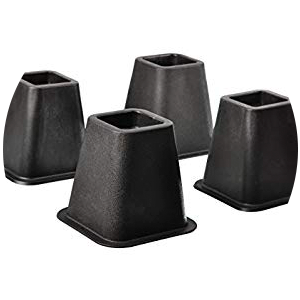 Want more space under your bed? Lift it up. 'Bed risers' are small cups or blocks which sit under the feet of your bed to raise it up and create more space underneath for storage. We found sets of four for £15ish on Amazon.


Opt for decorative storage boxes to hide things away. Storage boxes help keep things neat, and prevent the contents getting dusty. You can get special shallower boxes which fit neatly under your bed, but if you've already used up that space, another option is to choose decorative boxes which can go on display, without detracting from the look of your home.


Store seasonal clothing in your suitcase. If you have large suitcases taking up valuable storage space, use them to store clothing you aren't currently using, eg, winter coats in summer months.


Take it to the extreme with vacuum bags. These are storage bags which let you remove all the air once you've filled them, so you can really maximise space in your cupboards, or under your bed. Cost depends on size, but we found a set of two 55x85cm bags for £6.


Put your chest of drawers INSIDE your wardrobe. If your wardrobe doesn't come with much shelving, putting a small chest of drawers inside can mean you have drawers to fold clothes and rails to hang things on. Alternatively, hang one of these pocket shoe organisers in the wardrobe for socks, underwear, shoes etc.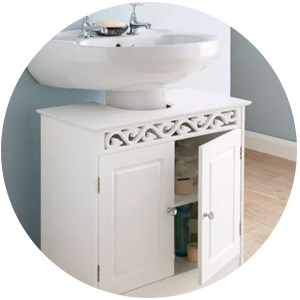 Hide the bottom of your sink AND boost space for toiletries. This nifty under-the-sink cabinet uses the space under your sink to give you extra space for spare toothpaste, shampoo etc.


Do regular audits of your cupboards and chuck out what you don't use. If you haven't touched something in a year, flog it on eBay or Facebook Marketplace (unless you will DEFINITELY use it in future).


Add removable sticky hooks to the inside of kitchen cupboard doors. These can be great for storing smaller items like saucepan lids, cloths etc. We've seen packs of three Command hooks for £4ish.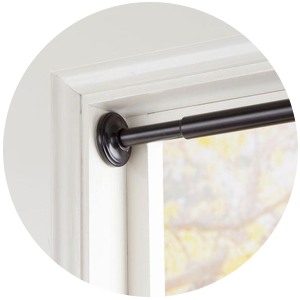 Use tension rods to create extra cupboard space. Tension rods are essentially railings which stay put using tension, rather than fittings (and so they don't cause any damage). They're often used for curtains, but you can use them to create extra storage space in your wardrobe, or inside kitchen cupboards to hang cleaning spray bottles.


Find furniture with built-in storage. If you're buying a home or renting unfurnished, look at maximising space by getting beds, sofas and even tables with storage inside. If you're renting a furnished property, which already has beds etc, there are still smaller items of furniture you might consider, such as storage stools or ottomans that double as storage chests.
Need a computer table? Check out laptop desks. They can be much more compact than regular desks, and are great for smaller spaces.


Hang key hooks and mail racks on the wall. Or put a small table near the front door. This saves you cluttering kitchen tables or worktop counters with post and house keys.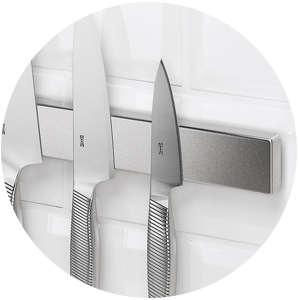 Stick magnetic strips to your kitchen walls. You can not only use these for knives, but also for metal spices bottles, if you have them. This can be a good way to use the space underneath wall cupboards.


Opt for an expandable dining table and foldable chairs. That way they won't take up valuable space when you don't have guests around.


Walk around Ikea to get storage ideas. Yes, other furniture stores are available, but a trip to the Swedish mega-store in particular can be a handy way to get tips and tricks on boosting storage in your home. But don't be sucked into impulse buys - see our MoneySaving Ikea hacks for ways to make your visits more efficient (and cheaper).
How to improve the look of your home
Once you've won yourself a bit more elbow-room, it's time to spruce up your lodgings:
Try temporary wall decorations. Whether you're a renter trying to avoid losing your deposit, or a homeowner not ready to commit to the hassle and expense of redecorating, there are a few more temporary options for your walls.

Wall art stickers can give your rooms some character, without having to paint/wallpaper all the walls. You can also get temporary/removable wallpaper if you want to go a step further. And there are stick-on tiles for bathrooms and kitchens.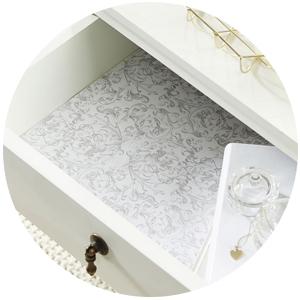 Freshen your drawers with liners. Use self-adhesive drawer liners to freshen drawers in your kitchen, bathroom and bedroom (and hide unsightly stains).


Try special sticky picture hooks instead of nails. Get specially designed removable strips to hold up pictures without damaging walls. Cost depends on size, but we've seen packs of medium strips for around £3-£4.


Cover (and protect) your sofa with a throw. Put a blanket or throw over an old sofa to cover up any marks or stains. This can also be a good trick for renters to protect your sofa from deposit-threatening spills, or to hide any blemishes left by previous tenants.
Simple ways to freshen up your bathroom... eg, get a new toilet seat. It's amazing what a new toilet seat can do to improve the look of your loo. Free-standing toilet roll holders can also be a quick fix to stop damp loo rolls cluttering up surfaces if you don't have a wall-mounted holder. And if you want to really make your bathroom sparkle, put a bit of extra effort in and re-grout your tiles (though renters may need to check with their landlord that this is OK first).


Renting? Strike a deal with your landlord... Often if you're a tenant, redecorating is simply impossible - but there's no harm in asking, and offering something to sweeten the deal. Get them to pay for all paint and brushes - and in return you give the rooms a paint.


Look after any outdoor space. Keep your home looking nice outside as well as in, by mowing the lawn (if you have one), keeping on top of weeding, sweeping up leaves and rubbish, cleaning the windows, washing the front door etc.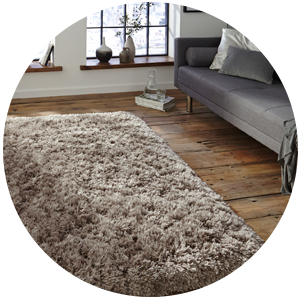 Cover up worn carpets/stains with rugs. Rugs can be your friend when it comes to improving the cosiness of your home AND covering undesirable marks or stains on your floors.


Use Tipp-ex or white nail varnish to cover chips on white door frames. Most door frames get knocked around a bit when you move furniture around. Use this trick to avoid having to repaint the entire frame if you have a few unsightly chips.
Now tell us yours...
So, those are our top 25 hacks, but there are lots more out there. Let us know yours in the comments below - we'll pick the best and republish the new improved list in due course...
Join the MSE Forum Discussion