Baileys taste test – which own-brand beat the original for taste?
With the 2021 supermarket battle of the Baileys heating up (see £9.50 Baileys at Tesco), here at MSE Towers we wanted to answer the ultimate question: "Are the cheapest Irish Cream alternatives just as good?". There was only one way to find out – a good old fashioned taste test.
We organised a blind tasting, with 15 (very willing) MSE staff volunteers trying out 11 different Irish Cream liqueurs in an attempt to identify which one was the 'real' Baileys. We also asked them which one they liked the best taste-wise.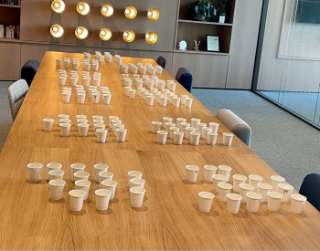 The eleven contenders included well-known supermarket brands as well as a vegan alternative from M&S, and, interestingly, a Peaky Blinders TV show-inspired bottle we found on Amazon.
| | |
| --- | --- |
| Product | Price |
| Asda Causeway Coast Irish Country Cream 70cl | £4.50 |
| Sainsbury's Country Cream 70cl | £4.50 |
| Irish Meadow Cream 70cl | £6 |
| Lidl Deluxe Irish Cream Liqueur 70cl | £6.99 |
| Aldi Luxury Edition Irish Cream 1L | £7.25 |
| Tesco Irish Cream Liqueur 70cl | £7.75 |
| Morrisons Irish Cream Liqueur 1L | £9.99 |
| Peaky Blinders Irish Whiskey Liqueur 70cl | £9.99 |
| Baileys Original 70cl | £10 at Asda (normally £15) |
| M&S Vegan Chocolate and Coconut 70cl | £12 |
| M&S Traditional Irish Cream Liqueur 70cl | £12.50 |
The majority of bottles were 70cl. A few were one-litre bottles, as that was the smallest we could find – this is something you'll have to bear in mind if you're looking for the cheapest option. Similarly, we tend to see offers on the larger one-litre bottles, so you could get a better deal if you're buying a bigger bottle. For example, a one-litre bottle is currently £9.50 at Tesco for Clubcard holders, £9.99 at Morrisons and £10 at Sainsbury's – see full details on our cheap Baileys page.
Which one was the MSE staff favourite?
Our results might surprise you, as when it came to taste preference the overall winner was the Tesco own-brand priced at £7.75, with half of our volunteers selecting this one as their favourite. Baileys (£10) came in second place, while Morrisons (£9.99) was third. This isn't the first time MSE staff have preferred a cheaper alternative (we really are true MoneySavers) – see our Brownie Downshifting blog.
| | | |
| --- | --- | --- |
| Product | Price | Number of votes |
| Tesco Irish Cream Liqueur | £7.75 | 7 |
| Baileys Original | £10 | 5 |
| Morrisons Irish Cream Liqueur | £9.99 | 2 |
Now this is all well and good, but how many of them correctly identified the real Baileys? As it turns out, only around one third of our volunteers (four out of 15) were able to do this, with almost half mistakenly thinking that the Tesco's own brand was Baileys. Interestingly only a third of volunteers correctly identified the vegan alternative.

Our taste test just goes to show that many people can't tell the difference between Baileys and other brands by taste alone, so if you are thinking about money saving this Christmas, it might be worth considering cheaper brands that taste just as good, if not better.
Please remember to be Drinkaware.
What about making your own?
MSE Duane likes to save even more money by making his own for around £7 per bottle (this was by far MSE Deb's favourite). See his recipe below:
Ingredients
1 pot (300ml) of double cream
1 can (398g) of condensed milk
333ml of generic whiskey
1 tsp of vanilla extract
2 tsp/sachets of instant coffee powder
2 tbsp/45g of chocolate syrup
To make, simply whisk together the first two ingredients (double cream and condensed milk), then whisk in each of the next ingredients one at a time. This will make around 800-850ml and costs around £6.50-£7 per batch, though could be even cheaper if you already have some of these ingredients. MSE Duane's top tips include:
You don't need to buy a premium whiskey, as the flavour is so overwhelmed by everything else. I bought a one-litre bottle of Lidl's own brand and used a third of a bottle per batch.

This recipe is far richer/thicker than Baileys because of the use of double cream. You could switch to whipping cream or even single cream to see how they compare.

All quantities above can be tweaked to your personal tastes.

With all of the various flavours of coffee syrups, there are lots of ways this could be customised, so you could find other interesting ways to add other flavours.

Have your say
This is an open discussion but the comments do not represent the views of MSE. We want everyone to enjoy using our site but spam, bullying and offensive comments will not be tolerated. Posts may be deleted and repeat offenders blocked at our discretion. Please contact fbteam@moneysavingexpert.com if you wish to report any comments.
Update: We are aware that some users may currently be having issues seeing the comments and we're working on it.