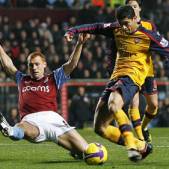 The UK arm of sports broadcaster Setanta finally fell into administration last week which will leave thousands of subscribers out of pocket.
Sky or Freeview customers who made monthly payments to Setanta won't get any automatic refunds if advance payments were taken for the period after which the firm went off-air.
However, those who paid by credit card or who were on annual contracts may be able to claim money back via their card company.
If you paid via another television provider, you should receive a full refund.
Here's how the collapse affects you:
Sky or Freeview customers who paid monthly
You would have paid Setanta direct. The broadcaster says that from 23 June no more payments will be taken. Yet it's still wise to cancel any direct debits, to be safe.
You are not able to cancel any automatic credit or debit card payments, known as recurring payments, but monitor your statement to ensure no money is taken. Recurring payments are a nightmare, find out why.
Sadly, if you've paid in advance for the service, as you're deemed an unsecured creditor, you will not get a refund from Setanta.
If money was taken via credit card you may be able to get money back by asking your provider to perform a 'chargeback', which means requesting the money from Setanta's bank. Yet this is not guaranteed to work.
BT, Tiscali and Virgin customers who paid monthly
If you subscribed to Setanta via these platforms you would have paid your TV service provider. You would not have paid Setanta direct.
You won't have any further payments taken, the three firms have promised. The trio have also pledged to refund any moneys paid that covered the period after which Setanta ceased broadcasting. That should appear on your next bill.
Subscribers who paid annually
Only a small number of viewers held such contracts, and only via Sky or Freeview. Sadly, none will not get an automatic refund.
Yet if you paid by credit card you may be able to get money back from your credit card provider due to protection granted under Section 75 of the Consumer Credit Act.
This makes card companies jointly liable with a retailer if something goes wrong. However, the payment must have been worth £100 or more.

If you paid on a Visa debit card (or a Visa credit card for under £100) you can try what's known as Visa Chargeback. Complain to your bank and it will try to recover the money from the supplier's bank, so this may work even though Setanta has gone bust.
However, this is a Visa promise, not a legal requirement. Make sure you complain soon as there's a 120-day deadline.
Further reading/Key links
Nightmare automatic credit card payments: Recurring payments
Card protection: Section 75
Full Q&A: Setanta website