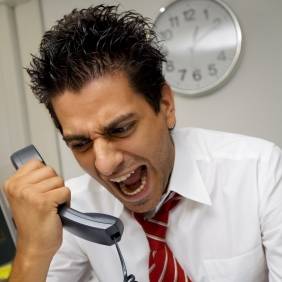 The Liberal Democrats are campaigning for a shake-up of customer service standards in Britain, including free calls to helplines.
In a series of proposals outlined this week, Lib Dem Shadow Business Secretary John Thurso also states it is vital consumers have the opportunity to speak to a human being, not just an automated service.
The plans also call on energy firms to publish full tariff information on bills and the immediate clearing of money transferred via the banking system.
The proposals include introducing a 'Universal Service Code' for organisations providing a service to the public.
This would be compulsory for public bodies, but voluntary for private firms, though it is hoped all major utility firms and banks will sign-up.
High call costs
Most customer service lines cost up to 40p a minute as you have to dial expensive 0870 or 0845 numbers. If you're stuck on hold for an hour, it could cost almost £25.
Even where you have the option of dialling a freephone 0800 number, mobiles often charge.
However, website saynoto0870.com allows you to search for significantly cheaper geographical numbers to call (see the Say no to 0870 guide).
The Lib Dems' proposals include:
Making customer service phone numbers free to call from mobiles and landlines.
Making one of the first options in a telephone system, the ability to speak to a human being.
A duty for energy companies to publish information on all available tariffs on their bills (see the Cheap Gas and Electricity guide).
The immediate clearing of bank payments and transfers (see the Best Bank Accounts guide).
Training staff to deal quickly and effectively with customer enquiries.
Ensuring firms make and keep appointments for visits, installations and phone calls within a one hour timeframe.
A requirement for restaurants and cafes to make tipping policies clear.
A beefed-up consumer watchdog to name and shame companies involved in bad practice (see the Fight Financial Mistreatment guide).
Measures to prevent supermarkets building up local monopolies (see the Cheap Supermarket Shopping guide).
Martin Lewis, MoneySavingExpert.com creator, says: "The UK's customer service environment has sadly lagged behind other countries for too long. The fact doctors surgeries, utility companies and even some government departments use revenue-generating phone numbers when we call is a disgrace.
"It means when we call up to complain they don't just get a cut of our call costs, they make money the longer we're on hold – no wonder it's tough to get an answer.

"For too long, some service companies have offered easy access freephone numbers for new customers, but then left existing customers who are trying to get decent service on paid-for lines with nail-bitingly frustrating automatic answering.
"While freephone sounds good, given it can cost up to 40p per minute on a mobile, the policy is on the right track but could do with some tweaking. Ensuring a normal geographic phone number is available and published as well would be a more honed MoneySaving route.
"I think every consumer would breath a sigh of relief if these were adopted. It's nice to see a political party focusing on the little things that matter – where quick and real change is possible."
Further reading/Key links
Call for less: Say no to 0870
Fight back: Fight Financial Mistreatment