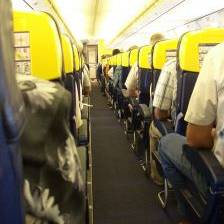 Ryanair has once again upped its booking fees, this time making it over three times more expensive to check luggage into the hold in some cases.
That huge hike applies to a second piece of checked baggage, yet the cost of your first checked item is also rocketing by 50%.
You can avoid these charges by taking one item of hand luggage, which is free (see the Budget Airline Fee Fighting guide).
In some cases, you're best off paying a higher advertised charge on a standard airline such as British Airways (BA), to pay less overall.
The new Ryanair fees come into force for all bookings made from 1 October and add to the multitude of other fees charged by Ryanair and other budget airlines (see the Budget airlines face court for breaching fees rules MSE News story).
In May, Ryanair added further charges to flight bookings (see the Ryanair adds new fees MSE News story).
Here is a summary of the upcoming changes (which all apply per leg, so cost double for a return flight):
First checked-in bag (15kg max). £15 if you pay online, instead of the current £10. If you wait until arriving at the airport, it will cost £30 instead of £20.
Second checked-in bag. £35 if you pay online, instead of the current £20. If you pay at the airport it will cost £70 instead of £20. At present, while you are allowed more than one bag, you are only allowed a combined 15kg, but under the new regime you'll be allowed 15kg per bag.
Sports equipment. £40 if you pay online, instead of the current £30. If you pay at the airport it will cost £50 instead of £40.
Excess bag fees (per kg). Up from £15 to £20 (airport only).
In contrast, Easyjet charges £8 per bag, per leg (20kg max) if you pay online. British Airways charges nothing for your first standard-sized checked item (23kg max) and sometimes allows further luggage to be checked-in for free.
In fact, it's sometimes cheaper not to use a budget airline. MoneySavingExpert.com found a return flight from London to Barcelona on BA from 1 November to 3 November for £101, if you paid by Visa debit card.
On the same dates, you could pay £89 using Ryanair on the same route (though departing and arriving from different airports near the same cities), paying via the same method, taking one item of checked baggage and checking-in online.
Under the new charging regime, the same Ryanair flights would cost £99, only £2 less than BA, but with a smaller baggage allowance and no guarantee you could sit with friends or family.
Yet if you failed to register your bag online and forgot to check-in online (or simply couldn't due to no internet access), the Ryanair flight would cost £189 (£209 under the new regime), around double the cost of the BA ticket.
There are many scenarios under which Ryanair is cheaper but it highlights the importance of comparing all fees before booking.
Stephen McNamara, from Ryanair, says: "To persuade passengers to travel with carry-on bags only and to defray the cost of some of these fare reductions we are increasing baggage fees.
"These baggage fees are all avoidable by choosing to travel with carry-on luggage only. Over 70% of Ryanair passengers will be totally unaffected by these changes as they already travel with just one carry on bag.
"Ryanair continues to reduce air fares – saving our passengers over €530m this year alone."
Further reading/Key links
Slash flights costs: Ryanair Flight Sale and Budget Airline Fee-Fighting
New charges: Ryanair website