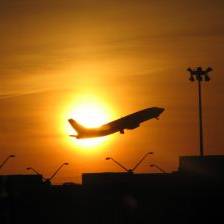 Budget airlines could face court action if they continually flout European Union (EU) rules to trap passengers into paying unnecessary booking fees.
The Civil Aviation Authority (CAA) today told this site airlines that break the law will face punishment, including a possible court enforcement order.
Yet some airlines appear unwilling to conform to the regulations at present; in particular, by automatically opting travellers into paid-for optional extras such as insurance and checked luggage (see the Budget Airline Fee-Fighting guide).
The CAA and Office of Fair Trading (OFT), which have the power to enforce European rules in the UK, are currently reviewing an EU audit of airline websites conducted earlier this year and will make any decisions based on those findings.
The EU has also pledged to implement a code of conduct for airlines.
MoneySavingExpert.com has been vocal over recent weeks in condemning airlines and other websites that fail to clearly display all charges (see The £250 holiday booking trap, Ryanair forced into transparency, Budget airline wrists slapped and Budget airline fees tricks exposed news stories).
Pressure is also mounting from other consumer bodies. The Air Transport Users' Council (ATUC) says it is "dead against" some airline practices.
'Time for action'
MoneySavingExpert.com creator Martin Lewis says: "Someone, somewhere needs to grab hold of these companies.
"The rules may be in place but they're flouted with blarney and panache. It's time for change."
CAA spokesman Nic Stevenson says: "The CAA and OFT are reviewing the work undertaken and considering whether any action is required.
"The OFT and CAA will inform industry of any breaches of the law and seek their assurance to make any necessary changes in a specified timescale.
"Failure to do so could result in the OFT/CAA seeking an enforcement order from the court."
Neither the CAA or OFT have disclosed their review's likely conclusion yet or any time-scales. However, MoneySavingExpert.com understands the authorities, particularly the EU, are furious with some airlines' current practices.
Extras added automatically
MoneySavingExpert.com has identified some areas that are likely to incur the wrath of the authorities.
For example, many airlines automatically include optional extras on passengers' bookings by pre-ticking the relevant box.
Article 23 of the European Union's Regulation on Air Services says: "Optional price supplement acceptance by the customer shall be on an 'opt-in' basis."
Easyjet, BMI Baby and Jet2.com include travel insurance in bookings. Yet many travellers will already have insurance in place, while airline cover is expensive.
Easyjet also automatically adds a charge for checking in luggage, which costs £8 per bag, per flight. Many prefer to carry hand luggage only, which is free.
If you do nothing, you will pay for these extras, meaning you have to actively opt out.
Easyjet accepts the practice of pre-ticking boxes is wrong and will alter its website, though it has not said when that will happen.
BMI Baby, though, is unrepentant. A spokeswoman says: "We believe travel insurance is an essential holiday purchase and by offering it as an 'opt out' option, passengers are less likely to forget to purchase insurance.
"If a customer does not require insurance, they simply have to uncheck the travel insurance box. This box is clearly shown."
Jet2.com was unwilling to comment, though it has previously stated it clearly displays how to cancel insurance.
EU code
The EU is currently developing an industry-wide agreement to ensure a level playing field for airlines across the EU which should be ready in the new year.
Some of the more transparent carriers often complain that other airlines steal an advantage by hiding fees to make their up-front costs appear cheaper.
It is hoped such a code will also ensure an end to unfair pricing.
EU Consumer Commissioner Meglena Kuneva says: "This Europe-wide airline investigation is changing the face of airline websites across the EU.
"There is no room for complacency; there is more work to be done. The next step is an industry-wide agreement, and we will continue to monitor developments in the sector closely."
Other problems
As well as pre-ticked boxes, budget airlines have developed many other ploys to get as close to the boundaries of the rules as possible.
EU regulations also state: "The final price to be paid shall at all times be indicated and shall include the applicable air fare or air rate as well as all applicable taxes and charges, surcharges and fees which are unavoidable."
Most budget carriers add a charge for paying by credit and debit card late in the booking process, which is unavoidable for many. Yet they often get away with it by not charging for Visa Electron payments, though few people have this type of card.
Ryanair, Jet2.com and other airlines do not always list the full price of a booking throughout the booking process.
After choosing your route, on the price list results page, you're often first shown a dirt-cheap deal, but the hidden nasty in the corner of the screen then displays all the extra fees.
However, the ATUC concedes, given the page itself always displays the full cost somewhere, this practice is probably within the rules, however morally wrong it is.
Simon Evans, chief executive of the ATUC, says: "While we are dead against pre-ticked boxes, some of the other tactics airlines use are legal and clever. But that's not to say we like them. What's wrong with displaying the fully inclusive price?"
Action taken
The OFT has already forced Ryanair and Jet2.com over recent weeks to ensure their websites make some of their charges clearer (see the Ryanair forced into transparency and Budget airline wrists slapped MSE News stories).
That action came from specific complaints made, and was not a result of the EU audit.
If you've been a victim of poor airline practice, then let the ATUC know as it lobbies for greater consumer protection.
If you've been missold insurance you can complain to the free Financial Ombudsman Service if you don't get your money back, but only for cover sold by airlines and other websites in 2009.
Additional reporting by Daniel King
Further reading / Key links
Beat airline tricks: Budget airline fee-fighting
Fly for less: Cheap Flights
MSE News (03.07.09): Ryanair forced into transparency
MSE News (06.07.09): Avoid the £250 holiday booking trap
MSE News (14.08.09): Budget airline's misleading website
MSE News (22.08.09): Budget airline fees tricks exposed