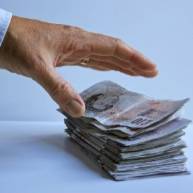 The Financial Ombudsman has slapped banks' wrists, telling them they must stop ignoring bank charge claims from those in financial hardship.

Reclaiming charges of up to £39 a time for going beyond your overdraft limit is currently frozen, yet a strict condition allowing that hold is banks must deal immediately with complaints from those in the financial mire.
Yet there've been worrying reports from reclaimers in this site's forum that banks have been flouting that rule, and now the Ombudsman's stepped in to confirm this (see the Bank Charges Hardship guide).
The independent complaints body is this month writing to all banks and building societies that provide current accounts to demand they treat those in difficulties "fairly".
It states providers are often not engaging with consumers, and writing inaccurate rejection letters. It is concerned by the huge volume of complaints rejected by providers it then has to adjudge.

Since the hold was enacted, pending the result of a landmark test case, the impact of the recession means hardship reclaiming has steadily grown and has proved a lifeline for many. A result in the latest stage of the case is expected any week.
So far this year, 254,000 reclaiming letters have been downloaded specifically for those in hardship from this site alone (available in the Bank Charges Hardship guide).
Those in hardship are not guaranteed to get their money refunded but banks and building societies must at least investigate.
Ombudsman gets tough
Banks and building societies are already under fierce criticism for simply auto-rejecting complaints on a raft of subjects (see the Proof Banks Auto Reject MSE News story), so this comes as further confirmation.

In the letter, Caroline Wells, from the Ombudsman's office, states: "I am writing in view of the volume and nature of complaints about current account charges being referred to the Ombudsman service by your business. These have been brought by consumers who have told us they in financial difficulties.
"This difficult situation is made worse by standard or generic statements which do not address the consumer's individual circumstances and may even be inaccurate.
"I am asking you to ensure you do all you can to avoid unnecessary referrals of cases to the Ombudsman – by promoting the early, fair resolution of your customers' complaints. This may require changes in your approach."
If providers don't consider hardship properly, the Financial Services Authority (FSA) has the power to re-open the reclaiming floodgates for all.
Click on the image below for full letter.
Martin Lewis, creator of MoneySavingExpert.com, says: "We've seen rafts of complaints about banks just replying with generic letters, playing runaround, using delaying tactics and ignoring people in dire need. It's great to see the Ombudsman stepping in to try and change this.

"Yet it's the FSA itself that launched this hold, and chose to keep it going. We're now in the bizarre scenario that even though we've had two senior courts rule fairness rules apply, banks can keep on charging, but most customers can't reclaim.
"In truth, the Ombudsman doesn't have the power needed to sort this. The FSA should be investigating how banks play fast and loose with its waiver and should fine them.

"People in financial hardship can't wait for their cash, though some banks are doing everything they can to make them."
Swamped with complaints
MoneySavingExpert.com has been swamped over recent weeks with complaints from angry consumers in hardship who've been told, incorrectly, their claim must wait until the test case ends.
These concern numerous providers though most centre on Lloyds TSB (see the Is Lloyds flouting the hardship rules? MSE News story).
The Ombudsman stresses no one bank stands out as the biggest rogue in this respect.
The Ombudsman says it receives around 300 complaints a week from those in hardship who have had their claim turned away by their bank.
It says this number has been growing over the past year but has now stabilised.
Test case latest
A result in the latest stage of the test case is expected any week now but whatever the outcome, the saga is likely to drag on further.
The Supreme Court is currently considering an appeal by current account providers against previous Court of Appeal and High Court rulings that state bank charges can be assessed for fairness.
If they can, the Office of Fair Trading will decide on fairness, and it has previously suggested it thinks charges are unjust.
The Supreme Court stated today it still does not have a date for a result of the appeal.
If charges are finally deemed unfair, it could reopen the reclaiming bandwagon for millions.
Over one million have their claim on hold, with billions of pounds still to be reclaimed.
A British Bankers' Association spokesman says: "Banks commit to treating sympathetically and positively any customer facing financial difficulties.
"They are committed to meeting their responsibilities under the waiver and are in regular dialogue with the regulators about these provisions."
Further reading/Key links
Full reclaiming guide inc. free template letters: Bank Charges
Hardship reclaiming guide inc. free templates: Bank Charges Hardship
Reclaim missold debt insurance: PPI Reclaiming