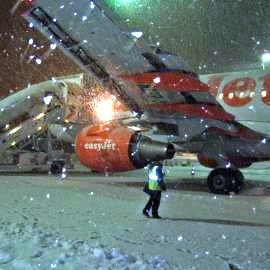 We're a nation famed for talking about the weather but this week the cold snap is affecting much of our daily routines.
Millions are unable to get to work while the travel system is in meltdown with planes, trains and automobile transport all badly affected.
The authorities advise you to travel by road only if absolutely necessary, while countless flights have been cancelled.
If you're due to fly check with your airline first (see the Cheap Flights guide).
Here's a Q&A guide on your rights.
Q. If I can't get to work will my pay be docked?
A. That depends on your employer. The Trades Union Congress (TUC) says many companies have 'bad weather' policies which protect staff if they cannot get to work despite making every reasonable effort.
The TUC says a typical policy will state: 'When there are severe transport disruptions... you will be allowed to come in late; you will be allowed to work from home; or if your job can't be done at home, you will be allowed to stay at home without suffering any loss of pay or annual leave.'
However, a TUC spokesman says where such a policy is not in place, you are at your employer's mercy, though it says "tighter" firms are more likely to ask you to take a day's leave rather than dock your pay.
Q. Am I entitled to any cold weather benefits?
A. Some benefits recipients get £25 per week if the temperature drops below 0°C for 7 days. There's a postcode checker to see if you're due cash. See the Cold Pay forum note for full details.
Q. What if my car breaks down/I have an accident?
A. If you breakdown and you have a roadside assistance policy, expect help to take a little longer than normal (see the Breakdown Cover guide). The AA has useful advice on winter driving on its website to minimise problems.
If you have an accident contact your insurer but ensure you take full details of any other vehicles involved in the accident and report the incident to the police, if necessary (see the Cheap Car Insurance guide).
Q. What if my train is delayed/cancelled?
A. The Association of Train Operating Companies (Atoc) says, generally speaking, you'll get a full refund on advance tickets if you arrive at your destination over an hour late, though this varies by operator. If you're half an hour delayed you may get half your fare back.
If you have a season ticket and can't travel, Atoc says each train operator may offer refunds, though each will have different rules, so contact the relevant firm.
If your service is cancelled, you can usually use any advance ticket or season ticket on another train to the same destination (see the Cheap UK Travel and Cheap Trains guide).
Q. My flight's been cancelled/delayed. Will I be reimbursed?
A. Under EU regulations, you're entitled to the following:
If cancelled at short notice. Airlines must normally either give you a full refund of any unused ticket or offer suitable alternative travel.


If delayed. If by over five hours, you can choose not to travel on the delayed flight and get a refund for that trip and for later flights on the same ticket.


If taking a connecting flight. Whether it's cancelled or delayed, if you no longer wish to continue, you are entitled to your money back and a free flight back to your departure point.


Will I get extra compensation? You should get food if stuck at the airport for over two hours for a short-haul flight, for up to four hours on medium/long haul. You may also get overnight accommodation if the airline knows in advance your delay will stretch through the night.
Q. What if I had a hotel/car hire booked at the other end I cannot use?
A. First contact the relevant firm to get a refund, if possible.
If you bought insurance and travel before you knew of the disruption, travel insurance may pay out for non-refundable accommodation if severely delayed, though this varies by insurer so check with yours (see the Travel Insurance guide).
You may even get compensation if you couldn't make it to the airport/train station/ferry port due to UK transport delays. Insurer Direct Line stresses that for it to pay out in these circumstances you must have left reasonable time for your journey, given the weather problems.
Q. If I booked a package holiday?
A. If your trip's delayed/cancelled, you should either be offered alternative transport or an alternative holiday. If that's unsuitable, you'll get a full refund.
Q. What if I paid for travel on a credit card?
A. The cover you get under Section 75 of the Consumer Credit Act for items over £100 is unlikely to come into force. If you're claiming on delayed/cancelled transport, this should be covered by the airline/train firm.
If claiming for hotel costs or alternative transport then, as Section 75 only kicks in when the retailer has broken its contract, as the hotel firm/alternative transport provider has done nothing wrong, it's unlikely you'll get any joy.
Further reading/Key links
Make them play fair: Consumer Rights
Travel for less: Cheap Flights, Budget Airline Fee-Fighting, Cheap Trains