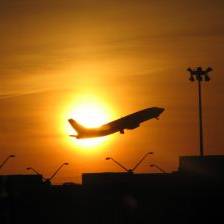 A loophole to avoid budget airline payment fees could close for tens of thousands as many banks are dumping the Visa Electron plastic, which can be used to bypass charges.
Santander and Co-op customers who have a Visa Electron will see it replaced with a Visa Debit card when it expires or they ask for a replacement.
All Barclays and Lloyds TSB customers with the card had it replaced by a Visa Debit by last October. Only Halifax and Bank of Scotland will continue to issue Electron cards in future, but only on their basic current accounts.
Budget airlines charge up to £5 per flight, per person (£10 return) if you book with a standard debit or credit card on top of the multitude of other fees levied (see the Beat Budget Airlines Fees guide).
Anyone booking a flight with BMI Baby, Easyjet, Flybe and Jet2.com will escape card payment charges by using a Visa Electron card.
Ryanair customers can only avoid its payment fees by using a prepaid Mastercard.
HSBC, First Direct, Nationwide, Natwest and Royal Bank of Scotland have never issued Electron cards.
Avoid fees - get a Visa Electron prepaid card
Those who have or will soon lose their bank-issued Electron card can apply for a prepaid card equivalent instead.
They are like plastic cash; credit them with money and you can make transactions like a normal debit card. Plus, there's no credit check on application.
Most have top-up charges when you add credit and transaction fees every time you spend (see the Prepaid Cards guide).
Our top pick:
The cheapest Visa Electron prepaid plastic is the Travelex Cash Passport, though it charges 2% (minimum £3, if card obtained in-branch) of the amount you credit onto the card (see the Beat Budget Airlines Fees guide). You must be over 18 and provide ID to get it.
Easyjet charges 2.5% of the cost (minimum £4.50), plus an extra £3.50 if you pay by credit card, so as long as you only top-up the Travelex card once, you'll never pay more than the Easyjet credit card fee.
Yet as debit card payments cost £3.50, so they are cheaper than the Travelex card (assuming you top-up once) if the booking costs over £175.
However other budget airlines charge a lot more, even for debit card bookings.
Jenny Keefe, travel analyst at MoneySavingExpert.com says: "As bank-issued Visa Electron cards dwindle, it's important to remember there are other options available to beat profit-hungry budget airlines 'extra' charges.

"It may be harder now than in the past to get a Visa Electron card, but prepaid cards are the next best option to slash booking costs."
Escape Ryanair booking fees
To beat Ryanair's £5 per person, per flight booking fee, you'll need a prepaid Mastercard (see the Ryanair Flights Sale deals note for the latest offer).
The cheapest option is the FairFX Anywhere card. It's free to get and doesn't incur a top-up commission if you use a debit card online or over the phone. But there is a 1.5% charge of the transaction amount each time you spend on it.
Yet that charge is usually small compared to the £40 fee Ryanair imposes on a return trip for a family of four. That family would need to spend £2,666 on flights on a prepaid Mastercard to pay the £40 charge.
Ryanair switched from Visa Electron to prepaid Mastercard as the plastic required to escape payment fees last year.
Further reading/Key links
Pay less for flights: Beat Budget Airlines Fees
Use the right plastic for budget airline bookings: Prepaid Cards