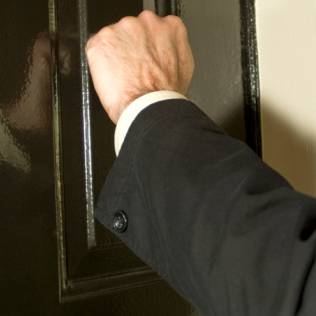 Energy companies have agreed to stop cold calling households who ask not to be bothered by doorstep salesmen, following pressure from watchdogs.
Yet consumers should still beware doorstep salesmen and power firms' often "absurd" claims that they offer good value gas and electricity (see the Cheap Gas & Electricity guide).
Following lengthy campaigning by energy watchdog Consumer Focus and the Trading Standards Institute (TSI) the big six energy companies say they are now committed to respecting wishes of people who live in recognised 'no cold calling zones' or who display signs or stickers saying 'no' to cold callers.
The two groups say evidence is rife that energy agents ignore families' requests not to be disturbed by unsolicited calls. However, you may still get an energy salesman come knocking if it's not clear you don't want to be bothered.
Christine McGourty, director of Energy UK, which represents power firms, says: "We recognise people may want to shop around for their gas and electricity supplies in different ways, whether by phone, online or on the doorstep.
"We are now strengthening our code of practice to ensure companies won't call on the doors of people who prefer to buy their energy in other ways.

"The leading gas and electricity suppliers have made a commitment they won't carry out doorstep sales in recognised 'No Cold Calling Zones'."
She adds: "It's important to remember that, for many, buying on the doorstep is the only way to switch their energy company, take advantage of the competitive market, and get a better deal."
Ignore doorstep salesmen
However, don't be fooled by such comments. If you're reading this, you have access to the internet and the best way to pick the best deal is via an online comparison site (see the Cheap Gas & Electricity guide).
For those without internet access, comparison services can be contacted by phone. Switching from a standard tariff where you're billed by post to an online deal can save, on average, £300 a year.
When using a comparison service you are comparing all tariffs from all suppliers. When you're door-stepped by a salesman from an energy firm, he or she will only flog their company's deal, which may not be the cheapest.
Archna Luthra, MoneySavingExpert.com consumer products analyst, says: "This still leaves many as prey to doorstep sellers' sales tactics. MSE has had many reports of them falsely using our name to tout the supposedly cheapest energy in an underhand way.
"For Energy UK to say doorstep selling gets you the best deal is quite frankly absurd and shows a laughable lack of understanding of the competitive market."
New rules

Research by energy regulator Ofgem in 2008 revealed just under half of customers who switched supplier following a direct sales approach ended up on a worse deal.
This prompted the introduction of new protection so when consumers sign up to a new deal on the doorstep they must receive a price comparison to prove it is better than their existing tariff.
Consumer Focus and TSI say energy companies should have strict penalties for any sales-staff who break the commitment on cold callers from now on.
If consumers still receive cold calls at their door from energy suppliers despite clearly displaying a sign requesting not to do so, they should complain directly to the energy firm in question and contact Consumer Direct on 08454 040506.
Audrey Gallacher, from Consumer Focus, says: "Energy salespeople and their firms have a poor reputation because many have not shown basic respect to people on their own doorsteps. This is a victory for common sense."
Stop other cold callers
While the energy crackdown is good news on the one hand, energy firms are not the only guilty parties.
Sadly, illegal salesmen from a range of industries also ignore requests not to cold call, whether in person, by phone or email.
Yet a few basic steps can help you block out those desperately trying to flog you goods or services (see the Stop Junk Mail & Calls guide for details).
Further reading/Key links
Slash energy costs: Cheap Gas & Electricity
Your rights: Fight Energy Direct Debits
Capped tariff help: Is your Cap/Fix ending soon?
Boiler protection: Boiler Cover
Official statements: Consumer Focus, Energy UK