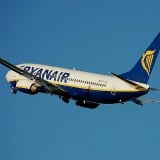 Holidaymakers booking a last minute Easter break or summer getaway on a budget airline should beware of a host of new fees as Ryanair and Easyjet have both hiked flight charges.
The pair have increased baggage charges and hiked fees for paying for a flight on plastic. Ryanair has also added a new £2 cancellation fee per leg which is not included in the initial price of a trip (full info on how to beat the fees in the Beat Budget Airline fees guide).
The jumps come shortly after consumer lobby group Which? submitted a 'super complaint' to the Office of Fair Trading calling on firms to stop profiteering from card fees which it says sometimes cost firms just a few pence to process.
Ryanair price hikes
Ryanair has added or increased the following charges:
There's a new £2 fee per person, per leg of the journey (£4 return) introduced this month to cover costs for reimbursing passengers for delays and cancellations where it is not at fault. It won't be levied on some promotional fares. Ryanair says it had to shell out over £87 million last year for delays, passenger care and compensation from more than 15,000 cancellations affecting over 2.4 million disrupted passengers.
The cost of paying by card also increased last month from £5 to £6 per passenger per one way flight (£10 to £12 return), except for those paying by MasterCard Prepaid debit card, which is free.
The airline now defines peak-time travel as 1 June to 21 September and 21 December to 4 January. Last year, it was just in July and August. The significance is off-peak check-in baggage charges, for items weighing up to 15kg, are £15 per leg (£30 return) compared to £20 (£40 return) for peak.
On its Dublin to Malaga and Dublin to Gatwick routes Ryanair is also trialling a charge of £10 or €10 one-way fee for those who want to sit seat in rows one and two.
Easyjet price hikes
Easyjet has hiked the following charges today:
Fees to pay by debit card are up from £5.50 per booking to £8.
Credit card fees are up per booking from £5.50 + £4.95 or 2.5% of transaction value (whichever is higher) to £8 + £4.95 or 2.5% (whichever is higher). A £200 booking would now cost £13 instead of £10.50.
The only way to escape its card fees is to use a Visa Electron card.
Baggage charges for items weighing up to 20kg are up from £9 to £12.50 per flight (£18 to £25 return) to £9 to £14 (£18 to £28 return), depending on distance travelled.
Ryanair in the clear
Meanwhile, internet rumours have recently alleged Ryanair hikes prices for customers who search for a flight, don't buy it initially, then return to the website. However, they appear to be false.
The allegation is the airline uses cookies, a technical term to detect whether you have visited a site before, to determine whether or not you are a new visitor.
MoneySavingExpert.com carried out research last month and found no price discrepancies on any of the major budget airlines after returning.
An investigation carried out by price comparison site Invisible Hand also found no price discrepancies on 52 Ryanair routes.