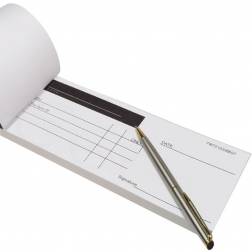 Consumers need to make sure they don't get caught out when cheque guarantee cards are scrapped tomorrow.
From tomorrow (30 June) these cards, which have been used for over 40 years to guarantee cheque payments of up to £250, will no longer be accepted.
The Payments Council made the decision to close the scheme two years ago in response to the long term decline in their use(see the Cheque guarantee cards to be scrapped by 2011 news story).
Key Points
Cheque guarantee card scheme will be scrapped tomorrow
Most high street retailers will no longer accept cheques - so consider alternative payments
Work underway to phase out cheques by 2018 if new payment methods emerge
The four million consumers who regularly use guaranteed cheques - most commonly in high street shops - now need to turn to alternative sources of payment.
In the past six months, only 25% of businesses have received a guaranteed cheque and the use of cheque guarantee cards has fallen by 65% in the last five years.
In 2010, of the 1,113 million cheques written, only 7% were supported by a cheque guarantee card.
According to the UK Payments Administration the average transaction value of a personal cheque is £392, yet the maximum guarantee limit on a card is £250 and 88% of cards only have a limit of £100 or under.
Alternatives
Cheques can still be used without a guarantee card. In fact, the UK Payments Administration says less than 2% of cheques rely on the use of the guarantee function.
Debit or credit cards are another potential alternative and provide much faster access to funds than cheques, which can take up to six working days to clear.
Though with credit cards you must pay off the balance in full each month to avoid paying interest.
Phone or online transfers under the Faster Payments scheme are also a reliable and quick form of payment, which can be made instantaneously 24/7, as long as you keep to your providers sending limit.
Cheques
While cheques can still be used as a form of payment without a guarantee card, the vast majority of high street retailers will no longer accept them.
Only a few weeks ago, train companies also announced they would no longer accept cheques as a form of payment from 30 June.
The Payments Council has set a target date of 2018 to close the cheque processing system. However this date is provisional and will only go ahead if acceptable alternatives are in place and being used by all those who currently rely on cheques.
The council says it will conduct a major review in 2016 to decide whether it should press on with getting rid of cheques or whether more time is needed, in which case a new target date would be set.
However, many are opposed to idea of phasing out cheques. New research by Age UK found that 73% of older people still use cheques, while 63% of cheque users of all ages agree that they would find it a problem if they were no longer available.
In a letter sent to the Treasury Select Committee earlier this month, which is currently looking into the future of cheques, MP Mark Hoban said: "I do not believe there is a credible and coherent case for abolishing cheques.
"The Government is keenly monitoring the progress of the cheque replacement programme and is considering whether it may need to intervene to protect vulnerable individuals and businesses if there is any threat that cheques may be withdrawn without suitable alternatives being put in place."