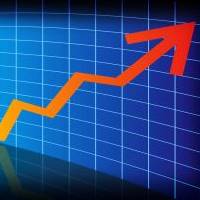 The rate of inflation continued to climb last month, official figures revealed today, as utility bill hikes hit a two-year high and clothing costs saw their biggest increase on record.
The Retail Prices Index measure of inflation, which includes housing costs, rose to 5.2% in August from 5% in July, the Office for National Statistics (ONS) says.
The Consumer Prices Index (CPI) rate of inflation rose to 4.5% in August, up from 4.4% in July. This was equal to the CPI rate in May and was last higher in September 2008.
Housing, water, electricity and gas prices increased by 5.1% year-on-year, the ONS says – the highest annual increase since July 2009 – in a month when Scottish Power and British Gas both raised their energy tariffs.
The pair raised their gas tariffs by up an average 19% and 18% respectively in August, alongside big increases for electricity, tightening the squeeze on household incomes already hit by rising food and fuel costs.
The pressure on inflation from energy suppliers is not likely to let up as Scottish & Southern Energy and Eon are raising their prices this month, while Npower hikes bills from October 1.
The Bank of England, which has forecast CPI inflation hitting 5% before the end of the year, would have widely expected today's increase in the rate of inflation, which is still well-above the 2% Government CPI target.
The Bank expects inflation to fall below target to around 1.8% in two years' time, particularly as this year's VAT increase falls out of the calculation.
Clothing and footwear saw its biggest annual increase since records began in 1997, up 4% year-on-year, with the largest upward effects coming from women's outerwear, where prices rose at the start of the autumn season.
There were further record rises in August, with furniture, household equipment and maintenance up 5.8% year-on-year and restaurants and hotels soaring 4.6% – both the highest annual increases on record.
The main downward pressures came from transport services, particularly transport by air, sea and rail. There was also some respite in recreation and culture, particularly from games, toys and hobbies, the ONS adds.