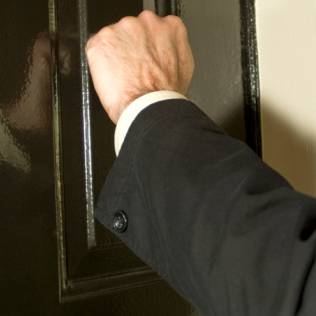 Scottish Power has become the fifth of the big six energy providers to stop doorstop selling, leaving only Eon to carry on the controversial practice.
The energy supplier will cease doorstep sales on 30 November. Doorstep salesman are often accused of mis-selling products with false promises of cheaper bills.
Neil Clitheroe, Scottish Power head of Energy Retail, says: "The traditional doorstep sales process is no longer relevant to the needs of today's energy market and we recognise that we have to engage with our customers in a different way."
The move leaves Eon as the only supplier of the big six to continue the practice amid calls from consumer groups to stop.
An Eon spokesman says: "Face-to-face activity continues to be an important way for many people to engage with us and to find the best deal for their circumstances."
Regulator Ofgem is currently investigating Npower, Scottish Power, Scottish and Southern Energy, and EDF Energy over concerns of mis-selling.
Audrey Gallacher, energy director at lobby group Consumer Focus, says: "It is great news Scottish Power has finally listened to what its customers want. Eon should be feeling the heat and take action to follow suit."