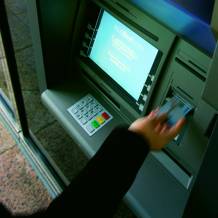 Lloyds TSB basic bank account holders will soon get access to more ATMs after it announced a partial U-turn over its controversial blocking of withdrawals, following pressure from MPs.
However, the move is unlikely to placate critics as all the bank is doing is to extend access to Halifax and Bank of Scotland machines, as they are also part of the larger Lloyds Banking Group, which has about 6,600 ATMs.
Since 2006, basic bank account customers have only been able to withdraw funds from Lloyds TSB cash points or in-branch, as well as from Post Offices.
MP Andrew Tyrie, chairman of the influential Treasury Select Committee, said earlier this week this policy penalised the most vulnerable as basic account holders tend to be those with poorer credit scores.
The issue hit the attention in August when Royal Bank of Scotland (which includes Natwest) announced it would become the second major bank to block basic account customers from using rivals' ATMs.
RBS and Natwest users can use all cash points within the RBS Group, plus Tesco ATMs, but no others. The RBS group has no plans to change that.
Lloyds doesn't say when the extension will happen, only that it will come into effect "early next year".
Tyrie said: "I understand the need to reduce costs, particularly at this difficult time.
"However, the decision to restrict access to cash machines has major implications for universal banking services and appears to target those vulnerable consumers who are most at risk of financial exclusion."
Bank of Scotland partial U-turn
Meanwhile, Bank of Scotland has also partially U-turned on its cash point restrictions for new customers. They will be able to use all Lloyds Banking Group ATMs from next year.
As of September 2011, new customers were only able to use Bank of Scotland and Halifax cash points.
All existing Bank of Scotland customers will continue to have access to all bank's cash points, while Halifax customers will also continue to have access to all bank ATMs.