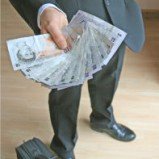 Payment protection insurance (PPI) is, once again, the most complained-about product so far this financial year, the latest Financial Ombudsman Service figures reveal.
The independent complaints arbitrator says 56% of the new complaints it received during April, May and June were about PPI.
It received 32,445 new PPI cases in that period, out of a total of 57,790.
During the same quarter, 69% of PPI complaints were upheld in consumers' favour, compared to 50% across all financial products over the same period.
The number of new PPI cases received has dropped significantly on the same period last year, when a total of 56,025 new cases on PPI were bought to the Ombudsman.
In the last financial year, the Ombudsman received 157,716 new complaints on PPI, the highest number of complaints ever received about a single financial product.
Lenders paid out £4 billion in PPI compensation between January 2011 and April this year (the latest figures available) to consumers who had been mis-sold the product.
But with an estimated £9 billion of compensation due in total, the reclaim process is far from over.
Other complaints
The Ombudsman received the second largest number of new complaints on credit card accounts, with 3,716 new cases over the past three months.
This was followed by current accounts with 3,543 new complaints and mortgages with 2,234 new complaints.
The free Financial Ombudsman Service settles disputes between consumers and financial firms.