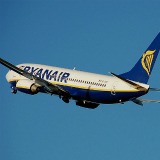 Hundreds of thousands of passengers flying from Spain with Ryanair and BMI Baby who've already booked their flight will have more cash automatically debited from their card to pay for a rise in Spanish airport tax.
We revealed last week the pair are the only two of the major airlines to pass on this increase to those who have already paid, which could add up to £30 to the cost for a family of four.
Those who booked before 2 July with Ryanair or before 4 July with BMI Baby for flights departing from a Spanish airport from this month will be billed (full charges info in the Ryanair/BMI Baby Spanish tax news story).
All subsequent flights booked will have the new charges incorporated into the price.
Affected passengers will be informed by email but they need to check the account they used to pay for their flight to ensure there is sufficient cash, or risk being hit by bank charges.
British Airways, Easyjet, Jet2, Flybe, Monarch and Thomson Airways will not charge passengers extra who've already booked, as they've chosen to absorb the cost, which airlines ultimately have to pay.
Ryanair passengers. What happens next?
Ryanair has given limited public information.
All its website says is affected customers will have their payment card used to book their flight debited again. If passengers are unwilling to pay, they can cancel their flight for a full refund by this Friday via the Ryanair website.
Meanwhile its press office refused to answer a host of questions from us such as when customers will be debited, when they will be informed or what they should do if they don't have sufficient cash in that account.
If you've received this information from Ryanair please let us know in the discussion link below.
Ryanair's Stephen McNamara says: "Thanks to our unbeatable low fares Ryanair is now Spain's largest airline and we are contacting passengers directly to ensure the payment of these additional passenger taxes, or to facilitate a refund of the fare paid.
"We will deal directly with individual passengers should any payment issues arise."
BMI Baby passengers. What happens next?
BMI Baby says it will email customers to let them know the date payment will be debited and to remind them to make sure sufficient funds are in their account.
It does not yet know when emails will be sent out, or on what date payment will be debited.
BMI Baby says as it's a tax, customers can't reject the additional payment and the airline will not offer refunds to those who no longer wish to travel.
If you don't have enough money in your account you will need to transfer some in, otherwise you face risking charges because BMI Baby will try to take out the extra tax owed automatically.
If the account is closed or you don't have the funds BMI Baby will contact you and ask for an additional method of payment.
Our view
Martin Lewis, MoneySavingExpert.com creator, says: "After the debacle with NatWest, RBS and Ulster Bank transactions, the last thing people need right now is another unexpected debit coming out of their account on an unspecified date.
"The fact this may push some people over their limit so they suffer bank charges means these type of transactions need to be dealt with, with some customer care. Let's hope this happens."