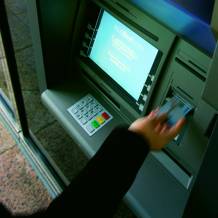 MPs want RBS and Lloyds TSB to drop restrictions on customers with basic bank accounts using cash machines run by their rivals.
Basic account holders with the partly-state owned banks are barred from using most cashpoints operated by other banks or third parties.
The Commons Treasury Committee says the rules imposed by the pair, both of which needed a taxpayer bailout following the 2008 banking crisis, risked compromising the Link cash machine network.
Its members say the rules could hit the poorest hardest, for potentially only a small financial gain for the banks. This is the second time the committee has hit out at the practice, after writing to RBS and Lloyds on the same topic late last year.
Barclays, HSBC and Santander – which is due to take over RBS branches in England and Wales following the 2008 bailout – were praised by the committee for providing basic bank account holders with unrestricted access to cash machines run by competitors.
Affecting the most vulnerable
Tory MP Andrew Tyrie, who chairs the committee, says: "Restricting access to cash machines could compromise the network.
"In certain areas, more than a third of ATMs could be placed at risk if other providers of basic bank accounts were to take similar action or to remove themselves from the Link system.
"The committee understands the need for banks to control costs, particularly in these difficult times.
"In this instance, the financial benefits to Lloyds and RBS appear relatively small but those affected would be amongst the most vulnerable people in society."
Tyrie says he acknowledges in the longer term both the services offered to banking customers and the charges they paid would need to be reformed.
The Treasury committee is to write to other bank account providers to confirm their stance on allowing customers to use cash machines operated by other banks or third parties.
Basic bank accounts
Basic bank accounts are available to those who may not meet banks' minimum criteria to open a personal current account owing to a poor credit score or no credit history.
They often do not offer any overdraft and sometimes do not have a debit card, but can be used to receive direct payments and to set up standing orders and direct debits.
RBS and its sister bank NatWest phased in the restrictions on basic bank accounts in November 2011.
Lloyds TSB has applied similar rules on basic accounts opened since September 2011.