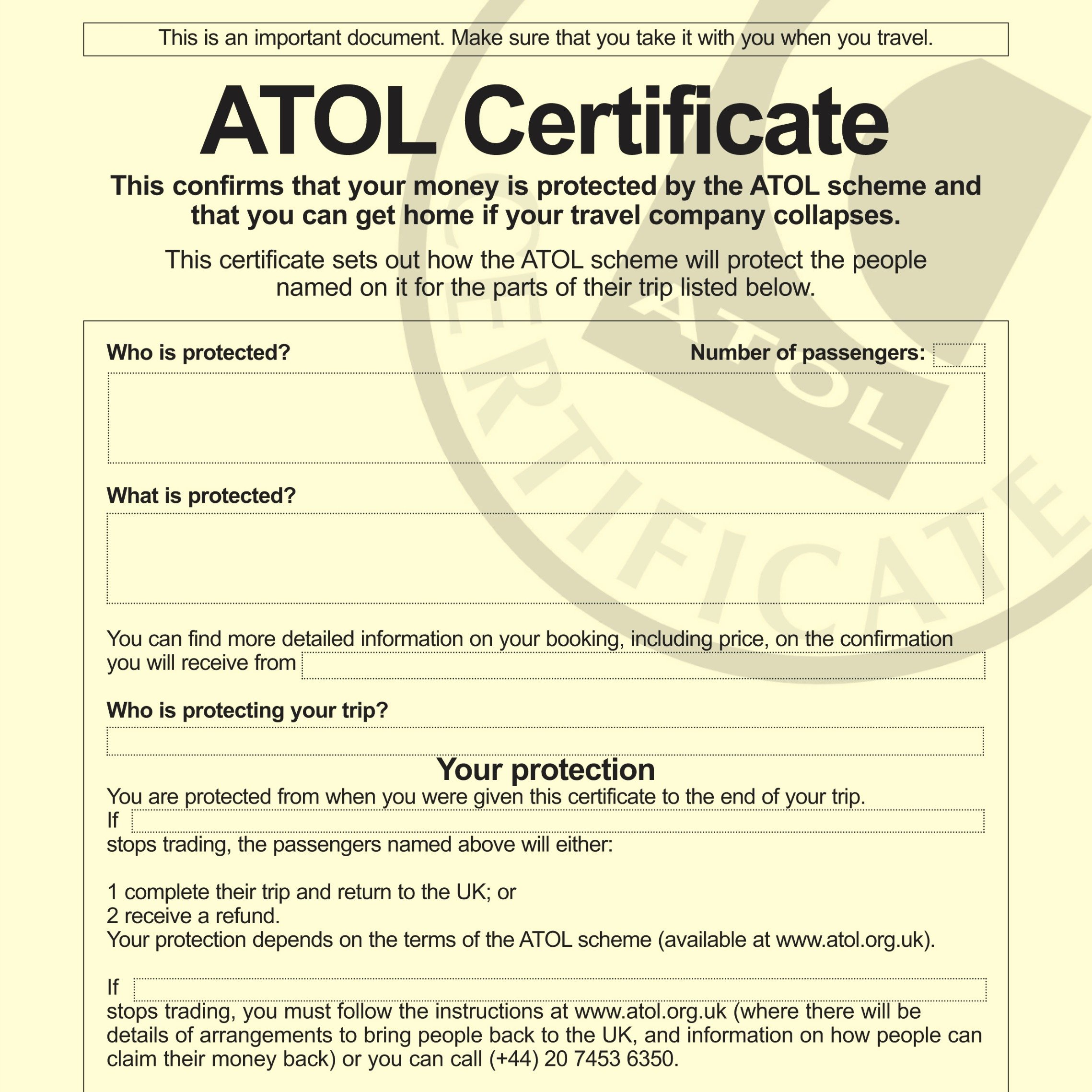 From next Monday travellers will have a clearer idea about whether their holiday is financially protected, as they'll be given a certificate if they book an Atol-covered trip.
It's hoped the certificate, which will explain what elements of a trip are covered and what consumers should do if one of their suppliers goes bust, will help combat any confusion about what is and isn't covered by an Air Travel Organiser's Licence (Atol).
Key Points
Atol certificates to be given out from 1 October
Will say what elements of a holiday are covered
Will tell consumers what to do if problems arise
The Civil Aviation Authority (CAA), which runs the scheme, also hopes the certificate will help speed up the refund process if a company collapses.
The Atol scheme protects consumers from losing their money or being stranded abroad if one of the travel companies it licences goes bust.
But Atol protection only covers certain types of trip, namely package holidays which include flights, meaning consumers are often uncertain of where they stand.
Atol reform
From 1 October everyone who books an Atol-protected holiday must be given a certificate.
There will be three types of certificate. One for package holidays, while another will cover flight-only bookings.
A third one will be issued with 'flight-plus' holidays, which are holidays that include a flight plus either accommodation and/or car hire booked on consecutive days or earlier from the same company via a booking website or high street travel store.
The certificate will include the names of the passengers protected, details of what part of their holiday is protected, as well as which company is protecting the trip.
Certificates will be given to holidaymakers in travel agents, or will be emailed to those who book online.
Travellers won't need the certificate to go abroad, but the CAA recommends consumers take it with them as the advice on it could help if something goes wrong while while away.
What does Atol cover?
Under the Atol scheme, you will get a refund or be allowed to continue your holiday if your airline or tour operator goes bust.
However, Atol only covers package holidays which include flights, 'flight plus' holidays and some flight-only arrangements, though which flights are covered can vary so check before relying on Atol.
Package holidays without flights will most likely be covered by the Association of British Travel Agents (Abta), or by a similar trade body.
A fall-back if your holiday isn't protected is Section 75 of the Consumer Credit Act, where if you buy something on a credit card that costs over £100, your card provider is jointly liable if something goes wrong.
Visa and Mastercard also both operate similar protections (which can cover lower value purchases or debit card payments), but this is a customer service promise rather than a legal requirement.
However, you should always ask the firm you're booking with whether or not it's protected by the Atol scheme or a travel trade body.
You should also always take out travel insurance, as a holiday company going bust is just one of many things that can go wrong on a holiday. In some circumstances, insurance will help in these cases.