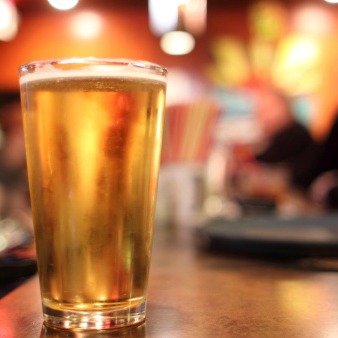 Inflation rose to 3.3% last month, largely due to rising alcohol prices, the Office of National Statistics (ONS) announced today.
The Retail Prices Index (RPI) measure of inflation, which includes housing costs, rose to 3.3% in January this year, up from 3.1% in December last year.
Meanwhile the Consumer Prices Index (CPI) rate of inflation remained unchanged for the fourth consecutive month at 2.7% – it's the longest period that the CPI growth has remained unchanged since records began in 1996.
Inflation was largely pushed up by hikes in the price of booze, as well as air fares falling by less than they usually do in January.
The ONS says a shortage of vegetables in the UK pushed up food and drink prices, as more produce was sourced overseas. However, fees for financial services, such as money transfers, fell.
Some economists had expected a price hike from energy giant E.on on 18 January to push up inflation, but the ONS says the last of the "big six" firms' energy hikes would feature in February's figures instead.
Higher inflation is putting pressure on consumer spending as wages grow at a slower rate.
Today's figures also come as the Bank of England is due to publish its latest quarterly economic report tomorrow. The Bank held off from more money printing measures last week, keeping its quantitative easing programme at £375 billion, while it also kept interest rates at 0.5%.