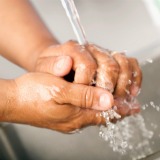 The average household water and sewerage bill in England and Wales will increase by 3.5% over the next year, regulator Ofwat said today.
Households will pay an average of £388 from April 2013 to March 2014.
The new charges will vary between households, depending on their supplier and whether they have a water meter.
Homes supplied by Thames Water will see the biggest increase in prices, with a rise of 5.5%, but prices will fall for South West Water customers. Here's a round-up of some of the rises:
Thames Water bills will rise 5.5%, with the average bill increasing to £354.
Southern Water bills will rise 5.3%, with an average bill of £449.
Wessex Water bills will rise 4.9%, with an average bill of £478.
United Utilities bills will rise 3.4%, with an average bill of £406.
The increased bills will help pay for an investment programme worth about £25 billion between 2010 and 2015, the regulator says.
South West Water bills will, however, fall by 7.3% after the Government pledged contributions to reduce each household's bill by £50. But water and sewerage bills in the region remain the highest in the country, with households paying an average of £499.
Ofwat chief executive Regina Finn says: "Back in 2009, companies wanted bill rises of 10% above inflation. That didn't chime with what customers told us they wanted, so we said they could only increase bills in line with inflation.
"We understand that there is huge pressure on household incomes, and any rise is unwelcome. Inflation is driving these increases."