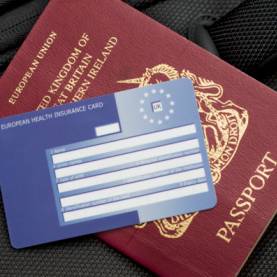 The European Commission has today launched legal proceedings against the Spanish authorities, over concerns many hospitals are unlawfully refusing the European Health Insurance Card (EHIC).
The move follows an increasing number of complaints made by individuals and travel insurance companies to the Commission, where consumers have been refused or had difficulty using an EHIC in public hospitals, mainly in tourist areas of debt-ridden Spain.
An EHIC entitles users to pay the same as a local for state-run hospital treatment or a GP (see the Free EHIC guide for more information).
In Spain, public healthcare is usually free. However, holidaymakers are often pushed into paying for expensive private healthcare, which is against EU law.
The commission says people have been incorrectly told their EHIC isn't valid if they have travel insurance, while other patients believed they were being treated under their EHIC, but later found their travel insurer was sent a bill for private treatment.
The Spanish authorities now have two months to respond. If they continue to break EU rules, they will go before the European Court of Justice.
We reported in March that some holidaymakers were having problems using their EHIC in Spain and Greece (see the Warning as EHICs illegally declined in Spain and Greece MSE News story).
Protect yourself
Always check you're being treated under the public, rather than private, healthcare system when you show your EHIC.
Be careful what you sign, particularly if you don't understand it, and be prepared to go elsewhere if you're refused public treatment.
If it's a medical emergency and this means you're forced to pay for private treatment, gather as much as evidence as possible such as receipts and paperwork.
Can you reclaim the cash?
If you've got travel insurance, you may be in luck if you've shelled out for private treatment. Assuming the condition you have is covered, you should be able to claim.
If you can't claim back via your insurer, you can report the problem to the local British Embassy or the European Commission's SOLVIT system, which deals with breaches of EU law. However, these probably won't get you your money back.
Also remember that an EHIC isn't a substitute for travel insurance, which as well as medical conditions, can also protect against lost baggage, cancellations, theft and more (see our Travel Insurance guide for the best deals).