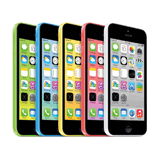 Update: 20.09.2013: Tesco Mobile has today released its price plans for the iPhone 5C, so we have updated this news story with this information.
Price plans for Apple's iPhone 5C, which is available to order from today ahead of its release next Friday, have been published by the major mobile networks.
But despite being touted as a "budget" option, an iPhone 5C will still cost an arm and a leg (see our Cheap iPhones guide and tool to get the cheapest deals).
Described by Apple boss Tim Cook as "unapologetically plastic", gives customers a range of colours to choose from as well as 16GB or 32GB memory options.
It was unveiled on Tuesday alongside the more expensive iPhone 5S, which will also go on sale on 20 September. Networks are yet to release pricing details for the costlier model – we'll let you know as soon as they do.
Is it worth it?
Before you take the plunge by getting either new iPhone, check you're getting the best deal, and also consider getting a mobile that doesn't come with a hefty pricetag (see our Cheap Samsung or Cheap Phones guides to explore your options).
Dan Plant, head of editorial at MoneySavingExpert.com, says: "Even though the 5C has been pitched as a 'budget' version, the handset cost isn't really that much cheaper than the all-singing all-dancing 5S.
"The older iPhone 4S is still available, so you could save money by getting one of the older models at a discounted price instead.
"Consider other makes of phone and their price plans too. iPhone tariffs are notoriously more expensive than non-iPhone tariffs, so getting the same amount of texts, minutes and data on a Samsung or HTC phone could be a lot cheaper."
Apple announced on Tuesday that it will no longer sell the iPhone 5, but the 4S will still be available to buy new. It's also likely the launch of the 5C and 5S will force the prices of older models down – so look out for a deal if you're not too fussed about having the most up-to-date model.
Pay-as-you-go (PAYG) costs
An unlocked iPhone 5C, directly from Apple, will set you back £469 for the 16GB model or £549 for 32GB of memory. On the other hand, a 5S costs between £549 and £709 (see the Apple launches iPhone 5S and 5C MSE News story for products specs).
Pay-as-you-go (PAYG) tariffs are yet to be released for either model, and none of the major networks have fixed a launch date.
Pay monthly deals
You can avoid paying an upfront fee for the new 5C, but only if you go for the 16GB model.
But you'll also be locked into a 24-month tariff, and you'll also pay more per month than on a contract where there is a charge for the phone. So calculate all the costs over the length of the contract before deciding what to go for.
There is no upfront cost for the iPhone 5C on any of Tesco Mobile's tariffs.
Here are the cheapest plans where the handset is free:
Free iPhone 5C (16GB)
O2
Tesco Mobile
Vodafone
3G
4G (i)
3G (ii)
3G
4G (iii)
Monthly cost
£37
£47
£35.50
£42
£47
Inclusive minutes
600
Unlimited
1,000
Unlimited
Unlimited
Inclusive texts
Unlimited
Unlimited
5,000
Unlimited
Unlimited
Inclusive data
750MB
1GB
2GB
2GB
4GB
Contract length
24 months
24 months
24 months
24 months
24 months

(i) 4G is only available in certain cities. (ii) Tesco Mobile is yet to launch 4G coverage. (iii) Vodafone's 4G signal is only available in London, but it plans to extend coverage to most major UK cities by the end of the year. If you sign up for a 4G contract before November, you'll also get an extra 4GB of data each month for the duration of your contract.
If you're more worried about keeping monthly costs down, which means choosing a low-usage plan with stumping up the cash for a handset, these are each network's cheapest monthly tariffs with the cheapest handset cost.
Lowest monthly cost 4G iPhone 5C (16GB) by provider
EE
O2 (i)
Vodafone
Monthly cost
£26
£22
£42
Phone cost
£189.99
£600
£19
Inclusive minutes
Unlimited
Unlimited
Unlimited
Inclusive texts
Unlimited
Unlimited
Unlimited
Inclusive data
500MB
1GB
2GB
Contract length
24 months
24 months
24 months
Three doesn't have 4G coverage, although it is due to launch in Birmingham, London and Manchester in December. Customers on a Three contract will automatically be upgraded to 4G internet at no extra cost once the service is available. (i) You can get the same tariff, at the same cost on the 32GB model. 4G is only available in certain cities
Lowest monthly cost 3G iPhone 5C (16GB) by provider
| | O2 | Orange (EE) | T-Mobile (EE) | Tesco Mobile | Three | Vodafone |
| --- | --- | --- | --- | --- | --- | --- |
| Monthly cost | £12 | £10.50 | £7 | £35.50 | £37 | £29 |
| Phone cost | £600 | £299.99 | £349.99 | £0 | £49 | £149 |
| Inclusive minutes | 600 | 30 | 50 | 1,000 | 500 | 300 |
| Inclusive texts | Unlimited | 500 | 100 | 5,000 | 5,000 | Unlimited |
| Inclusive data | 750MB | 100MB | 250MB | 2GB | Unlimited | 250MB |
| Contract length | 24 months | 24 months | 24 months | 24 months | 24 months | 24 months |
Getting the best price
Cashback sites can help you save money on phone purchases, and if you've been a loyal customer of your network for some time, don't be afraid to haggle for a better deal – threatening to leave and go to a different operator often yields results.