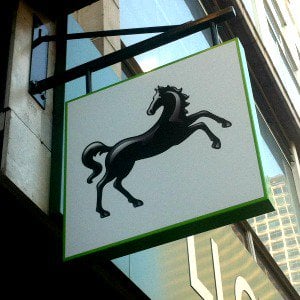 Update: 6 May 2015: Some of the account details have changed since the time of publication, but we have updated the story and the information below is correct as it stands. We also published our latest Banking Service Index in February 2015.
Lloyds is launching a new current account which offers up to 4% AER interest on balances of up to £5,000. But is it worth switching to?
The new Club account, which is available online, in branch and by phone from Monday, replaces the bank's Vantage account, which offers tiered interest of up to 3% (see our Best Bank Accounts guide if you're thinking of switching).
If you've got a Lloyds Vantage account, you won't be automatically moved to Club Lloyds – you'll have to ask Lloyds to move. Vantage interest rates will be cut to 1.5% from July.
It's the latest in a new wave of current accounts which are offering savers more attractive returns than those being seen on many savings accounts.
TSB's new Plus account, pays 5% AER interest on balances of up to £2,000, is available online and by phone from Sunday and in branches on Monday (see our TSB Plus MSE News story to work out if it's right for you).
What's in Club Lloyds?
Club Lloyds is open to both new and existing customers and offers up to 4% AER in-credit interest – so long as you pay in £1,500 each month and set up two direct debits.
If you don't pay in £1,500/month, there'll be a £5/month fee. If you pay in the £1,500/month but don't set up the two direct debits, there'll be no monthly fee, but you won't be able to earn interest.
Here are the key features:
Fee. No fee if used as main account, £5/month if not.
Switching bonus. No switching bonus.
Interest. It pays tiered 4% AER on balances of up to £5,000 – 1% on balances up to £1,999.99, 2% between £2,000-£3,999.99 and 4% on £4k-5k. No interest is earned on balances above £5,000.
What do I need to pay in? Pay in at least £1,500 each month (there's a £5 fee each time you miss a month's pay in).
Direct debits and standing orders. At least two direct debits must be set up.
Arranged overdraft cost: Up to £100 fee free, then 19.94% EAR and £6/month fee
Unarranged overdraft cost: £10 buffer, then £5/day under £25, £10/day for £25+ (max £80/mth), £10 unpaid item fees (max 3/day).
Other benefits: Access to a monthly savings account which pays 4% interest on savings of up to £400/month and a mortgage rate reduction of 0.20%. Account holders can also pick one of three "lifestyle benefits" from the following: six cinema tickets a year, an annual magazine subscription, or access to discounts at more than 6,000 restaurants with an annual Gourmet Society membership.
Is Club Lloyds any good?
These days, there are many current account deals to choose from. But the two key incentives tend to be either a switching bonus, or in-credit interest. You need to work out which deal is best for you, depending on how much you can afford to deposit and whether or not you plan to use it as a main account for bills.
Our table shows how Lloyds' new account fares compared to our best buys for those in credit. If you're not in credit, or know you're likely to dip into your overdraft, check both the arranged and unarranged overdraft fees on any account before applying.
Best bank accounts compared
Current account
Switching bonus
In-credit interest (AER)
Min monthly income
Min standing orders/direct debits
Max interest earned/year (i)
Clydesdale Bank*
£150
2% up to £3,000
£1,000
At least two
£48
First Direct*
£125
None
£1,000
None, but need to switch
£0
Halifax*
£125
£5/month
£750
At least two
£60
Lloyds*
None
4% on up to £5k (ii)
£1,500
At least two
£157
Nationwide*
None
5% up to £2,500 for 12 months
£1,000
None
£98 (1st year only)
Santander* (iii)
None
3% on £3k-£20k (iv). Plus up to 3% cashback on certain bills
£500
At least two
£450 (after fee)
The Co-operative*
£100 (extra £25 to charity)
None
£800
At least two
£0
TSB*
None
5% up to £2,000
£500
None
£78
(i) Approx gross interest you'd earn in a year, after basic rate tax if you were to hold the max balance. (ii) 1% up to £1,999.99, 2% on £2k-£3,999.99, 4% on £4k-£5k (iii) Santander's 123 account has a £2/month fee. (iv) 1% on £1k-£2k, 2% on £2k-£3k.
MoneySavingExpert.com money analyst Helen Saxon says: "Club Lloyds will become the second-highest interest paying current account on the market, meaning people can earn up to £196 before tax on their current account balance.
"It's also got good extras with account holders eligible for a 4% regular saver, plus mortgage discounts.
"However, it's an exclusive account – its £1,500/month minimum pay-in means it's only open to people whose salary is more than £22,500 a year."
What about customer service?
Lloyds TSB was split into two banks last September. People who previously had multiple accounts with Lloyds TSB may have had some accounts moved to TSB while others stayed with Lloyds.
Our latest Banking Service Index published last month showed how account holders who were shifted to TSB were left disappointed by the service they'd received, while those who remained with Lloyds were slightly happier – with 45% of those banking with Lloyds rating its customer service as 'great'. See our MSE banking service index story for the full ratings.
Philip Robinson, director of current accounts at Lloyds says: "Club Lloyds stands out in the market. We want to reward loyalty by offering a collective range of market-leading rates across our products.
"We are excited to be bucking the trend by providing real long-term value and offering such an innovative account to our customers."
Lloyds will also be putting paid-for current accounts back on sale in branches, after pulling the plug just over a year ago.