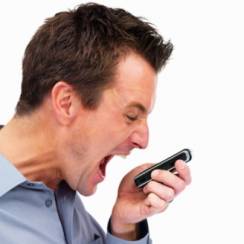 If you're heading abroad for your summer holiday soon, protect yourself from racking up £100s in mobile roaming charges now by finding out if you could save using wi-fi, specialist travel packages or international Sim cards.
Outside the European Union, mobile providers can charge what they like for calls, texts and data and costs aren't capped. So it's easy to unwittingly use your mobile and come back to a shocking bill.
Football fans flying to Brazil for the World Cup could be charged up to £8/MB for data and up to £1.75/minute to make calls.
So if you're jetting away soon, check now to see how you can cut costs before you go.
In the EU, costs are capped at 24p/minute to make a call, 7p/min to receive a call, 8p to send a text and 37p/MB for data until 1 July, when these caps will fall.
Whether you're a pay monthly or pay-as-you-go customer and you simply can't leave your phone at home, there are ways to save.
Here are our top tips:
Switch off data roaming. Turn it off before you leave the UK and keep it off. While it's on, some apps trigger data downloading, even when you're not browsing the web. If you're checking emails, don't download attachments as this can use a lot of data.
Use wi-fi. If you've got a smartphone, use free wi-fi to access the internet and you won't be charged. Before you go, you can also download 'internet-to-phone' calling systems including Skype, or FaceTime for iPhone users, as if the person you're calling also has these apps, it's free to talk via wi-fi. Many hotels and hostels provide free wi-fi for customers.
Get a special add-on to use abroad. Ring up and ask your provider if it has any special add-ons you can use to slash the cost of calls abroad. Some add-ons are free, others require a daily or monthly fee. With EE for instance, you can buy 120 global roaming minutes for £20 before you travel.
Switch Sim cards. You can get much cheaper calls and receive them free by switching to a local or international roaming Sim card. Though as you usually need to pay a hefty upfront cost, it's only suitable for those who make a lot of calls.
Got Three? If you're with Three, on contract and pay-as-you-go (and have bought an add-on with your credit), you can use your UK allowances in eleven selected countries, including Australia and the USA, at no extra charge. From 1 July, a further five countries including France and Israel will be part of the scheme.
For more information on all of these, and for further top tips on how to cut the cost of using your using your handset abroad, see our Cheap Mobile Roaming guide.