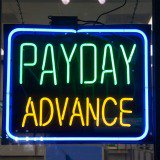 People taking out payday loans will never have to pay back more than double what they originally borrowed, the Financial Conduct Authority (FCA) has announced today. While MoneySavingExpert.com welcomes this move, it is disappointed that the loan cost cap isn't lower.
The regulator has confirmed that proposals outlined in July this year to cap the total cost of payday loans at 100% remain unchanged following a consultation (see the Payday loans cap will slash costs, regulator says MSE News story).
MoneySavingExpert.com had called for the total cost cap to be nearer 50% to 75% as a 100% cap is only likely to make a difference to those rolling over their loan (see our Payday Loans guide for alternatives if you're struggling).
The FCA estimates that 7% of borrowers – some 70,000 people – may no longer have access to payday loans as a result of the new rules, but adds that these are people who are likely to have been in a worse situation if they had been granted a loan. So the price cap "protects them".
Since April this year when the FCA began regulating consumer credit, the number of loans taken out and the amount borrowed has dropped by 35%. It adds that the cost of borrowing will also fall as a result of the new rules.
Below are the new rules, which take effect for loans taken out or modified from 2 January 2015. These will be reviewed in 2017:
Initial cost cap of 0.8% per day. Interest and fees must not exceed 0.8% per day of the amount borrowed on both new loans and loans rolled over.
Fixed default fees capped at £15. If borrowers cannot repay their loans on time, fees must not exceed £15. Interest on unpaid balances and default charges must not exceed the 0.8% rate.
Total cost cap of 100%. Borrowers must never have to pay back more in fees and interest than the amount borrowed.
The caps mean someone taking out a loan for 30 days and repaying on time won't pay more than £24 in fees and charges per £100 borrowed. If you paid it back late, the maximum you'd be charged is £15, while the most you could ever repay in fees and interest on this £100 loan would be £100.
Currently, any customers borrowing £100 from Wonga over 30 days would be charged £37.15 in interest and fees if they paid it back on time. But if they're more than three days late in paying it back, customers would be charged a one-off £20. The interest on the loan (including any fees or interest accrued) would also continue to build at 1% per day for 30 days. This means you'd end up paying £98.30 in fees and interest on your £100 loan.
However, Wonga says that as soon as a customer contacts it to say they're struggling to repay, it freezes their balance and agrees an affordable repayment arrangement. It adds that "it looks forward to launching a cap compliant product for customers" in light of today's announcement by the FCA.
'After years with a drought of regulation finally we have been given some water'
Martin Lewis, founder and editor of MoneySavingExpert.com, says: "After years with a drought of regulation, finally we have been given some water. It doesn't fully quench the thirst, and it's taken far too long, but it's welcome.
"It's somewhat disappointing the FCA has chosen to keep the rate at the high level of its original proposals. Its argument that 100% is simpler for people to understand is a strange one; I believe people would've preferred the "more complex" but cheap cap at the 50% to 75% we suggested in our consultation.
"It had concerns that this would leave a less competitive market with fewer lenders. That isn't something that concerns me – fewer of these pariah companies would be welcome.
"It's important to remember payday lenders have manufactured a market that didn't exist before. We've even seen these firms attempt to normalise this borrowing to our children with giant puppets in adverts and furry costumes out in the street handing out lollipops.
"They now argue there is a demand to meet, yet much of it is a false market driven by targeting impulse spenders with instantaneous cash, without even considering if someone is sober when applying.
"There are many better alternatives for those who need to borrow. People need to look at credit unions or interest free budgeting loans from the social fund.
"Remember payday loans are meant to be repaid after a month, but repay a credit card in full over the same time and there's no cost. So if necessary, people can get themselves a high interest card – put it in a bowl of water and put that in the freezer – then in an emergency smash the ice to use it."
Real time data sharing
The FCA has also today said that as recent progress in payday lenders and credit reference agencies sharing data "is in line with our expectations", it is not going to consult on rules about this at this time. It adds that the progress made will be kept under review.
The aim of data sharing is to ensure affordability assessments are up-to-date and accurate, addressing the issue of consumers taking out multiple loans from different lenders that they can't afford.
Alternatives to payday loans
Before taking out a payday loan, consider other options first, including:
Check if you're eligible for interest-free loans and grants from your local council or job centre. (See our Debt Help guide for more information.)
Get a 0% credit card – even with a poor credit score. (See our 0% Balance Transfer and Spend guide.)
Check out your local credit union – these are independently-run local co-operative organisations that aim to assist people who may not have access to financial products and services elsewhere. (See our Credit Unions guide.)
Ask if you can you borrow from a family member or a close friend.
Extend your overdraft, if you can. But stay within the arranged limit, otherwise it'll cost you big.
New rules 'strike the right balance'
Martin Wheatley, the FCA's chief executive officer, says: "I am confident that the new rules strike the right balance for firms and consumers. If the price cap was any lower, then we risk not having a viable market, any higher and there would not be adequate protection for borrowers.
"For people who struggle to repay, we believe the new rules will put an end to spiralling payday debts. For most of the borrowers who do pay back their loans on time, the cap on fees and charges represents substantial protections."