Holidaymakers with collapsed travel firm Lowcostholidays have flooded our inbox with reclaim stories.
After the online travel operator collapsed on July 15 leaving 140,000 holidaymakers out of pocket, scores of you followed MoneySavingExpert.com's step-by-step instructions by launching claims using the 'chargeback' guarantee, Section 75 of the Consumer Credit Act or the PayPal buyer guarantee.
We asked you to get in touch with your stories after we reported on a £1,400 chargeback success in July. Since then we've received more than 130 success stories.
And these are just the people who've made the effort to contact us, suggesting hundreds or possibly thousands of people who thought their money had gone could now get it back.
I've lost money – how can I reclaim it?
Before we get into those successes, it's worth knowing how to reclaim. See our Lowcostholidays Reclaim guide for the full details – but here are the basics:
Credit card payments. If your booking cost £100 or more (even if you put just 1p of it on a credit card), under Section 75 of the Consumer Credit Act you may be able to get a refund from the card provider.


Debit card payments. If you paid on a debit card, Section 75 doesn't apply, but you may be able to claim on your bank or building society's chargeback scheme. This is a customer service promise, rather than a law such as Section 75, but it's worth trying.


PayPal. If you paid by PayPal, you're covered by its buyer protection scheme – but only if you raise a dispute within 180 days of paying.


The Spanish regulator. If you booked a flight and hotel with the Lowcostholidays brand you can try to reclaim from Govern de les Illes Balears, the Spanish local authority which regulated Lowcostholidays, which was based in the country. To do so, you need to email your claim to info.lchspain@caib.es. For full English-language instructions, see the regulator's website. However you'll probably only reclaim a fraction of what you're owed using this method.


Register as a creditor with the administrator. If you've lost out, you may be able to register as a creditor with Smith & Williamson by emailing your claim to lowcosttravelspain@smith.williamson.co.uk. But be warned – experience tells us you'll probably only get back a few pence in the pound.

Section 75 successes – 'We'll still make the wedding'
One of the biggest successes came from Neil, whose story we'd already highlighted in our Lowcostholidays guide straight after the firm hit the buffers.
He'd planned to sell his family's caravan to fund their trip, but thankfully he didn't have to after he reclaimed the money he'd lost, and then his hotel let him rebook at the same price.
NEIL'S STORY – RECLAIMED £1,300 ON HOTEL & TRANSFERS IN MAJORCA
"Santander have refunded the £1,300 as part of a Section 75 claim on our credit card.
"The hotel also agreed to honour the original price so we are now able to go on holiday and celebrate our friend's wedding.
"I'd like to say thank you to MoneySavingExpert.com for all your help during this time."
PETER'S STORY – RECLAIMED £467 ON A BERLIN HOTEL
"Following Martin Lewis's information, I sent your template Section 75 letter to Tesco Bank on 20 July.
"Three days later the bank called requesting further evidence, which I scanned and sent. Twenty minutes later I received an email telling me that £467, the full amount claimed, would be credited to my account; it duly arrived on 27 July.
"Thanks to MSE for the help and to Tesco Bank for the excellent response. I'm now looking to rebook my accommodation."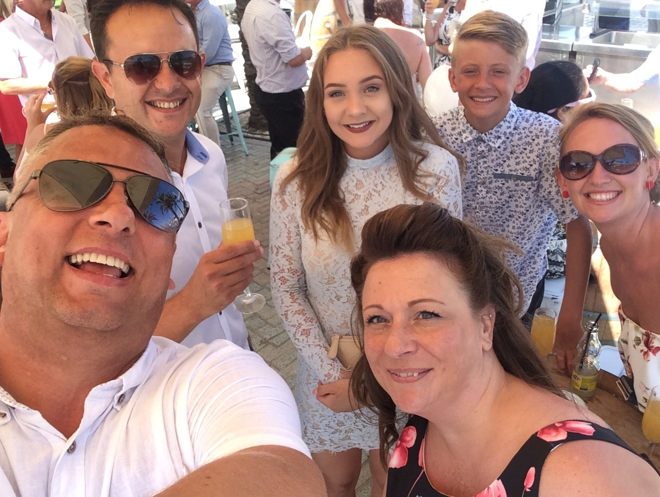 Chargeback successes – '£900 trip back on track'
While the Section 75 protection used by Neil and Peter only covers credit card purchases, many who paid on a debit card have got their money back via 'chargeback' – a customer service guarantee offered by lots of banks.
MARTYN'S STORY – RECLAIMED £900 ON A CROATIAN HOTEL
"I've just checked my bank account and seen a debit card refund of £900 from my Lowcost hotel booking, great news! Now my trip to Croatia is back on track – and it's thanks to the MSE information and template."
OLIVER'S STORY – RECLAIMED £734 ON A TOBAGO HOTEL
"Just writing to thank you for the information you've given and for sharing your readers' reclaim stories. Without your articles, it's fair to say I would have accepted losing the £734 I'd paid for my hotel stay in Trinidad and Tobago.
"But having read the MSE article about the couple who had also paid for their holiday on a debit card and successfully claimed £1,400 via chargeback, I decided to download the template letter and give it a go.
"I still went on the holiday, but had to pay for my hotel again when I checked in. After a great trip I returned to the UK and checked my online banking to find that Halifax had credited the £734 originally paid!"
PayPal successes – 'Relieved and pleased I got £350 back'
PayPal successes were slower to come in, but some of you have had brilliant results using the online payment giant's buyer protection scheme.
HELEN'S STORY – RECLAIMED £350 ON A NEW YORK HOTEL
"I booked a dream trip to New York for me and my husband, using PayPal to pay £350 for four nights at a Manhattan hotel.
"I raised a claim with them on 27 July for the original payment, made back in May. I got an email from them on 12 August confirming my claim was successful and they had refunded me the full amount.
"I'm very relieved indeed and so pleased we'll still be able to take our holiday without being hugely out of pocket!
"Thanks so much for the very helpful and quick advice as always. I hope our success helps reassure other people that all is not lost."
JACQUELINE'S STORY – RECLAIMED £100 CANARY ISLANDS VILLA DEPOSIT
"I paid Lowcostholidays a £100 deposit for accommodation in Fuerteventura in the Canary Islands. According to news reports on TV I would get nothing back apart from perhaps about £7 [through a bond from the Spanish regulator]. Other websites also said people who paid with PayPal would get NO refund.
"But I turned to MSE and learned PayPal buyer protection DID apply to me. PayPal could not have been more helpful and I was refunded in full less than four weeks later."