1. Return unwanted prezzies - if you can. Don't like those socks or that Little Mix CD? You don't always have automatic return rights - here's the deal (all explained in our full Xmas Return Rights guide).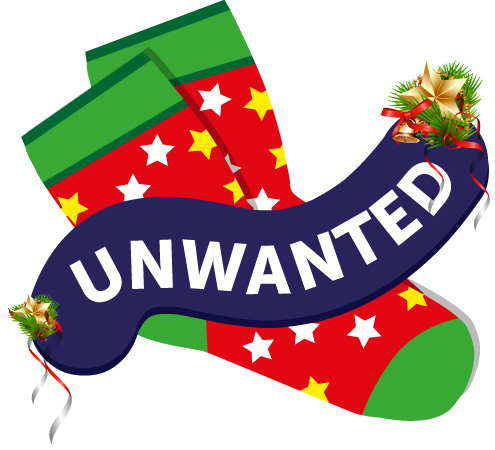 Unless faulty, you've no legal right to return goods bought in a store. Many shops allow it though, so ask with a smile, and if it offers something, eg, an exchange or credit note, you're doing well.

If bought online, the buyer has more rights. They've up to 14 days from receipt to say they're sending it back and another 14 to return it for a refund or exchange, whether faulty or not. If you're not the buyer you'll almost certainly need to go through them.

If faulty, the buyer can return it regardless of where it was bought. Though if you've a gift receipt the rights transfer to you. See the SAD FART definition of fault.

2. New. Get £200 to switch bank (£150 upfront, £50 if you stay). Bitched about yours in 2016? Then get paid to switch - it only takes seven working days and 76% of you told us you found it hassle-free. Here are the top free cash accounts, including two hotties launched today. All require a credit check, and you must be a new customer who uses their official switching services to get the perks.

- Free £150 + £50 in a year. For applications from today HSBC Advance* pays £150 within 70 days if you switch 2+ direct debits or standing orders within 30 days of account opening. Plus, if you pay in £1,750+/mth and register for online/mobile banking within 60 days, and you're still with it in a year, you get £50 more. You can also access its 5% fixed regular saver.
- Free £125 + top service. Via this link, First Direct* has today boosted its sign-up bonus to £125 (still £100 if you apply direct) - it comes 1-2 months after switching. You must deposit £1k/mth, else it's a £10/mth fee. It's won every customer service poll we've done, plus you get a £250 0% overdraft and can use its 5% fixed regular saver.
- Free £100 M&S gift card + £10/mth. Switch 2+ direct debits to M&S Bank* & it gives the £100 card a month after switching. Then each month you deposit £1k+, £10 is added to the card for a year. The account comes with a £100 0% overdraft & 5% fixed regular saver. M&S warns set-up may be delayed as it's been swamped.
- Free £100 + £3/mth. Halifax pays £100 before your switch completes. Then each month you deposit £750+, stay in credit and pay out two direct debits, it pays £3.

More options and eligibility info in Best Bank Accounts, incl top deals for savers and those overdrawn.

3. Save with mega Boxing Day/Jan sales, eg, Argos, Gap and H&M up to 60% off, Next from 50% off, John Lewis up to 50% off. Sales are in full swing, with many retailers adding new lines or boosting their offers. See our full sales round-up.

4. Last chance. Fast fibre b'band for equiv £19ish/mth, NO LANDLINE needed. A hot fibre deal without a compulsory landline is a rarity - which is why this is a cracker.

Via this Virgin fibre link*, till 11.59pm on Thu, anyone who doesn't have Virgin Media and is in one of the 50%+ of eligible UK households (you're told before applying) can get this up-to-50Mb speed (about 3x standard) unlimited broadband deal on a 1yr contract. It's discounted to £18/mth for a year (then £32.25/mth) + installation's £14.99. Fibre is best for gamers, streamers and multiple users.

At £230.99 all-in, it's equivalent to £19.25/mth - less than half some standard-rate fibre and landline costs of up to £540/yr, and cheaper than many standard speed + landline deals. Full info and alternatives in Cheap Broadband. Like all telecoms firms, Virgin could raise the price during the discounted period, while regular cashback site users may be able to earn cashback, but check first if it's on the same deal.

5. £8 champers and £5 prosecco. If you're seeing in the New Year with bubbly, we've rounded up corking champagne & prosecco deals. Please be Drinkaware.

6. New. Get £50 cashback & up to 26mths 0% on spending. Accepted new AA (eligibility calc / apply*) cardholders pay no interest on purchases for up to 26mths. Plus if you spend £500 in the first 60 days you get £50 applied to your account within 90 days of the spend (as long as you pay at least the min each month & don't bust your credit limit). It's useful if you've a big budgeted purchase(s) planned - it's not an excuse to overspend.

Need longer at 0%? Sainsbury's (eligibility calc / apply*) offers 28mths 0% and Tesco (apply) up to 28mths 0%. Both give reward points on spending.
Will you get 'em? Our 0% Eligibility Calculator shows which you're most likely to get (though sadly, not for Tesco).
0% Spending Golden Rules. Never miss a min repayment & clear before the 0% ends or they jump to 18.9% rep APR. They're usually ONLY 0% for spending, not transfers or cash. See 0% Spending Cards (APR Examples).

7. Terry's Chocolate Orange 49p, Cadbury selection box £1 - can you find cheap post-Xmas chocs? Stores are trying to flog unsold Christmas stock. MSE Jordon's rounded up some of the tastiest bargains in his cheap chocolate blog.

8. Got serious debt problems? Make an appointment with a debt counsellor ASAP. If your non-mortgage and non-student loan debts are bigger than a year's after-tax income or you can't meet your minimum repayments or you're having sleepless nights over debt, a non-profit debt-counselling agency is the place to turn. They get rammed in January, so if you're going to do it, book your appointment now to ensure you're seen.

There's free, one-on-one debt-counselling help from Citizens Advice, StepChange, National Debtline or, if you're struggling emotionally too, CAP. Full info in Debt Crisis Help. Remember, these agencies are there to help, not judge. The most common thing we hear after is: "I finally got a good night's sleep".

9. Switch your gran. It's a national disgrace that many elderly people pay £100s more for gas & electricity than they should. So if you're visiting your gran, gramps, uncle, aunt or just know someone who's not confident online and trusts you, why not help switch 'em to a cheap energy tariff as a late Xmas present? If they're sat on a standard tariff, they could save £200/yr on typical usage. Do a comparison for them via our Cheap Energy Club or see our Switch Your Gran guide.

10. Beat train and tube season ticket hikes if yours expires soon. Most prices rise on Mon, but buy before and you pay 2016 prices in 2017 (almost always cheaper, though check). This can save big, eg, a year's Peterborough to London season ticket rises by £140.

To find if you should do it, restrictions, plus whether it may save to double pay, see our Cheap Train Tickets guide.

11. Avios for Eurostar swap to be axed from 1 Jan. It's a top value exchange 'cos you don't pay taxes and charges as you do with flights, but there are only days to do it. Full info on Avios and Eurostar redemptions.

12. And finally... for a bit of festive fun, find out how tight you are. Our tongue-in-cheek How Tight Are You? quiz shows whether your spending rivals Elton John's, or if you're likely to be the last one to get a round in.

This article first appeared in the weekly email on 28 December 2016.