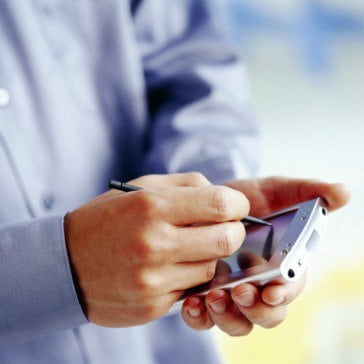 Around two-thirds of mobile phone customers use less than 3GB of data every month, a poll of MoneySavingExpert users has revealed - despite mobile networks increasingly pushing high-data deals.
The home pages of the big mobile networks are awash with big banner advertisements for packages which include huge data allowances. A snapshot analysis this week found almost half of the 12-month Sim-only deals offered by the big four providers give users at least 10GB a month - and some packages offer 100GB or even unlimited data.
Yet a poll of more than 7,200 MSE users has found that in reality only 12% actually use 10GB a month, while 64% use less than 3GB and 35% less than 1GB - suggesting many are paying for far more data than they need.
See our 30+ Cheap Mobile Tips for how to cut your bill, and our Cheap Sim-only Deals guide for all the current top picks.
Many AREN'T using huge amounts of data
To find out how much data mobile phone customers actually need, we ran a poll last month which received 7,537 responses in total. We asked how much data you use in a typical month (via your 3G or 4G signal, not Wi-Fi), and asked those who were unsure to check their data usage settings or mobile bill.
Discounting those who said they didn't have a mobile or didn't know how much data they used, there were responses from 7,268 users. Here are the key findings:
Many AREN'T using huge amounts of data. Despite mobile firms pushing big packages, just 12% said they use 10GB+ a month. 64% said they use less than 3GB, 35% less than 1GB and 8% said they don't EVER use data on their phone.

Data use has increased over the past two years - but only a bit. We ran exactly the same poll back in January 2016, so can compare how things have changed.

There's been an increase in data use, but it appears to be gradual - back in 2016 73% used less than 3GB compared to 64% today, and 7% used more than 10GB compared to 12% today.

Age has a big impact when it comes to data use. There appears to be a clear correlation between age and data consumption - essentially the older you are, the less data you're likely to use.

For example, in 2018 the proportion of under-25s using less than 3GB of data was 38%, compared to 64% of those aged 35-49 and 91% of over-65s. The pattern was reversed for heavy data use - 25% of under-25s used more than 10GB a month, compared to 11% of those aged 35-49 and just 3% of those aged 65+.
Data usage compared - 2016 and 2018 (i)
Monthly data usage

2016

2018

Never use data

6%

8%

Under 1GB

35%

28%

At least 1GB and up to 2GB

23%

17%

At least 2GB and up to 3GB

9%

11%

At least 3GB and up to 5GB

12%

13%

At least 5GB and up to 10GB

8%

11%

10GB+

7%

12%

(i) This table is based on poll data from MoneySavingExpert.com in January 2016 (3,971 votes) and January 2018 (7,268 votes).
Mobile firms flogging big data allowances
Our poll findings come as many mobile companies increasingly promote huge data allowances to customers.
We did a spot check of the big four mobile networks - EE, O2, Three and Vodafone - on Friday 9 February, looking at all the 12-month Sim-only tariffs listed on their websites as available to new customers.
Of the 27 tariffs we found, almost half (13) were for 10GB or more, and more than two-thirds (19) offered 3GB or more.
In addition, two of the sites - Three and O2 - show 'recommended deals' at the top of their list by default, and in both cases the top results we were shown were for packages offering at least 12GB.
We contacted EE, O2, Three and Vodafone for comment. An O2 spokesman told us, "our recommended plans are based on our own customer insights and are reviewed and updated on a regular basis", Three said, "our customers have a vast and growing appetite for mobile data, using more than three times the UK average" and Vodafone stated, "depending on a customer's personal needs, our advisors are always on hand to help them find a plan that suits their lifestyle". We are yet to hear from EE.
'Don't be fooled by the marketing'
Helen Saxon, MoneySavingExpert's chief product analyst, said, "Don't be fooled by the marketing of the mobile networks - make sure you only pay for the data you use. Even if opting for a deal with more data costs only £1-£2 extra each month, over the course of a year it soon adds up - and you're paying for something you don't need or use.
"On the other hand, be careful not to underestimate your data usage as excess charges can be costly or leave you without data when you need it. Some providers and handsets also allow you to cap your monthly spend which will prevent any bill shock."
Use a tool to check your usage and ensure you don't overpay
While some users will use more data and so need the bigger packages on offer, the majority won't - and the key is not to end up paying for data you don't use.
The difference in price between different data deals can be marked, even if you opt for a cheap Sim-only deal. For example, currently our top pick for heavy users is a £14/mth deal from Three offering 12GB, yet for low users it's an ID Mobile package costing just £5/mth offering 2.25GB. Over a year that equates to a saving of £108.
There are two handy sites - Billmonitor* and Ctrlio - which analyse your bills over the last three months to work out your average usage and suggest deals based on this. For more on how they work and the pros and cons of each, see Choose the allowance you need.