Charity shop bargain-hunting tricks
Oxfam's launched its Second Hand September campaign, asking people to pledge to stop buying new clothes for 30 days. (It's not too late – you can start your 30 days from now.) The aim's to reduce the environmental impact of throwaway fashion – the charity says 11 million items of clothing are sent to landfill in the UK each week.
So if you need a jumper or boots as the weather cools, why not consider getting them from a charity shop or online marketplace? To help you say no to new clothes, we've updated our round-up of 13 top tricks to help you find the best goodies from charity shops. (Also see the eBay Buying guide for more second-hand bargain tricks.)
Of course, the aim's not to give less money to charity shops, but to ensure you can find the best stuff and track down hidden treasure.
For inspiration, check out the long-running Charity Shop Finds forum thread. Our Forumites have struck gold in the past, bagging everything from a bargain Mulberry bag to a £5 Magimix ice cream maker.
If you're a chazza shop connoisseur, we'd love to hear your tips too – please add them in the comments below.
Look out for surplus de-tagged stock from popular high street shops. Many high street chains donate surplus stock to charity shops. Charity shops often sell these products de-tagged, to prevent returns to the original store.

So if you spot a brand new item with no label, chances are it could be a big name donation.

It's all very hush-hush, but Javed Khan, Barnardo's chief executive, told us: "Our shops do receive items from high street and high-end, sometimes designer, retailers. This includes fashion and sample homeware items. We de-tag donated items from brands if they request this, and have done this for quite a few large companies. Unfortunately, we do not have permission to name them.

"Some high street brands don't require us to de-tag items, so often there will be high street brands with the labels intact."

M&S has confirmed that it donates some samples and surplus to Oxfam, and said the labels usually stay on.



Anecdotally, our forumites suspect that Oxfam gets much Ted Baker surplus stock, as Miro found last year (Ted Baker highlights a "relationship" between it and Oxfam on its site, though would not give further details):

I spotted a pair of new, boxed Ted Baker black leather ankle boots with tiny gold zips, in my local Oxfam. £9.99! Just found the boots on Amazon selling at £256. The assistant said they had been told to expect more Ted Baker items.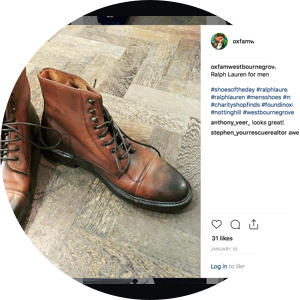 Follow charity shops on social media. Social media is a great way to get insider info from your fave charity shops. Many post details of sales on Facebook, Twitter and Instagram. For example, Sue Ryder Nottingham often has 'everything's £1' sales, publicising them on its Instagram account. The Salvation Army in Falmouth announces sales on Facebook, eg, earlier this year it offered 50% off (plus free chocolate).

On the hunt for a vintage Nintendo or some cool furniture? Nowadays shops often post snapshots of their wares on Facebook and Instagram as they come in. Check out Oxfam Westbourne Grove's Instagram page – recent posts include Givenchy boots and an AllSaints leather jacket.
Try Mary Portas's posh chazza shops for designer donations – or Oxfam's new superstore. You can save money on top-notch labels at Mary's Living and Giving shops. Retail expert Mary Portas helps run these higher-end second-hand stores for Save the Children. There are 25 across England and Scotland, including in Bristol, Windsor and Edinburgh.

It's not dirt-cheap, as staff are aware of items' values, but you can expect 'statement pieces' and designer donations. More than 400 labels donate to the shops, including Stella McCartney and Ralph Lauren.

You might even get your hands on an A-list cast-off. Victoria Beckham once donated 25 designer outfits from her daughter Harper's wardrobe to its Primrose Hill branch.

Oxfam's boutiques do a similar thing, selling some of the poshest items in carefully arranged shops. If you're near Oxford, the charity recently opened a new superstore, 12 times bigger than its normal shops. When the store opened earlier this month, brands up for grabs included Gucci and Victoria Beckham. (Though Oxfam says it can't guarantee there will always be designer stock – it depends what comes in.)

It's worth noting that Shelter Stockbridge in Edinburgh has an annual designer sale in the first week of January. Brands this year included Vivienne Westwood, Paul Smith and Christian Louboutin, so put it in your diary for next time.
For anyone living close to Alderley Edge, south of Manchester, I can recommend the charity shops on the high street. This is THE place for designer rejects from Cheshire ladies who lunch! I've spotted DKNY, Jimmy Choo, Armani and Prada.
... or areas where your hobby's popular. Got a niche interest? It's worth going to areas where that pursuit is popular. If you're in the market for say, surf gear, head to Newquay or for horse-riding gear, the Cotswolds.

Music fan MSE Kelvin recommends Camden in London...
I often drop into charity shops in Camden Town for a rummage – being an area steeped in music history and chock-full of gig venues, it's great for band T-shirts and records I'd never usually expect to find in charity shops elsewhere.
Go little and often – and on weekdays. It pays to pop in regularly. The good stuff gets snapped up almost as it's brought out, but that same faded Atmosphere T-shirt stays on the rack for an eternity.

Weekdays are slower than weekends, so you've more chance of bagging treasure then. Popping in first thing in the morning can yield bargains too.
Charity-shop from your sofa. These days lots of big name charities offer their wares via online outlets. Oxfam's online shop is a treasure trove of clothes, books, toys, homeware and more. You can search for your favourite brands.

Delivery is £3.95 (or more for some bulky items). It does seem to have wised up to items' values though, so true bargains may be harder to spot – but, of course, it's all for a good cause.

Many organisations now sell on eBay too, including British Red Cross, British Heart Foundation and the Royal British Legion. See eBay's charity shop page for more. Items can usually be delivered.

The downside for buyers is bidding wars break out over many auctions thanks to eBay's size. Most items are auctioned, but you can occasionally pick up a buy-it-now bargain – and it's all going to charity.

Get touchy-feely. One of the quickest ways to sort Chanel from C&A is to feel clothes as you rifle through the rails.

Go for classic items in natural fibres such as silk, cashmere and merino, which are more expensive new than synthetic. You'd be surprised how quickly you learn to find the nicer bits just by touch.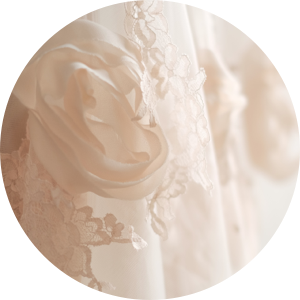 Go to specialist charity shops, eg, books, furniture and bridal. Many charity shops have specialist branches. If you're doing up your pad, British Heart Foundation has 180 furniture and electrical stores across England, Scotland and Wales (not NI).

Sue Ryder has shops specialising in vintage and retro clothes, homeware, bric-a-brac and more, as well as stores where everything is £3 or less. You can search for these online.

Oxfam is known for its fantastic book and furniture shops. Got your heart set on a designer wedding gown? It also has 12 specialist bridal departments which stock dresses from £30, as well as accessories. Forumite little_miss_sunshine was chuffed with her dress:

I bought my wedding dress from Oxfam in Leicester. No one had noticed it and it was a fraction of the cost of a new one. It was in great condition, I felt good about giving money to charity too. I also got my bridesmaids' dresses second-hand – got two lovely dresses for £50 each!
Volunteer for first dibs. Volunteer your time at a charity shop and one of the perks can be first dibs on the best donations.

Of course, we're not generally talking about paying less than customers, just getting to choose from the widest range of stuff. But in some cases you may get a fixed staff discount too, eg, 10% or 20%.
Get to know shop staff. Establish a rapport with your local charity shop volunteers. Ask them which days they put out new items and when spring stock will hit the shelves, for example. Are they getting any big donations from manufacturers?

If you're looking for something specific, such as a toy, it's always worth asking if they've got any out the back.

Turn your phone into a barcode scanner to find what old books/CDs etc are worth. Found something in a charity shop with a barcode on it and want to know what it's worth? If it's in original packaging or just has the barcode printed on it, there's an easy trick to see what identical items have fetched previously.

Download the free eBay app, open it up and tap the search bar followed by the barcode symbol. Your mobile now becomes a barcode scanner, via its camera.

Point your phone's camera at the code and you'll see it on screen – the app will scan the code and then list identical items for sale. To see what items have fetched in the past, select the 'sold items' filter.
You CAN haggle – but whether you SHOULD is an open question. Many do report haggling in charity shops. This is more a moral decision than a financial one.

Martin's view is: "This is about charity, so it's the one time paying full price (if it's reasonable) is a good thing to do. Yet if you're on the breadline and this is your only route available, then offering to pay what you can afford isn't wrong."
Join the MSE Forum Discussion
Have your say
This is an open discussion and the comments do not represent the views of MSE. We want everyone to enjoy using our site but spam, bullying and offensive comments will not be tolerated. Posts may be deleted and repeat offenders blocked at our discretion. Please contact fbteam@moneysavingexpert.com if you wish to report any comments.