MoneySaving homemade pet toy ideas
Pet owners know the risks of spending money on a new toy: much like toddlers, our pets are often more interested in the packaging than the gift. The MSE Forum, wise to this phenomenon, have been sharing the free, cheap and homemade playthings their animals favour.
There's a large contingent of pet parents on the MSE Forum and, luckily for the purposes of this blog, they're a resourceful and MoneySaving lot.

We started a thread entitled Cheap 'n' cheerful homemade pet toys to collate some of their best ideas for animal entertainment. Examples include simple household items like hair bands, to accomplished craft projects like dog tug toys made from recycled clothing.
A box of tissue paper, feathers and dangly pieces of ribbon make excellent cat toys
Safety notice

Before making your own toys or reappropriating household items, consider how to mitigate any risks to your pet. We asked the RSPCA for some guidance. A spokesperson said:
Playing with your pets is a great way to keep them entertained, as well as ensuring they're mentally and physically stimulated.

We understand that with the cost of living putting pressure on pet owners, homemade toys are certainly a great alternative to buying them. We would always advise people to supervise their use, be aware of any choking or strangulation hazards and avoid any small parts - and, of course, enjoy having fun with your pet!

Boxing champs

MSE Forumite Mnoee writes, "Lots of toys they seem to have lost interest in are suddenly far more interesting when placed in a paper bag, or covered in packing paper. Anything smelly, wiggly or noisy".
When it comes to cardboard boxes, you can really flex your creative muscles. Mnoee's makeshift whack-a-mole (below right) and MSE Sarah's tailor-made tank (below middle) are two such examples.
The more specialised the packaging, the more interesting things get. These sandcastle-shaped cardboard moulds (below) came with a delivery of cider bottles, but now they're a puzzle toy for Eleven. A few carefully secreted treats keep her occupied for ages (even after they've all been found).
The ulti-mutt tug toy


MSE Forumite Katiehound made these dogs toys out of old t-shirts, using this 'Make a t-shirt dog tug toy' Youtube tutorial. Katiehound's bonus tip: leftover cords can be tied into a knot to form another tug toy (below right).
Further tug toy tips come from sheramber:
The leg off an old pair of jeans tied in a knot makes a strong tuggy. A knotted tea towel soaked and then frozen is good for teething puppies.
~ sheramber
Here comes bubble


Here's Campbell, whose hobbies include chasing bubbles through the grass (something we should all try to make a little more time for).
Although there are beef-scented bubbles and similar marketed towards dog owners, a cheap bottle of standard bubbles seems to be sufficiently joy-inducing.
(Fe)lie-in


Forumite Mnoee made this vast cat bed out of an old sofa cushion and blanket.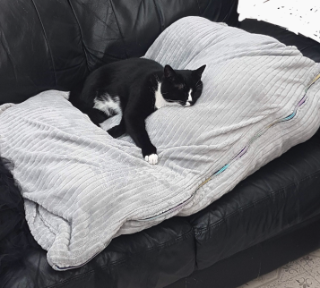 A lot of workmanship has gone into this project, which features hand-sewn sides and a zip.
Although Mnoee concedes that their cats would probably sleep anywhere vaguely comfy, the project itself was a satisfying pastime that staved off the temptation to sit and doomscroll.
For tips and inspiration on sewing, visit the Crafting board. Then see what other old household items you can recycle by visiting our 28 quick ways to go green & save guide.
Household bits 'n' bobs


The average home is full of ready-to-go playthings for cats. Elastic bands that ping across the room, cue tips, hair bands, dangly pieces of string, slinkies, a dripping tap, crinkly tissue paper, rolled-up socks, bits of paper, bird feathers (each one makes a different style of trajectory when aimed across a room or dropped from a height), ping pong balls and much more.
This butterfly (above right) cost £1 from Flying Tiger. It can be wound up and put in a greetings card, ready to leap out at the recipient... OR it can perform a short, erratic flight to delight a cat.

Forum Senior Ambassador and dog owner Misslayed has a clever use for plastic bottles:
When my Patterjack (Patterdale/Jack Russell cross) was younger she loved wrestling with a small plastic bottle containing a handful of cat biscuits, and stuffed in an old sock. Took her ages to get them out! It would take her about an hour initially, but she's very clever and soon learned the way to get them out in about ten minutes. I used cat biscuits a lot for training treats: they're much smaller than dog treats, and she can't read!
~ Misslayed
Ask Gracie (below centre and right) what her favourite toys are and she'll enthuse about hairbands. For a more streamlined snacking experience on those busy days, she enjoys having her treats funnelled down a tape measure to her.
The list of potential playthings expands further, according to TripleH:
Corks, felt pads, tennis balls, plastic containers: all cheap toys our cat brings to us to play fetch with. She is a Maine Coon and gets so enthusiastic when in the mood.
~ TripleH
Going digital


There are apps a-plenty designed for cats. Many are free, like Mouse for Cats (though it does feature ads). Available for iOS and Android phones and tablets, the game sends variously styled toy mice skittering across the screen, reacting when touched by a paw.

Parrot parents of the r/parrots subreddit comment that cat game apps are popular with their birds too.

YouTube videos featuring bird feeders can pique a cat's curiosity in ways that are funny to watch. Try starting out with the Paul Dinning Wildlife channel, comprising hundreds of wildlife videos.

Gracie enjoying a bit of 'Net-felix'
Search Spotify's more niche corners and you'll find albums of cat music, such as David Teie's 2018 Music For Cats Album Two. With soothing strings overlaid with purring sounds, the album's intended to relax and settle your feline.
Some more free cat entertainment – the very long YouTube videos of birds and squirrels, and apps like CatAlone. Neither of my cats will actually use the apps 'properly' but both enjoy watching the butterflies and bugs dart around.
~ Mnoee