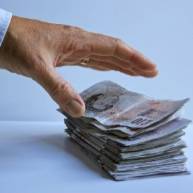 Indebted consumers are being lured into agreeing loans with annual interest rates of well over 2,000%.
Firms that offer 'payday loans' levy these huge charges on borrowing up to £1,000, and often target those short on cash (see the Debt Help guide if you're struggling).
One firm, QuickQuid, says its typical annual percentage rate (APR) is 2,356%. Though, as the figure is 'typical', the rate applied is sometimes much higher.
Most prominent payday loan firms charge typical rates of well over 1,000%. Again, the true figure is sometimes higher.
The discovery comes after children's charity Barnado's this week called on the Office of Fair Trading to investigate loan firms that charge sky-high interest rates.
The charity attacked Britain's biggest doorstep lender Provident Financial, which charges up to 545% APR.
Barnardo's chief executive Martin Narey says: "If some of us are worried by interest payments of less than 10%, imagine the horror of paying back loans with interest payments of more than 500%.
"Plunging the poor into such debt is as immoral as it is unnecessary."
The 2,000%-plus loan
Rather than the percentage-based interest charges levied by the banks, QuickQuid, like many other payday loan firms, charges a flat fee.
However, payday loan firms are compelled to declare the equivalent annual interest rate to help borrowers compare costs.
Usually, you have to repay the loan on your second payday following the advance.
For every £100 you borrow, you are charged £25 each time you receive your salary, until the loan is repaid.
So, if you're paid monthly and you clear the loan on your second payday, you'll be charged £50 (two lots of £25) per £100 borrowed.
QuickQuid's website lists a scenario where a £200 loan is repaid in just under two months, on the second payday following the advance. The borrower is charged £100 in fees, equivalent to 1,575% APR.
In some cases, even though the loan spans two paydays, repayment will be due earlier. Your due date is dependent on when, during your payment cycle, you take out the loan.
When this happens the fee is the same but because the loan length is shorter, the APR is higher, sometimes well over the typical 2,356%.
QuickQuid compliance director Andy Lapointe says: "Our customers do not take loans for an annual period. APR is not an appropriate, intuitive or logical means of determining the true economic cost of a loan.
"When a prospective borrower calls Quick Quid, his/her query is typically: 'What does it cost to borrow £200 until my next payday?'"
While QuidQuick's APR is sometimes higher than its rivals' rate, that doesn't mean its actual fees are higher.
Cheaper ways to borrower
Payday loan firms are not breaking any rules by charging these sums. However, using them is one of the most expensive ways to borrow.
Wendy Alcock, MoneySavingExpert.com money analyst, says: "Payday loans rarely help people get back in control. Instead, borrowers often get caught in a debt spiral.
"If you're in need of cash it's usually far cheaper, if possible, to borrow by applying for a credit card, loan or overdraft.
"If you have no access to money from traditional sources, you can try a credit union firm for small amounts."
Typical loans charge around 12% APR (see Cheap Loans guide). A typical credit card costs around 18% APR.
You may also get 0% on credit card purchases or balance transfers, if you have a decent credit score, for a limited time (see the 0% Credit Cards and Best Balance Transfer guides).
An 18% interest credit card would cost £36 a year, assuming a constant £200 balance.
To highlight how expensive payday loans are, if you compare them to a high-rate credit card, their charges still appear exorbitant.
If you borrow £200 for two months as a cash advance on a Vanquis credit card, you'd pay roughly £20 back in interest and charges.
That compares to the payday loan repayment of £100 on the same debt.
Most credit cards are MUCH cheaper than Vanquis, as it is designed for those with patchy credit histories. Remember to only take out cash on a credit card in emergencies.
If you're rejected by the major banks or card firms, credit unions are an option. These are non-profit lending organisations (see the Credit Union guide) that often charge up to 30% APR, so a £100 loan would cost £30 over a year.
Also ask friends or family for help if you're desperate, and read the MoneyMakeover or Freebies guides for ways to make extra cash, for instance, by selling your old mobile or reclaiming charges.