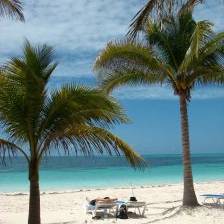 The pound's nosedived over the last few weeks, meaning travellers need to go the extra mile to stretch the value of their cash.
At 12.30pm today, £1 bought $1.49 (US), a 10-month low, and €1.09 (see the TravelMoneyMax.com and Cheap Travel Money guides).
When spending in overseas currency, regardless of the exchange rate, it's crucial to maximise the value of your cash by playing the system.
Here are our tips:
Carry a specialist overseas card. Most cards add a 3% cost to the exchange rates banks themselves get, yet four credit cards don't add this 'load'. Use them to spend abroad for the best possible deal, though always repay IN FULL to avoid interest.

Overall winner Santander Zero is load-free worldwide & has no ATM fees. Alternatively, Nationwide's load-free in Europe, but with the perk of a year's extra extended warranty & purchase protection on UK-bought electricals. Full info in Cheapest Travel Cards guide.


Avoid the cards from hell. While specialist credit cards give good rates, most credit cards don't. Worse, some DEBIT cards give poor rates and add an up to £1.50 fee every time you spend! These include Lloyds TSB, Halifax, RBS, Intelligent Finance, Santander & NatWest. Check your card's charges in the Overseas Card Fees section.


NEVER 'pay in pounds'. If a retailer overseas offers to let you pay in pounds, reject it. It's called dynamic currency exchange and means the shop does the conversion, usually at a worse rate than your own card.


Find cheapest travel cash. To find the best rates for paper money, use the TravelMoneyMax Travel Cash Comparison. If you need airport pick up, always pre-order as the rate's much better. Plus, watch out when you get currency from a from a bureau de change. All credit cards and some debit cards, including Barclays, Lloyds TSB, Natwest, Santander & RBS charge a cash withdrawal fee. Use a different card if possible or withdraw pounds on your debit card and pay with that.
Buy now or wait? The pound's horrid rates could get even worse ... or much better. No one knows, so any prediction is speculation (gambling), and you could win or lose. One option is to buy half now to hedge bets, but that's your call.
Further reading/Key links
Get cheap currency: TravelMoneyMax.com, Cheap Travel Money