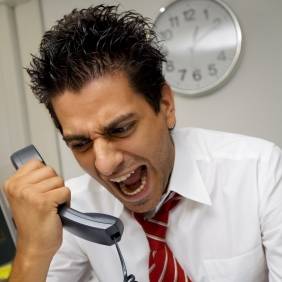 Two banks may face enforcement action over the poor way they handled customer complaints, the City watchdog has warned.
The Financial Services Authority (FSA) says it will take tough action after finding weaknesses in the way major institutions deal with dissatisfied customers (see the Financial Fight Back guide).
The regulator looked at procedures at six banks, which together account for 70% of all the complaints that financial services firms receive and report to the FSA and 60% of those resolved by the Financial Ombudsman Service, which arbitrates between consumers and firms.
The FSA says five of the banks have agreed to make "significant" changes to the way they deal with complaints to ensure customers are treated fairly, while one is making minor changes.
Two of the banks are also being referred to the FSA's enforcement division for further investigation, although the FSA declined to name who these were.
Banks slammed
The watchdog criticises banks for having poorly designed staff incentive schemes, which it said made branch staff reluctant to pay redress to consumers, even when the bank was at fault.
It adds that poor quality complaint handling by branch and call-centre staff, for whom dealing with complaints was only part of their job, often led to inadequate investigations, poor decision making and unsatisfactory correspondence with consumers.
There was also a lack of engagement from senior management over the way complaints were handled, and a failure among banks to learn from previous complaints and make changes to avoid the same problems arising again in future.
Other failings included staff not adopting a balanced and impartial approach when assessing customers' recollections against internal policies and procedures, and paying insufficient compensation to people where redress was due.
In many cases, correspondence with customers was also deemed to be poor, with banks often failing to tell people why their complaint had been rejected, as well as using standard paragraphs that were either completely irrelevant to the situation, or not tailored to reflect the individual's circumstances.
Unfair decisions
Overall, the FSA said the consumer had received an unfair decision in one in five of the complaints it reviewed, while there was evidence of poor quality complaint handling in a third of cases.
Dan Waters, the FSA's director of conduct risk, says: "It is vital that customers know that if something goes wrong, their complaint will be deal with in a reasonable way and that they will get a fair outcome.
"While we found some good practice, there is clearly evidence of unacceptable standards of complaints handling in banks.
"Delivering change in this area is a major priority and we are determined to use all the tools available to us to ensure that banks comply with our rules."
The FSA says it found some examples of good complaints handling. The regulator adds that it will review whether it needs to make changes to its rules on complaints handling following the investigation, and it will publish proposals on this during the third quarter of the year.
But it warns that the degree of change necessary in some of the banks would require "sustained and rigorous effort" to deliver improvements, and actions taken by the banks may not quickly lead to a drop in complaint volumes.
Recent figures showed that more than half of all complaints received by the Financial Ombudsman Service during the second half of 2009 were about Lloyds Banking Group, Barclays, Royal Bank of Scotland/NatWest, Santander and HSBC.
The FSA also says that around half of the complaints referred to the Ombudsman about the six banks in its investigation were upheld.
Part-nationalised RBS recently released figures showing that it received around 1,600 complaints a day during the final six months of 2009.
Banks' promise
The British Bankers' Association said it was working with the industry to improve complaint handling standards.
Eric Leenders, executive director of retail banking at the BBA, says: "The industry was concerned that, on the rare occasions things go wrong, complaints were being handled inconsistently across the industry.
"The British Bankers' Association has already hosted the first of a series of seminars bringing together senior industry figures to discuss the issue and share best practice.
"We have also agreed, with the Financial Ombudsman, that one of the best ways to push up standards is for information to be readily available to customers. This is why both FOS and the banks have started to publish detailed complaint information."
Further reading/Key links
Ombudsman guide: Financial Fight Back
Full Ombudsman complaints data: Complaints table
Full reclaiming guide inc. free template letters: Bank Charges
Hardship reclaiming guide inc. free templates: Bank Charges Hardship
Reclaim missold debt insurance: PPI Reclaiming