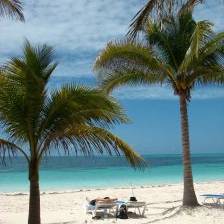 Holidaymakers buying foreign currency before they leave the UK should beware hidden bank charges that could dent their spending power.
Natwest and Royal Bank of Scotland customers, in particular, may face this fee for using their Visa debit card at a bureau de change for the first time this summer after a new charge was introduced in February.
Barclays, Lloyds TSB and Santander (formerly Abbey) already levied such charges (see the Cheap Travel Money guide).
The fees, often tucked away deep in the terms and conditions, are usually a percentage of the amount bought using a debit card at a UK bureau de change. They are sometimes waived if buying from the relevant bank.
Buying £1,000 of euros, dollars or any other denomination could set you back £20 in fees.
If your bank charges you, the trick, if you need cash before you set off, is to use another card or withdraw the money in sterling and exchange that cash for your currency.
Get the top rates
As the best rates are often available online where you cannot pay in cash, ensure you're not sacrificing a decent rate that wipes out the benefit of avoiding a fee.
To find the best overseas exchange rates, go to MSE's TravelMoneyMax.com.
If you have a Nationwide debit card it's usually best withdrawing cash overseas as, unlike most other debit cards, there is no commission on transactions in Europe (1% elsewhere) and no cash withdrawal fee.
Like with most credit and debit cards, the exchange rate you get is usually far better than at any bureau de change.
Below is a table of how much it costs to buy currency at a bureau de change using the major debit cards:
Cost to buy travel money in UK (i)

Provider

Fee (% of spend)

Alliance & Leicester
2% (min. £2)
Barclays
2% (min. £2, max. £4.50)
First Direct
n/a
Halifax
n/a
HSBC
n/a
Intelligent Finance
n/a
Lloyds TSB
1.5% (min. £2, max. £4.50)
Nationwide
n/a
RBS/Natwest

1.5% (min. £2, max. £4.50)

Santander (ii)
1.5% (min. 1.99)

(i) when not from that bank/building society, (ii) fee waived on its Zero account
These fees should not be confused with the up to 3% charges levied on spending abroad by most card providers. Some debit cards also charge you an additional one-off fee of up to £1.50 per transaction when overseas (see the Debit Cards From Hell guide).
Top overseas plastic
While abroad, the Santander Zero credit card levies no fees for spending or withdrawing cash, though cash withdrawals, which should be avoided on a credit card, attract 27.9% interest.
The Post Office and Saga credit cards are fees-free to spend on overseas.
Nationwide's credit card, like its debit card, is fees-free in Europe for spending (1% outside Europe). However, as with the Post Office and Saga cards, you are charged for taking cash.
To get the top credit or debit cards you'll need a decent credit score.
If you don't qualify, pre paid debit cards, where you load cash on and spend as usual, are an alternative.
However, they attract a host of fees to buy, load with cash or spend on, while exchange rates are beatable by a normal plastic.
Our top pick for spending in Euro countries or the US is the FairFX pre-paid card.
Its only charge is €1.50 or $2 to withdraw cash (see the Cheap Travel Money guide for how to get it, and for alternatives).
Further reading/Key links
Get cheap currency: TravelMoneyMax.com, Cheap Travel Money