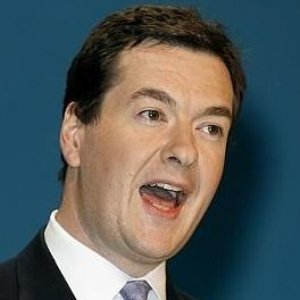 The Chancellor today gave a helping hand to motorists and first-time buyers but hit others with tax rises.
To placate drivers facing record pump prices George Osborne (pictured, right) cut the price of fuel by 1p per litre from 6pm tonight and announced a fair fuel stabiliser to help keep costs down in future.
This won't stop prices rising in future but it will limit the hikes.
He also confirmed plans to raise the personal tax allowance by a further £630, to £8,105, putting £126 back into workers' pockets.
But it wasn't all good news for consumers. Osborne also revealed an effective tax rise beyond 2012, confirmed planned to limit public sector pensions and increased the cost of alcohol and tobacco.
Below, we round up the crucial changes and what they mean for you.
Petrol
The Government will cut fuel duty by 1p per litre today and will delay the planned rise next month of over 4p per litre.
In addition, it will implement a 'fair fuel stabiliser' which means when the oil price is high tax rises will be limited to inflation at most – though when the oil price is lower the rises will be bigger (see Cheap Petrol & Diesel guide).
While this will prevent future hikes to an extent, it will not address the current problem of mammoth prices at the pumps or stop hikes altogether. In fact, there will still be two increases next year, in line with inflation at best.
The average price of a litre of unleaded is currently £1.33, according to the website PetrolPrices.com (full info in the Petrol cut and fuel stabiliser introduced MSE news story).
Income tax and national insurance
Osborne said he will cut income tax in a year by increasing the personal allowance but he will implement an effective tax hike from then on.
The allowance will rise by £630 in the 2012/13 year from £7,475 to £8,105 for under-65s which is expected to take 220,000 people out of paying tax altogether.
This will mean an additional £126 in the pocket of a basic rate taxpayer. The personal allowance is the amount of your salary on which you pay no tax (see the Tax Code Checker).
But the good news is tempered by the announcement that from April 2012 many income tax thresholds will rise every year in line with the Consumer Prices Index inflation measure which tends to be lower than the current Retail Price Index measure that is used for rises.
The upshot is that allowances will rise more slowly which is an effective tax rise as less of your income will be tax-free or in a lower band (full info in the Income tax to fall but future less rosy MSE News story).
Meanwhile, the tax and national insurance system could be merged in a radical simplification move.
The plans will be debated by the Government, consumers and industry as part of a wide-ranging consultation which will take a number of years (see the Tax and NI merger MSE News story).
First time buyers
First time buyers (FTBs) will get a £250 million injection to help get them onto the housing ladder.
The average FTB deposit is 30% which is a whopping £45,000 on a typical £150,000 property, according to Osborne (see the Remortgage Guide and the Mortgage Guide).
The Government and property developers will jointly fund an equity loan to pay for a deposit under a shared equity scheme called Firstbuy to help 10,000 FTBs buy a new build property.
Households that earn a maximum £60,000 a year that can raise a deposit of at least 5% of the property price may qualify for the loan of up to 20% of the value (see the First time buyers to get help MSE News story for full info).
Pensions
The Government wants to implement a simplified, flat-rate state pension of £140 a week.
The Department for Work and Pensions will shortly publish a Green Paper to consult on options for reform, though any changes are still years away (see the £140 a week state pension plans MSE News story for full info).
Meanwhile, Osborne also said he would accept recommendations made by Lord Hutton for public sector workers to be stripped of their final salary pensions and instead have schemes linked to average earnings (see the Public sector pensions to be cut MSE News story).
Charity giving
Giving to charities is set to become easier and charities will get more under a new scheme from 2013 (see the Charity Giving guide).
Under the plan, they can claim extra cash on small donations under £10 even if the giver has failed to opt into the Gift Aid scheme, which gives charities tax relief on donations.
Anyone giving to a good cause normally has to tick the relevant Gift Aid box to ensure their chosen charity gets the extra donation.
The exemption scheme will operate on all donations under £10 as long as they add up to less than £5,000 a year per charity (see the Gift Aid revamp for full info).
Flights
Osborne will delay the planned rise in air passenger tax by one year. The duty had been due to rise on 1 April in line with inflation.
The increase will be deferred until April 2012 at which point it will be implemented alongside that month's inflation increase, which will create a double whammy (see the Temporary boost for airline passengers MSE News story).
Booze and fags
The cost of alcohol and cigarettes will rise after the Chancellor confirmed he will implement pre-arranged rises in duties, and introduce new hikes.
The price of a pint of beer is set to rise by up to 10p, while the Wine and Spirit Trade Association warned inflation-busting tax increases on alcohol will lead to consumers will paying 15p more for a bottle of wine and 54p more for a bottle of spirits from Monday.
Cigarette smokers face a jump of up to 50p on a packet of 20 from 6pm today (full info in the Beer and cigarette jump MSE News story).