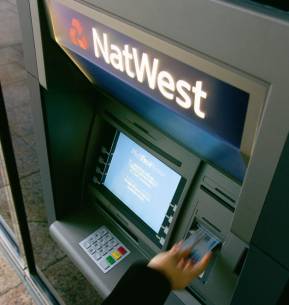 The Royal Bank of Scotland crisis is now into its ninth day and could last into next week, though the group claims it has solved most of the problems for its 17 million beleaguered customers.
Millions of NatWest, RBS and Ulster Bank customers have not had wages paid into their accounts over the past week after "technical problems", because many balances have not updated since early last Wednesday, so haven't shown payments going in. Swathes of money transfers have also not gone through.
What's more, huge numbers of employees haven't been paid where their company uses one of the three RBS Group banks, regardless of their own current account provider.
Customers of Think Banking, which uses RBS's payment systems, are also hit. See our separate story on the impact on Think Banking customers and what they can do.
The bank insists things are getting better. In the latest developments:
The group says 99% of RBS and NatWest balances and payments were up to date by Tuesday morning, with more of the backlog cleared on Wednesday. However, the debacle persists for Ulster Bank's 1.9 million customers, which may last until next week. The underlying glitch was fixed on Friday, but the group is now working on the backlog.
Despite the group's claims, we are still inundated with complaints from NatWest/RBS customers unable to conduct normal banking.
As well as refunding all charges incurred by RBS Group customers, the bank will also help non-customers. Many have not been paid where their employer banks with NatWest, RBS or Ulster or have not received payments from account holders.
Other banks have said they will be sympathetic and will cancel charges.
The full reclaiming process will be revealed later this week, with City regulator the Financial Services Authority stressing RBS must pay up.
NatWest/RBS current account customers with a credit card from the group can withdraw cash on it fee-free.
Many RBS Group branches will remain open from 8am to 6pm for the rest of the week.
The bank urges affected customers to contact it to get emergency cash. You can contact RBS/NatWest on 0161 931 9959 and 0800 656 9639, or Ulster on 028 9084 3556 and 0800 231 232.
What can you do?
I need cash or need to pay a bill, but it wrongly says I don't have the funds. What can I do? If money due is not showing as being paid (such as wages, benefits or a bank transfer), you should contact the bank, which says it will show "discretion". We've heard reports of customers being given £300 cash where they can prove it's their payday and of being given an extended interest-free overdraft. All current account customers with an RBS, NatWest or Mint credit card in good order can now also go £100 over their limit fee-free, and withdraw cash on their card fee-free, with interest waived on cash for a month.


My employer banks with NatWest and I've not been paid. What should I do? Talk to your employer to see if it can provide emergency assistance. Also let your bank know and ask for help, plus any companies you need to pay soon, where you think the cash won't be available, to see if they can delay payment.


I've been hit with bank charges because of a late payment. Will I get compensation? RBS says it will refund ALL charges incurred as a direct result of the meltdown. This includes charges levied by a third party; for example, if you were late paying a non-NatWest credit card or mortgage because your account wrongly showed there wasn't sufficient cash. The Payments Council, which represents all banks, says first speak to the provider that levied the charge as all banks and building societies have pledged to help customers.


Will I be compensated even if stranded abroad or for other non-bank charges costs? The bank says EVERYONE affected will be compensated, even if they've incurred charges overseas. In one reported case, a man couldn't get cash to get a taxi or train to the airport in Thailand so missed his flight home.


I'm not an RBS Group customer but have been affected. Will I be compensated? If you've not got money from a NatWest/RBS/Ulster account holder, or you've not been paid where your employer banks with the group, RBS says it will offer help. It will announce full details of its plans later this week. In the worst cases, house sales have fallen through where funds have not been transferred in time. The Payments Council says first speak to your provider as all banks and building societies have pledged to help customers.


How do I actually get my charges back? The RBS Group will announce the reclaiming procedure later this week, though it is possible many fees will be automatically cancelled. As other banks have promised to be sympathetic, they may cancel fees if you ask. If not, keep all statements that show bank charges and keep receipts of any additional costs incurred, say if someone had to send you money via a wire transfer service. You can make a complaint now if you're a NatWest, RBS or Ulster customer.


I can't pay bills with other banks or utility firms. What should I do? If you've not had money paid in to cover other bills, let those lenders or companies know what's going on. They may be able to delay payment or refund charges. The Payments Council says first speak to the relevant provider as all banks and building societies have pledged to help customers.


I've got a black mark on my credit file due to a late payment. How can I remove it? You should ask NatWest/RBS to remove any default or ask the bank for a letter to provide to a third party, if applied by another firm. If the entry is not corrected you can put a 'notice of correction' on your credit file. James Jones, from credit agency Experian, stresses lenders should allow 7-10 days before registering a late payment so this may not become an issue, as long as you make a swift payment. The RBS Group will work with credit agencies to ensure there is no adverse effect on customers.


Are ATMs down? Some users have reported NatWest and RBS ATMs out of action. The bank stresses cash machines are not affected by the troubles, so if any are not working, it will be due to overuse or another problem.
Complaints pile in
Despite claims the NatWest and RBS problems are 99% fixed, customers are still reporting huge troubles with their current accounts.
Here are some of the tweets we received on Tuesday:
BertErniesmam said: "Called RBS this AM to ask where money was and was told it was 'in cyberspace somewhere' and will 'turn up soon'"
Rsey said: "I was due to be paid on 21st - nada. Money has been happily taken from my a/c on Fri, Mon and today."
MrsKarenWhite said: "Not even close to being fixed, spoke to staff at NatWest today, they couldn't even access their systems, still money missing."
Nickyc2009 said: "I don't bank with them but my wages still not in my account after 6 days of waiting. No food in my house after today either."
Sam_bonney said: "Online balance is missing and the last week's worth of transactions are missing and put in £300 yesterday but not appearing."
What RBS says
An RBS statement said on Wednesday afternoon: "The major backlog of account balance updates cleared on Monday for RBS and NatWest customers.
"This means account balances have registered as normal for the vast majority of RBS and NatWest customers over the last two days. We can also confirm the small amount of outstanding unprocessed transactions continues to reduce, and significant further progress is expected today.
"As previously cautioned, progress towards a completely normal service is likely to be affected by the significant stress on the system over recent days.

"The group has already announced the significant problems facing Ulster Bank are likely to continue for the remainder of this week, however the solution applied in NatWest and RBS has been successfully applied to Ulster Bank overnight, increasing our confidence that we will restore a full service by Monday.

"We apologise once again for the unacceptable service customers have experienced and thank them for their patience."
The story will be updated regularly as more information becomes available.
Also see the NatWest/RBS customers targeted by fraudsters news story.