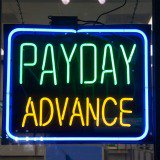 The number of calls from people with payday loan problems to the National Debtline charity increased by 94% last year, new figures show.
It took over 20,000 calls for help with payday loans in 2012, up from 10,301 on 2011, and from 465 in 2007.
National Debtline says when its lines are open, it is now taking a call about payday loans every seven minutes.
Borrowers can pay though the nose for a payday loan, which has led many into debt.
Not only do payday lenders charge fees of about £35 for each £100 borrowed over a month, but the real horror stories come from late payment fees. Borrowers have been charged hundreds of pounds in additional fees, sometimes far exceeding the original loan amount.
New powers
The new financial services regulator, the Financial Conduct Authority (FCA), will have powers to cap the cost of payday loans, but not until 2014 (see the Payday loan costs can be capped MSE News story).
Until then, payday loans are policed by the Office of Fair Trading (OFT), which can strip unscrupulous credit firms of their licences straight away, under new powers given to it last month.
The Money Advice Trust, which runs National Debtline, wants the OFT to use these powers where it identifies persistent bad practice.
Joanna Elson, chief executive of the Money Advice Trust, says: "Payday loans have come from nowhere to be one of the most common debt problems people face.
"The rapid emergence of payday lending has caught regulators a little off guard. We have waited some time for real action to be taken to help prevent people falling into a serious debt spiral with these loans."