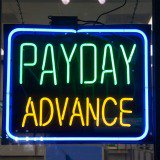 The Financial Conduct Authority (FCA) has promised "tough and decisive action" against payday lenders that don't follow strict new rules, after taking over regulation of the consumer credit market from the Office of Fair Trading (OFT) today.
About 50,000 consumer credit firms come under the FCA's remit today – over 500 of which are payday lenders. The regulator says it wants to deal with extortionate charges and ensure customers in difficulty are treated fairly. (See our Payday Loan Help guide for alternatives if you're struggling).
Martin Lewis, founder of MoneySavingExpert.com, says: "We desperately needed a change, because credit regulation has not been good enough. I think the Financial Conduct Authority is better placed, better resourced and it has got far more power to intervene."
The move comes as the FCA will also begin regulating the peer-to-peer lending industry from today, while the Competition and Markets Authority (CMA) has today become the UK's primary competition and consumer body, taking over certain roles from the now defunct Competition Commission and OFT.
What are the new rules?
From today, payday loan firms must:
Limit the number of loan rollovers to two. Payday lenders use rollovers to extend customers' loans. A loan may be advertised as lasting for a month at a small cost, but it's often rolled over repeatedly, so it lasts much longer.

This means the hideous headline APRs, which many say are meaningless for monthly loans, start to become more relevant as the loan becomes longer, increasing the cost. Limiting it to two rollovers should ease this problem.


Restrict the number of times they take money from a borrower's bank account to two. A lender can only take more than two payments if the customer allows it to. Lenders must also only try to take full repayments.



Add a 'wealth warning' to payday loan adverts. Payday loan firms must now use this slogan on their ads: "Warning: Late repayment can cause you serious money problems. For help, go to moneyadviceservice.org.uk." The FCA can also ban misleading ads.


Make sure borrowers can afford loans. Lenders will have to make sure borrowers can pay them back.



Tell customers where they can get free debt advice. Lenders have to give customers an FCA information sheet telling them about free debt advice when loans are rolled over or refinanced. But they don't have to give them this information when they first apply for a loan.
If lenders fail to comply, the FCA has tougher powers than the OFT and can impose unlimited fines or revoke a lender's licence.
FCA chief executive, Martin Wheatley, says: "It's our job to make sure firms put their customers at the heart of their business and don't just see them as an easy target or a profit line.
"We won't shy away from taking tough, decisive action to make sure that the people who rely on these products are treated fairly. There will be some firms that don't get the message, or won't play ball, those firms should know that we won't let them carry on."
The FCA also takes over regulation of credit cards, hire purchase, debt management firms and debt advisers. In addition, it will now also regulate peer-to-peer lending firms to ensure they present information clearly, be honest about risks to consumers and have plans ready in case things go wrong (see the New rules for peer-to-peer lenders MSE News story).
Alternatives to payday loans

Research by the Government's Money Advice Service (MAS) today reveals that 9 million Britons are considered in serious debt. Many take out payday loans in desperation. But before doing so, consider these other options first:
Use any existing credit card instead – provided you can clear it all in full the next month, it's interest-free (except for the Lloyds Advance card.)
Check if you're eligible for interest-free loans and grants from your local council or job centre. (See our Debt Help guide for more information.)
Get a 0% credit card – even with a poor credit score. (See our 0% Balance Transfer and Spend guide.)
Check out your local credit union – independently-run local co-operative organisations which aim to assist people who may not have access to financial products and services elsewhere. (See our Credit Unions guide.)
Ask if you can you borrow from family or a close friend.
Extend your overdraft, if you can. But stay within the arranged limit, otherwise it'll cost you big.