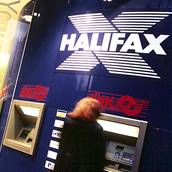 Halifax was the big winner from the first three full months of the seven-day current account switching regime, according to new figures released today.
But despite industry improvements to help people switch between banks, of the 65 million active current accounts, annual switching levels remain low at 3% so today's figures only relate to the small number of people switching.
Overall Halifax gained 46,332 customers between 1 October and 31 December 2013 according to the Payments Council figures.
It was followed by Santander with a net gain of 30,001 customers and Nationwide with 12,679. (See our Best Bank Accounts guide for our top picks.)
Lloyds Bank on the other hand was both the biggest winner and biggest loser as while it gained 83,639 accounts, it lost 103,704 customers to rivals – leaving it with a net loss of over 20,000 customers.
While today's figures are now outdated, Halifax, Nationwide, Santander and Lloyds currently offer some of the best current accounts on the market and they're all included in our Best Bank Accounts guide because they offer the following bonuses:
Halifax offers a £100 switch bonus and £5/month in-credit interest.
Lloyds pays up to 4% on up to £5,000.
Nationwide gives 5% in-credit interest up to £2,500 in year one, and 1% after, plus a 12-month 0% overdraft.
Santander pays up to 3% interest on up to £20,000 and up to 3% cashback on bills, although it does have a £2/month fee.
MoneySavingExpert.com senior money writer Helen Saxon says: "This is the first full quarter of account moves following the start of seven-day switching.
"The big winners are the banks that have innovated. They've looked at their current accounts, and they're now offering interest, cashback or switching bonuses – and consumers are clearly responding.
"If you're not gaining anything from your bank account, don't rest on your laurels – switch now."
Which banks gained customers?
The figures show how many people, small businesses and small charities switched to and from providers offering the seven-day switch guarantee between 1 October and 31 December 2013.
Seven-day switching – winners and losers
Provider

Gain

Loss

Net gain

Halifax

66,401

20,069

46,332

Santander

54,617

24,616

30,001

Nationwide

21,667

8,988

12,679

Bank of Scotland

3,128

3,225

-97

Danske

505

827

-322

Bank of Ireland (UK)

335

714

-379

AIB Group (UK)

125

1,104

-979

Ulster Bank

337

1,408

-1,071

Clydesdale Bank

1,110

7,897

-6,787

RBS

2,136

9,950

-7,814

HSBC/First Direct/ M&S Bank

18,616

29,530

-10,914

Barclays

10,983

24,362

-13,379

NatWest

12,097

26,409

-14,312

Co-operative

1,937

17,168

-15,231

Lloyds Bank

83,639

103,704

-20,065

Data only includes Current Account Switching Service members who were happy to have the figures published.

What is the Current Account Switch Service?
Launched in September 2013, the Current Account Switch Service ensures your incoming and outgoing payments will be moved to your new account by your new bank within seven working days.
Before this, switching took about 18 to 30 working days. It also makes the following guarantees:
For 13 months after you've switched, your new provider will arrange for payments accidentally made to your old account, or taken from your old account, to be automatically redirected to your new account. It will also contact the sender and give it your new account details.
Your new provider will move payments going out, such as direct debits and standing orders, and those coming in, such as your salary, to your new account.
If you have money in your old account, this will be transferred to your new account on your switch date.
If there are any issues in making the switch, your new provider will contact you before your switch date.
If anything goes wrong with the switch, your new bank will refund any interest (paid or lost) and charges made on either your old or new current accounts as a result of this failure. You'll have to ask your new provider for this, though.
The service is free to use and you can choose and agree your switch date.