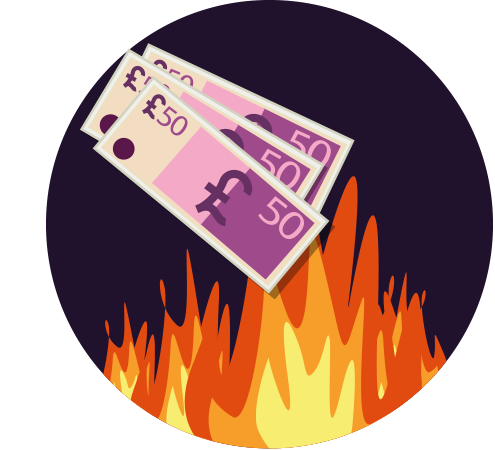 I don't know whether to GRRR or BRRR. It's cold, so energy use is rising, but 7 in 10 UK homes frustratingly still overpay by an average 35%. Yet it's EASY to sort. It takes minutes to find your cheapest, then it's switched in 17 days. And don't worry, there's no service break - your heating stays on.

The impact can be huge. As Rachel tweeted me: "@MartinSLewis Consider myself money-savvy, but just done your energy supplier swap and saved £548 a year". To find out just do a comparison. If you want to know more...
1. Hidden British Gas tariff - £270 cheaper. Ends Wed 2 Dec. British Gas has a 12mth dual fuel, direct debit fix, ie, the rate is locked in. For someone with typical use it's £805/yr, compared to £1,075/yr on BG standard or Fix & Fall. Leave it early and there's a £60 exit fee.
It's not just for new customers. Existing BG custs (incl Sains Energy) can get it too and it'll waive any exit fees for these internal switches.
Helen tweeted: "@MartinSLewis Thanks. We moved from British Gas to British Gas and saved £600/yr. Can you get kids to turn lights off too?"
Sue tweeted: "Hurrah - switching supply to BG, paying £541/yr less."
How to get it: When I say it's 'hidden', that's not a dig at BG - it's just you can't get it direct as it's a collective switch (where an intermediary asks energy firms to bid to provide a tariff) via MoneySupermarket.
As we're part of the same group, our Cheap Energy Club has the British Gas 12mth fix & we give £30 dual fuel cashback (even if you're switching BG to BG), which you won't get via MoneySup. As your price depends on usage & location, we do a full comparison.
2. How it compares to the best elsewhere. Since the BG tariff launched, a few small providers have undercut it, with both variable (so prices could rise or fall once you get it) and fixed deals. Here's a chart based on typical use at average prices, yet always compare for yourself to see YOUR prices.
ARE YOU OVERPAYING? (varies by region, based on typical use)

TARIFF
COST (1)
CASHBACK (2)
Typical big six standard cost
£1,095/yr
-
British Gas 12mth fix (MoneySup)
£805/yr
£30 dual fuel
GB Energy - Cheapest variable
£787/yr
None
Extra Energy - Cheapest 12mth fix
£798/yr
£15/fuel
First Utility - Cheapest long fix (ends 12/17)
£915/yr
£15/fuel
(1) For dual fuel, paying by direct debit. (2) Via Cheap Energy Club.
Warning. Extra Energy has the WORST results in our new customer service feedback poll - 80% say it's poor. GB Energy is new-ish so we've only limited feedback, though what there is is decent.
British Gas is rated 38% great, 34% OK and 28% poor. Do factor service in as well as price when you do a comparison.
3. Unique unlimited-use tariff - fixed price regardless of use. With fixed tariffs, while the rate is fixed, of course if you use more, you pay more. However there is one totally different deal...
Green Star Unlimited* is a 12mth dual fuel tariff where what you pay is locked in regardless of use. While not that cheap, it's good for those, including many elderly people, who want to turn the heat on and not worry. See my full Green Star unlimited energy - any good? analysis.
4. Ensure your bills stay permanently low. I've mentioned our Cheap Energy Club above, but wanted to explain a bit more. To use it (not NI sadly), fill in your details based on where you live and usage. If you don't know that, it can estimate. Then it...
- Does a full market comparison to find YOUR cheapest.
- Gives £30 dual fuel cashback (£15 elec-only) if it can switch you. Suppliers pay switching sites £60ish, we split it & send within 90 days.
- Monitors it stays cheap. You set a trigger, eg, £150/yr, then we alert you if you can save this by switching again. Perfect for short-lived cheap fixes.
Energy switching Q&A
Q. I've only got electricity - can I save? Not with BG, but the other cheap deals allow electricity-only switching. Someone on a standard tariff paying £1,000/yr would pay about £750/yr with the cheapest. So do an electricity-only comparison.
Q. I'm on prepay (key or card meter) - can I switch? Not with the tariffs above, but someone with typical use on a standard prepay tariff pays £1,170/yr - the cheapest is £1,050/yr. So do a prepay comparison.

Also check if you can move to a cheaper billed meter for free - full help in Cheap Prepaid Energy. Plus prepay users should get a voucher for the £12 Govt elec rebate. If you haven't had one, check with your supplier.
Q. Can I take my tariff with me if I'm moving house? This is known as 'portability' - some tariffs are portable, some aren't. Of those above, BG can move with you - the others can't.
Q. I'm £100s in credit with my energy firm - will I get it if I leave? It should give you this money once you've switched. Many do it automatically, but make sure you ask if not. In the past they used to operate a 'don't ask, don't get' policy, so if you've switched previously see Reclaim Past Energy Credit.

If you're in debt, you can switch, unless it's huge (eg, £500+ on prepay). Though you will still need to pay it off.
Q. I'm scared and confused about switching - is it worth it? Yes. It's far better to go for it than pay more while waiting. Our Cheap Gas & Electricity guide explains in detail - these pointers should help:

- Your new firm tells your old one - you just give a final meter read.
- You WON'T lose supply during a switch or if a supplier goes bust.
- It's the same gas, the same electricity, the same safety.
- The only thing that changes is customer service and price.
- Some firms do a credit check, incl BG. To find out what this means and a full list of who does what, see energy credit check help.
- You can't be charged exit fees to switch in the last 49 days of a fix.
Q. Is it worth switching now? The last year's seen a hidden price war - while standard tariffs haven't moved, the cheapest deals keep getting slightly cheaper. And that looks likely to continue (see energy price predictions). Yet switch now and you save immediately. Even if prices do drop in future, the savings over winter should outweigh this.

As for whether to fix and lock in a price, the benefit is if things change (and the market has switched direction rapidly before) you've certainty your rate won't go up. And if worst comes to worst you can always leave and pay the exit fees - usually trivial compared to the savings.
Q. Is it cheaper to leave the heating on low all day? If you've just turned your heating on and are wondering how to keep bills low, we present the arguments (it's not always clear-cut) plus loads more tips on how to save energy in our Energy Mythbusting guide.
Q. Struggling to pay? Get extra help this winter. Too many people need to choose between heating and eating. Yet there's help...

a) Winter fuel payments. If you were born on or before 5 Jan 1953, you're eligible for the up-to-£300 winter fuel payment.

b) Cold weather payments. Those on certain benefits, eg, Jobseeker's Allowance/pension credit, get £25 for every seven days it's sub-zero. It's paid automatically from 1 Nov. Cold Weather Payments

c) Really struggling to pay? There may be special tariffs/help. Try theHome Heat Helpline on 0800 336699 & see Housing & Energy Grants.