IS YOUR ENERGY COMPANY SCREWING YOU?


Whoever you use, just give me five minutes to check & fix it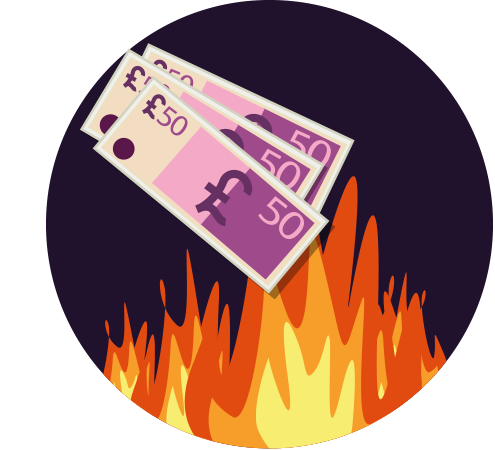 Slashing the amount you pay for energy really isn't difficult. It takes minutes to find your cheapest, then it's switched over in 17 days. Do it NOW and you'll be on a cheaper rate before the cold spell hits and usage rockets. And don't worry, there's no break in service - your energy won't be switched off.
I find it depressing 70% of the UK are still on a hideously costly big six standard tariff – overpaying by an average £290/yr. If that's you, please just do a comparison. I got four new(ish) members of the MSE team to, ahem, volunteer. On avg, they took 5m 52s saving £320/yr (max saving £550/yr). Here's the key info:
1. New. Hidden British Gas tariff – £270 cheaper than standard. It's rare to see the UK's biggest energy provider competing on price, but British Gas (BG) has a new market-leading 12-month dual fuel, direct debit fix (ie, the rate is guaranteed). It's not just for newbies, existing BG custs and those of its sub-brand Sainsbury's Energy can get it, so they can save without moving firm (and it won't charge exit fees).
For someone with typical use it's £805/yr, compared to £1,075/yr on BG standard or Fix & Fall. Leave it early and there's a £60 exit fee, though you can take it with you if you move home.
How to get it: It's not available direct, it's a collective switch (where a trusted intermediary asks energy firms to provide a tariff for it) via MoneySupermarket.
As we're part of the same group, we've been able to add this British Gas 12mth fix to our Cheap Energy Club (link goes there). This way, we give £30 cashback which you won't get if you go via MoneySup. As your exact price depends on usage and location you need do a comparison to get it.
Are you overpaying? (varies by region, based on typical use)
Full top picks comparison to find YOUR actual price
TARIFF
COST (1)
CASHBACK (2)
Typical big six standard cost
£1,095/yr
-
British Gas 12mth fix (MoneySup)
£805/yr
£30
Cheapest variable
£799/yr
None
Cheapest open market year(ish) fix
£822/yr
£15/fuel
Cheapest two-winter fix (ends Nov 2017)
£944/yr
£15/fuel
(1) For dual fuel paying by direct debit. (2) Via Cheap Energy Club.
There is another cheap 12mth collective fix available, from E.on via iChoosr. On typical use it's an average £1/yr cheaper than BG, but you don't get the £30 cashback. You can't get it via Cheap Energy Club.
2. Electricity only? You can save too. While the BG deal's dual fuel, direct debit only, there are still HUGE savings available if you're on elec-only. Someone on a standard tariff paying £1,000/yr would pay about £750 with the cheapest. So do an electricity-only comparison. Also the iChoosr collective switch does allow electricity-only switches.
3. Prepay customers (key or card meter) can compare too. Someone with typical use on a standard prepay tariff pays £1,170/yr – the same on the cheapest deal is £1,050/yr. So do a prepay comparison and also check if you can move to a cheaper billed meter for free. Full help in Cheap Prepaid Energy.
4. New. UNLIMITED USE energy tariff. Green Star unlimited* is a 12mth dual fuel tariff where your cost is fixed regardless of use – while not that cheap, it's great for those, including many elderly people, who want peace of mind that they can turn the heat on constantly and not worry. To see how it stacks up, read my Green Star unlimited energy – any good? analysis.
5. Ensure your bills stay permanently low. I've mentioned our Cheap Energy Club above, but wanted to explain a bit more. To use it (not NI sadly), fill in your details based on where you live and usage. If you don't know that, don't let it stop you – it can estimate and that's better than inaction. Then it...
Does a full market comparison to find YOUR cheapest.
Gives £30 dual fuel cashback (£15 elec-only). Any time we can switch you (suppliers pay switching sites £60-ish, we split it), this is sent roughly 60-90 days later.
Monitors that it stays cheap. You set a trigger, eg, £150/yr, then we alert you if you can save this by switching again. Perfect for those on short-lived fixes.
6. Confused or worried about switching? A few points to make it easy. Our Cheap Gas & Electricity guide explains in detail, in brief...
You WON'T lose supply during a switch or if a supplier goes bust.
It's the same gas, the same electricity, the same safety.
The only thing that changes is customer service and price.
New firm tells old one, you just need to give a final meter read.
A fix means the rate is fixed – payments still depend on your use.
If in credit, it should pay you back. If not, see Get Credit Back.
If in debt, you can switch, unless it's huge (eg, £500+ on prepay).
Some firms do a credit check, including BG. To find out what this means and a full list of who does what, see energy credit check help.
You can't be charged exit fees to switch in the last 49 days of a fix.
7. Customer service varies HUGELY – 80% great vs 65% poor. It's not just price that varies. In our most recent poll (May) over 9,400 voted and some firms, incl Ovo and Good Energy, got 80%+ of customers saying they were great. Co-op, Scottish Power, Npower & Extra were over 50% poor.
Vote with your feet. A mix of price and service is key, we show both in our top picks comparison. BG is mid-table: 41% great, 23% poor.
8. Is it worth switching now? The last year's seen a hidden price war – while standard tariffs haven't moved, the cheapest deals keep getting cheaper. And some think that'll keep happening (see energy price predictions news). Yet switch now and you save immediately. Even if prices do drop in future, the savings from doing it at the start of the high-use period should outweigh it.
As for whether to fix and lock in a price, the benefit is if things change (and the market has switched direction rapidly before) you've certainty your rate won't go up. And if worse comes to worst you can always leave and pay the exit fees - usually trivial compared to savings.
9. On a fix? Beware energy bills saying you can save – Ofgem tells suppliers to give you the WRONG answer. The regulator Ofgem says comparisons must be based on "personal projections", which averages your cost over the next year. Fine normally, but baloney for fixes. Take this example:
Your current fix costs £800/yr and ends in four months.
After it ends you'll pay £1,200/yr, as you'll move to a standard tariff.
The personal projection averages your cost as £1,066 over the year.
If the market's cheapest deal is £900/yr you'll be told to switch.
While correct if looking over a year, it's a bad move – switch now & you'll pay MORE for four months, so you should wait. Energy bills and most comparison sites work this way as Ofgem wants them to.
We think Ofgem is wrong, so our Cheap Energy Club lets those on fixes see savings against your current deal, and what it'll be after.
10. Struggling to pay? Get extra help this winter. Too many people need to choose between heating and eating. Yet there is help...
a) Winter fuel payments. If you were born on or before 5 Jan 1953, you're eligible for the up-to-£300 winter fuel payment. Those on benefits often get it automatically, others need claim it. See Am I due Winter Fuel Payments?
b) Cold weather payments. Anyone on certain benefits, eg, jobseeker's allowance/pension credit, gets £25 for every 7 days it's sub-zero. It's paid automatically from 1 Nov this year. Cold Weather Payments
c) Really struggling to pay? You may be eligible for special tariffs/help. Try the Home Heat Helpline on 0800 336699 and see Housing & Energy Grants.
This content originally appeared in the MSE weekly email on 4 November 2015.