The regulator Ofgem is urgently contacting a number of major energy suppliers about their exit fee policies, after a MoneySavingExpert.com investigation revealed many customers with fixes ending have been wrongly told they'll have to pay to switch.
MSE has sent a formal letter of complaint to Ofgem about the issue, along with a dossier of evidence showing how customers have been misinformed.
The regulator's rules on penalty-free switching are extremely clear - if you're in the last 49 days of your fix, you DON'T have to pay an exit fee and can switch to a different provider penalty-free.
Yet despite the regulator's clear rules on penalty-free switching, confused customers are being given duff info. In December we revealed British Gas and Npower had wrongly told some customers they'd have to pay exit fees of £60 - in Npower's case the wrong info was in a template 'sorry you are leaving' email - while in January there were fresh complaints from customers, at E.on and again at Npower.
And even since we sent our dossier of evidence to Ofgem, we've had new reports of customers at Npower, British Gas and Extra Energy being told the wrong info, suggesting the problem is persistent.
In the wake of this latest round of complaints, Npower told MSE it's now stopped sending out any 'sorry you are leaving' emails and will be proactively contacting those who've been given the wrong info.
While there's no evidence that anyone has actually been wrongly charged exit fees, many of those affected have told us they've been put off switching by the misinformation, likely leading to them paying more for their energy as a result.
To see if you can switch and save up to £200/year on your energy bills, use our free Cheap Energy Club.
What ARE the rules?
Ofgem's rules state that customers must not be charged exit fees if they leave during or after the 'switching window', which is defined as "49 calendar days before a fixed-term contract ends".
You can apply to switch at any point during a fixed-term contract without having to pay exit fees, as long as the switch is actually completed during the switching window.

What's Ofgem doing?
We've submitted a dossier of evidence to Ofgem which shows how British Gas, E.on and Npower customers with fixes ending were wrongly told they'd have to pay exit fees to switch supplier, even though they had applied to switch within the 49-day penalty-free window.
At the time British Gas and Npower said they would change what they tell customers, while E.on said one of its customers had been misinformed in an "isolated incident".
Ofgem's now reviewing our evidence and is speaking to the energy firms concerned.
Rachel Fletcher, senior partner for consumer and competition at Ofgem, said: "We are concerned that consumers are potentially being mis-informed about their right to switch fee-free during the switching window at the end of fixed term contracts.
"We are following this up with suppliers as a matter of high priority, and we will work to make sure action is taken where it's needed."
'Suppliers blatantly flouting the rules'
Archna Luthra, head of energy at MSE, added: "It is absolutely outrageous that energy suppliers are so blatantly flouting the rules. These rules were put in place to protect consumers and give them the confidence and time to switch to a better deal at the end of a fix.
"Exit fees can be up to £100 so the threat of being charged is a significant one. Energy prices are rising so it is vital customers are able to switch to a cheaper tariff without being misled.
"It is encouraging to see Ofgem prioritise MSE's complaint and they now need to take enforcement action and show energy suppliers they can't get away with these shoddy practices."
Customers report MORE bogus exit fee warnings
Since we compiled our dossier to Ofgem we've had new reports from British Gas and Npower customers that they've been given the wrong info.
In December and January Npower twice told us it was investigating a "system error" that caused an automated email to be sent warning customers who applied to switch within the 49-day window that: "As you have left your tariff before the end of the fixed term, we will be charging you an exit fee."
Yet it appears the issue wasn't fixed, as we've heard from a new round of customers who received a similar email (shown below) in February.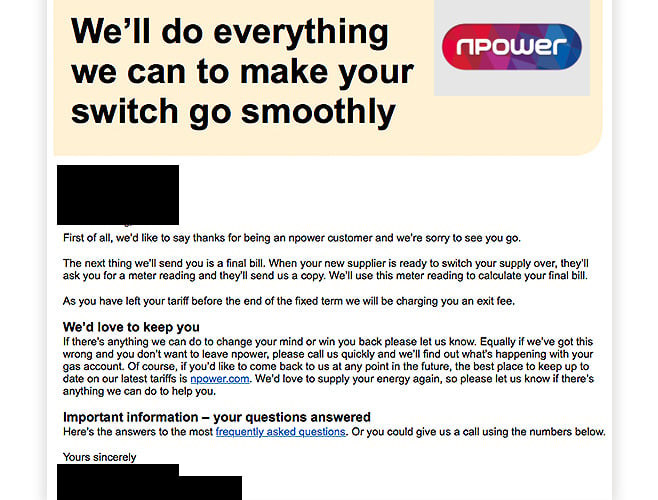 Martin Wray, an Npower customer who has applied to switch to Scottish Power, told us: "I started a switch on 16 February, 43 days before the end of my Npower contract.
"All seemed to be going swimmingly until I received an email [on Friday 24 February] from Npower saying 'sorry that I was leaving' but adding that there would be an exit fee as I was leaving before the end of the contract.
"I got onto the Npower live chat immediately. It took half an hour to get agreement that there hypothetically shouldn't be a charge if within the 49 day limit, but the operator didn't exactly say that this applied to me."
An Npower spokesperson said: "We are taking action to resolve the issue as quickly as possible. In the meantime, we will be contacting any customers who have received the incorrect letter and have not switched.
"We have stopped issuing any 'sorry you are leaving' letters, which could potentially contain this error and have fully briefed our contact centres so they can quickly resolve any questions from our customers. We have also placed an automatic message on our telephone systems and added supporting information on our website for customers."
British Gas previously told us it had updated the terms and conditions of its fixed-term contract to avoid confusion around when exit fees are charged. However, we've since #heard from more British Gas customers who say they've been wrongly told they'll be charged an exit fee.
One such customer said: "I called British Gas ahead of my fixed contract ending to check if I would be charged early exit fees and I was told categorically 'yes' I would be if I moved before the end of my contract.
"Not wanting to be charged I didn't initiate the switch until the contract had ended. But then I had to pay the standard tariff for 27 days while the new energy supplier did the switch. I'm very cross."
A British Gas spokesperson told us its policy is "not to charge exit fees during the switching window".
Meanwhile, a customer at smaller supplier Extra Energy said: "Extra Energy told me I would have to pay exit fees when I had only 30 days left on my contract. It resulted in me changing my tariff a month late. I could have saved some money - I made a complaint but have not heard anything back since."
An Extra Energy spokesperson said: "Extra Energy's policy towards penalty-free switching is that there will be no penalty if a customer informs us of their intention within 49 days of their tariff expiring."